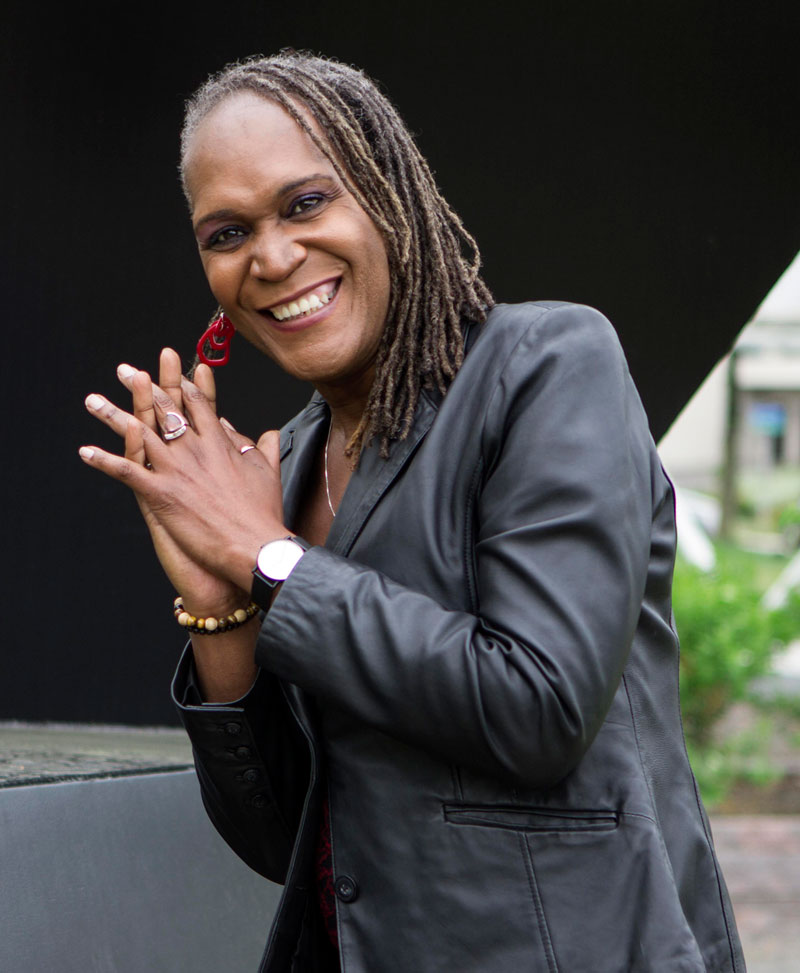 Andrea Jenkins
(b. 1961)
"…Victory does come out of struggle, but it's a continuous struggle. We are still fighting for LGBT rights. We are still fighting for women's rights. We are still fighting for voters' rights. And we will continue to fight for equity and for human rights for Black and Brown people. But we are making progress. We are making change. We are making history." 
Andrea Jenkins was born on May 10, 1961 to Shirley Green. She grew up in North Lawndale, participating in the Cub Scouts and playing football at Robert Lindblom Math & Science Academy on Chicago's South Side. She relocated to Minneapolis following high school graduation, and attended the University of Minnesota.
Jenkins came out as gay in her 20s, married a woman, and had a child before divorcing. She went to work as a vocational counselor with Hennepin County, Minnesota as she returned to college and received her bachelor's degree from Metropolitan State University in St. Paul. She would later earn master's degrees from Hamline University in St. Paul, and Southern New Hampshire University.
Jenkins' political career began in 2001, when she served on the campaign of Minneapolis City Council candidate Robert Lilligren, and became a staffer following his election. When Elizabeth Glidden won a seat on City Council in 2005, she hired Jenkins as an aide. During her tenure with Glidden, Jenkins earned the Bush Fellowship dedicated to transgender issues, and helped to establish the Transgender Issues Work Group in 2014. That same year, Jenkins organized a City Council summit on transgender equality addressing the issues faced by trans people in Minnesota.
After twelve years as a Council aide, Jenkins began curating the Transgender Oral History Project at the University of Minnesota's Jean-Nickolaus Tretter Collection in Gay, Lesbian, Bisexual and Transgender Studies. A primary focus of her role was to grow the collection of trans narratives by recording the oral histories of more than 200 honorees.
When her former boss Elizabeth Glidden decided she would not seek re-election, Jenkins announced in December 2016 that she was running for the Minneapolis City Council representing the 8th Ward. She won the seat on November 8, 2017, capturing more than 70 percent of the vote. After taking office, Jenkins' colleagues elected her vice-president of the Council.
Election Day 2017 was historic for trans candidates across the nation. In addition to Jenkins becoming the first openly Black trans woman elected to public office in the United States, Phillipe Cunningham was elected to the Minneapolis City Council, the first out trans man and the first out trans man of color elected to any public office in the U.S. In Virginia, Danica Roem became her state's first openly trans legislator; Lisa Middleton was elected to Palm Springs, California Council; Tyler Titus was elected to the school board in Erie, Pennsylvania; Stephe Koontz won her race to serve on the City Council in Doraville, Georgia; and Gerri Cannon won a New Hampshire school board contest.
In addition to her public service, Jenkins participates in the Trans Lives Matter movement, and chairs the board of Intermedia Arts. In 2015, she was grand marshal of the Twin Cities Pride Parade.
"Transgender people have been here forever, and Black transgender people have been here forever," Jenkins told the "Washington Post" following her election. "I'm really proud to have achieved that status, and I look forward to more trans people joining me in elected office, and all other kinds of leadership roles in our society."
We offer this biography in celebration of Andrea Jenkins for her creativity, her brilliance, and her commitment to the cause of human rights, with particular attention to the critical intersection of race and LGBTQ+/SGL equity.