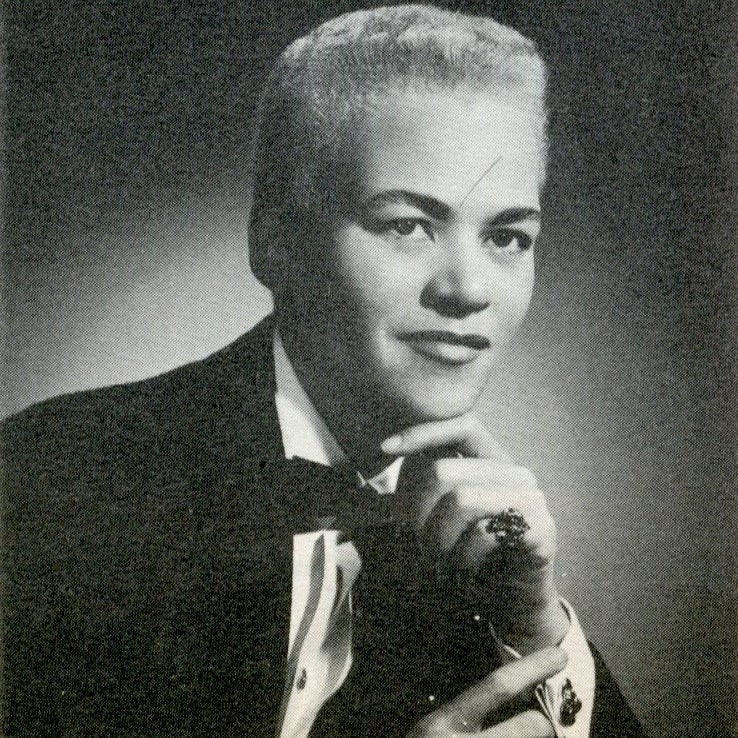 Stormé DeLarverie
(1920-2014)
"It was a rebellion, it was an uprising, it was a civil rights disobedience – it wasn't no damn riot."
Stormé DeLarverie was born in New Orleans, Louisiana in 1920 to a Black mother who worked as a servant in the house of her white father. Though those circumstances denied her clarity about her true birthdate, she celebrated it on December 24. DeLarverie largely grew up in the South, but relocated to California when her parents married. The relocation was a welcome change, as DeLarverie had been violently bullied.
As a teenager DeLarverie rode horses side-saddle for the Ringling Brothers Circus, but stopped after suffering an injury. She also sang in a jazz group, through which she performed in Europe. It was in her late teens that she shifted to dressing and performing as a man. At age 18, she realized she was a lesbian and moved to Chicago, Illinois, where she claimed to have worked as a bodyguard for mobsters. 
DeLarverie continued to perform and was, notably, the MC of the Jewel Box Revue, a racially integrated touring variety show, from 1955-1969. The JBR's slogan was "25 Men and One Girl." DeLarverie dressed in masculine drag (a drag king), while the other performers dressed in feminine drag (drag queens). Audiences would be invited to guess who the "one girl" in the troupe was, later to be treated to a big reveal during a number called "A Surprise With a Song". The Jewel Box Revue played regularly at the Apollo Theater in Harlem, and entertained integrated audiences nationally, something that was unusual at that time in history. During that period, in 1961, DeLarverie sat for famous photographer, Diane Arbus, producing the image "Miss Stormé de Larverie, the Lady Who Appears to be a Gentleman, N.Y.C." DeLarverie's choice to don menswear as her regular attire inspired other lesbians to do the same. She was also featured in Michelle Parkerson's 1987 short  film, "Stormé: The Lady of the Jewel Box."
Legend has it that DeLarverie threw the first punch at police officers during the Stonewall Rebellion of June 1969 (she and other witnesses have corroborated this). She then helped to form the Stonewall Veteran's Association that July, in which she served as the Chief of Security, SVA Ambassador, and Vice President (1998-2000) over the years. DeLarverie became a fixture at New York City Pride and attended pride events around the nation. 
Tragically, just a short while after the triumphs of Stonewall, DeLarverie lost her partner of nearly 25 years, Diana. Entertaining then largely took a backseat in her life and she focused on being a daytime bodyguard and nighttime bouncer at lesbian bars. DeLarverie saw herself as looking after the community, and was particularly vigilant against threats to her "baby girls." One of DeLarverie's caregivers told the New York Times that "She literally walked the streets of downtown Manhattan like a gay superhero. She was not to be messed with by any stretch of the imagination." DeLarverie persisted in this work until she was 85 years old.
Just two years before her death, DeLarverie was honored by Brooklyn Pride, Inc. at the Brooklyn Society for Ethical Culture. Then, on April 24, 2014, The Brooklyn Community Pride Center recognized her for her "fearlessness and bravery," presenting her with a proclamation from Letitia James, then New York City Public Advocate. By that time, DeLarverie had long struggled with dementia, and exactly one month later it would quietly take her life at age 93.
This biography is offered in loving memory of King Stormé DeLarverie, who unapologetically protected our community and paved the way through struggle and lived example of us to be our full selves today.
2 To dress in drag is to use clothing, make up, and artistry to imitate and often exaggerate gender signifiers and gender role performances.