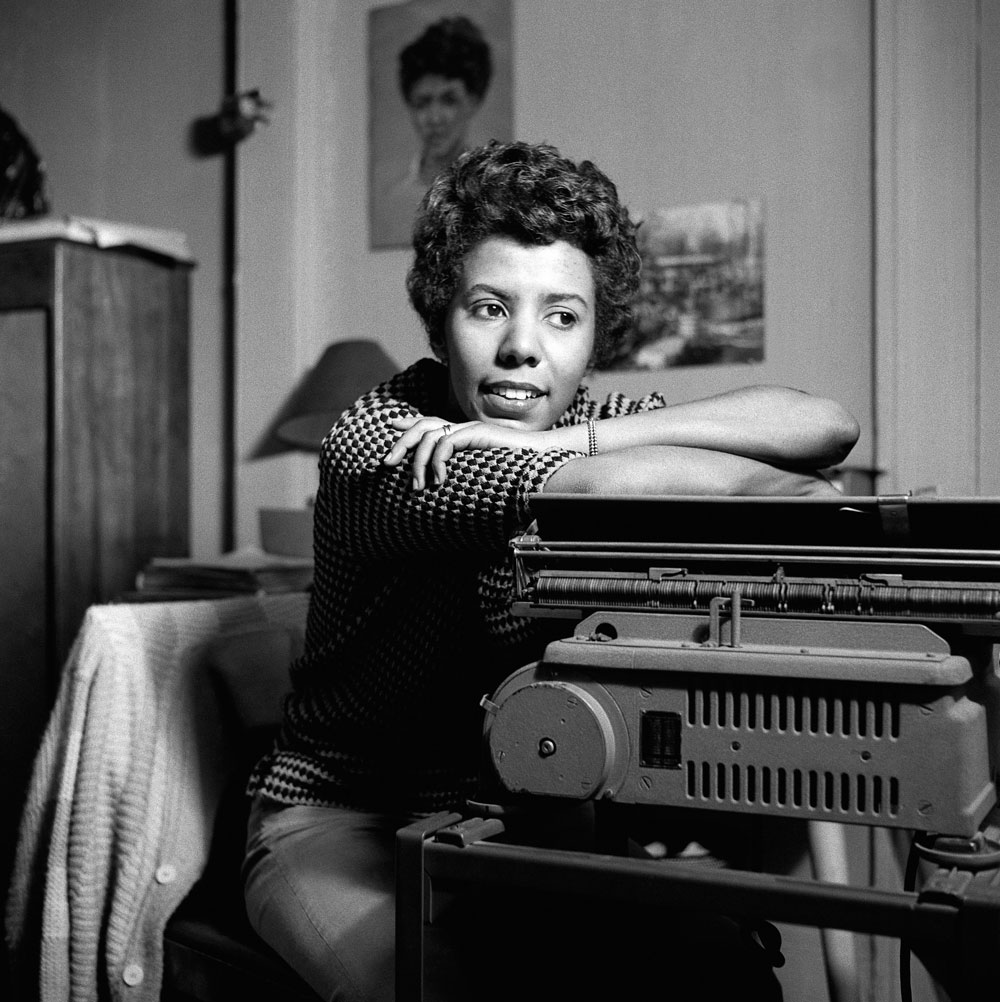 Lorraine Hansberry
(1930-1965)
"Though it be a thrilling and marvelous thing to be merely young and gifted in such times, it is doubly so—doubly dynamic—to be young, gifted, and Black." 
Lorraine Hansberry was born, on May 19, 1930, in Chicago, Illinois to Nannie Perry Hansberry, a driving school teacher, and Carl Augustus Hansberry, a successful real-estate broker. She was their youngest child, with three older siblings. During her youth the Hansberry family was a part of a now well-known Supreme Court case, Hansberry v. Lee. The case centered her family's experience of moving into a white neighborhood in a subdivision on the South Side of Chicago, where they were violently attacked by neighbors before a court ordered them to move out. The initial court decision supported a restrictive covenant designed to maintain discrimination and although the court later ruled in favor of the Hansberry family—which allowed them tor remain in their home—the covenant remained in place..
Between 1948 and 1950 Hansberry briefly attended the University of Wisconsin at Madison, worked on Progressive Party candidate Henry A. Wallace's presidential campaign, joined the Communist Party, worked to integrate a university dormitory, and studied painting at the University of Guadalajara. By 1950, she was in New York and working at Freedom, the progressive newspaper published by Paul Robeson. There, she worked with sociologist, educator, and civil rights activist W.E.B. DuBois, a family friend. Hansberry met fellow writer Robert Nemiroff during a protest against racial discrimination at New York University and they were married on June 20, 1953. 
While living in New York, Hansberry wrote a play, The Crystal Stair, which would later be renamed A Raisin in the Sun, after Langston Hughes' poem "Harlem." The play is about a Black family's experiences amidst economic hardship and segregation as they work, in different ways, to achieve a brighter future. The play captured rich complexities related to gender, race, and dreaming. After early test performances in New Haven, Philadelphia (attended by James Baldwin), and Chicago, A Raisin in the Sun opened at the Ethel Barrymore Theater on March 11, 1959. It was the first Broadway play to be produced by a Black woman and Hansberry was the first Black playwright and youngest American to win a New York Drama Circuit Critics' Circle award. The play's success sparked a whirlwind of appearances and opportunities including a Vogue photoshoot, a roundtable discussion on David Susskind's Open End show, interviews with Mike Wallace, Studs Terkel, and others, university lectures, and more. The film version of the play, with a screenplay written by Hansberry, premiered in 1961 and starred Sidney Poitier. 
In 1960, upon purchasing and moving into 112 Waverly Place in Greenwich Village, Hansberry met Dorothy Secules. Their romance was vibrant, but never fully realized, as it wasn't until 1964 that Hansberry finally divorced her husband. It is said that Hansberry wrote early on in her personal notebooks about her attraction to women and, upon quietly separating from Nemiroff in 1957, became active with the Daughters of Bilitis. She contributed two letters to their magazine under only her initials. Later, toward the end of her life, says historian Kevin Mumford, Hansberry stated that she was "committed [to] this homosexuality thing," building a circle of gay and lesbian friends and taking lovers. 
Hansberry was active in civil rights work throughout her life. In the 1960s, she gave an anti-House Un-American Activities Committee speech, "My Government is Wrong," met with Attorney General Robert F. Kennedy and activists to discuss racial tensions, raised money for the Student Nonviolent Coordinating Committee and other civil rights organizations, attended debates, and gave her "To Be Young, Gifted, and Black" speech. 
By this time, symptoms of her pancreatic cancer had begun to dramatically upend her life. She fit her activism and art around her illness, including hospitalization and an unsuccessful surgery in 1963. Nevertheless, Hansberry's second play The Sign in Sidney Brustein's Window, opened on October 15, 1964, and ran for 101 shows.
On January 12, 1965, Lorraine Hansberry succumbed to cancer at just 34 years old. Despite a blizzard, over 600 people attended her memorial, among them Malcolm X, Diana Sands, Ruby Dee, Shelley Winters, and Ossie Davis. Nina Simone performed and Paul Robeson delivered the eulogy. Messages from James Baldwin and Martin Luther King Jr. were read aloud, as they were unable to attend. In 1969, Nina Simone released "To Be Young, Gifted and Black" in tribute. In 1999, Hansberry was inducted in the Chicago Gay and Lesbian Hall of Fame. There have been several adaptations of A Raisin in the Sun, including a 1973 musical, a 2004 Broadway revival starring Phylicia Rashad, Audra McDonald and Sanaa Lathan, and a 2014 Broadway revival that started Denzel Washington and won three Tony Awards. 
This biography is offered in loving memory of Lorraine Hansberry, who told our stories, saw our brilliance, and fought tirelessly for our rights.