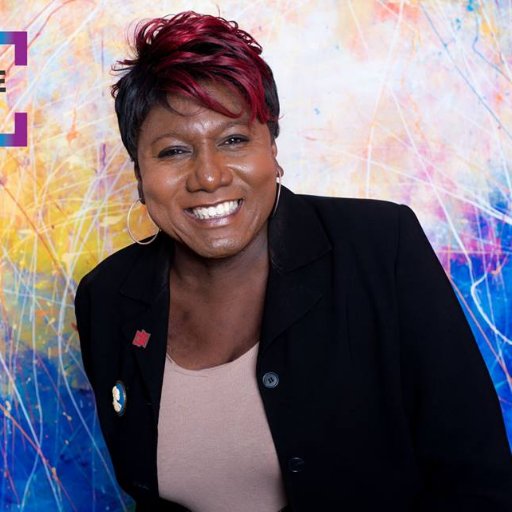 Monica Roberts
(1962-2020)
"What I'm writing may inspire someone who does not want to persevere."
Monica Katrice Roberts was born on May 4, 1962 in Houston, Texas. Her father was a disc jockey and radio executive and her mother was an elementary school teacher. Roberts began to transition in the early 90s while she was working as an airline gate agent. She later moved to Louisville, where she began writing a column for a local LGBT newspaper. 
In 2006 Roberts founded the blog TransGriot, which became a news source for those looking to know about the issues affecting trans people of color, particularly Black trans women. The term "griot" comes from West Africa and refers to a storyteller. She covered the murders of trans people long before those in the mainstream media did and set the standard for how to cover their deaths with respect and dignity. Roberts addressed head-on the media misgendering of trans victims, and called on all of us to end the epidemic of violence that trans women of color face. She also used the blog to celebrate the accomplishments of trans people. Her blog served as a light for many in the trans community with Robert's once saying "What I'm writing may inspire someone who does not want to persevere." Roberts won a Special Recognition Award from GLAAD for her work on the blog. 
Robert's was a founding member of the National Transgender Advocacy Coalition, a lobbying and advocacy group dedicated to protecting and advancing the civil rights of trans people. She is best known for her work in Texas and Kentucky politics but worked tirelessly at all levels of government for trans rights. She served on the board of the Louisville Fairness Campaign, wrote for several publications, and won many awards for her advocacy and work including the Human Rights Campaign's John Walzel Equality Award, the Susan J. Hyde Award for Longevity in the Movement, and the Virginia Price Pioneer Award.
Roberts passed away on October 5, 2020 due to complications of a pulmonary embolism. She had become a national LGBTQ+/SGL icon and her bright light and loving heart had saved countless lives. Her work continues to inspire activists and community members alike. In February 2021, NBJC announced the Monica Roberts Fellowship for Black trans leaders committed to leading political, cultural, and social movements that address critical and often ignored needs of the Black LGBTQ+ community.