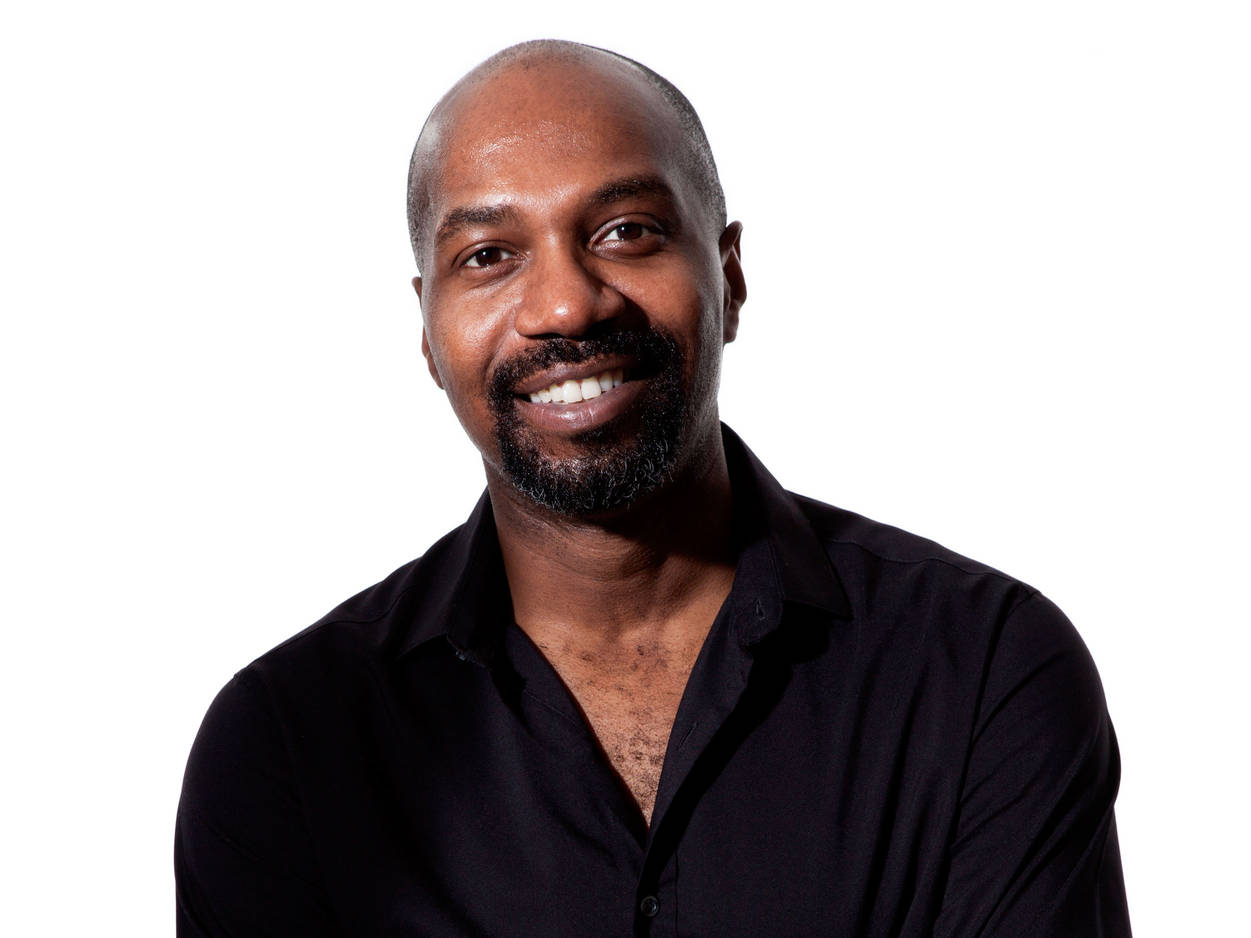 Ronald K. Brown
Ronald K. Brown was born on July 18, 1966. He is a highly acclaimed artistic director, choreographer, and dancer.
Ronald K. Brown was born in the Bedford-Stuyvesant neighborhood of Brooklyn. He was six when he began studying dance at a Police Athletic League summer program. By the time he was twelve, his dream was to study with the Dance Theatre of Harlem.
In high school, he decided to focus on a writing career, and following graduation planned to major in journalism in college. But after spending a summer dancing, at age 16 he reversed his decision about journalism and was focused again on dance. He began studying at Mary Anthony dance studio in Manhattan, and also studied with, or was mentored by, Judith Jamison, Bessie Schönberg, and Ann Carlson.
In his studies, Brown learned a wide variety of dance techniques including Martha Graham's modern style, ballet, hip-hop, dancehall, traditional West African dance, and Brazilian capoeira, all of which would later be merged into his high-energy choreography. At the age of nineteen, Brown founded the dance troupe "Evidence," named after the first dance he choreographed.
Brown has created work for the African American Dance Ensemble, Philadanco, Cleo Parker Robinson Dance Ensemble, Dayton Contemporary Dance Company, Alvin Ailey American Dance Theater ("Grace" in 1999, "Serving Nia" in 2001, "IFE/My Heart" in  2005), Ailey II, Cinque Folkloric Dance Theater, Jennifer Muller/The Works, and Jeune Ballet d'Afrique Noire. He also has taught master classes in the United States, Cuba, Brazil, England, France, Greece, Hungary, Ireland, Mexico, and Senegal.
Besides the United States, Brown has worked in France, England, Brazil, Korea and the Ivory Coast. He strives to bear witness to the history of African-Americans, training his dancers to move in ways that "evidence" their own lives—present and past—and explores how individuals are the product of their ancestry.
Brown's choreography is reminiscent of African tribal dances, while simultaneously infused with contemporary American dance. Brown's "High Life" examines the movement, stories, and music that describe the African American journey from the rural south to the north. The dance addresses newfound freedom in terms of both celebration and lost cultural values of the so-called liberation.
Ronald K. Brown has collaborated with many artists, including composer/designer Omotayo Wunmi Olaiya, writers Craig G. Harris, Cheryl Boyce Taylor, Sandye Wilson, Colin Robinson and Essex Hemphill; director Ernie McClintock's Jazz Actors Theater; choreographers Donald McKayle, Patricia Hoffbauer and Rokiya Kone; and composers Robert Een, Oliver Lake, Bernadette Speech, David Simons, and Don Meissner.
His choreography has been commissioned by the Dayton Contemporary Dance Company, African American Dance Ensemble, Phildanco, Alvin Ailey American Dance Theater, Jeune Ballet d'Afrique Noire, and Jacob's Pillow Dance Festival. Brown is the recipient of numerous awards and fellowships, including a John Simon Guggenheim Memorial Foundation Fellowship in Choreography, the New York Foundation for the Arts Fellowship, and the Choreographer's Fellowship from the National Endowment for the Arts. He has also been awarded the New York Theater and Dance Award (a Bessie Award), a Black Theater Alliance Award, and an Audelco Award for the choreography of Regina Taylor's musical, "Crowns." He has also been a guest artist at The Sharon Disney Lund School of Dance at The California Institute of the Arts.
In December 2016, the Alvin Ailey American Dance Theater performed a special tribute showcasing Brown's legacy. It was announced this summer that Jacob's Pillow, America's first and longest-running dance festival, invited Brown to be part of Pillow Lab, which will provide choreographers with residencies to develop their work.
Ronald K. Brown is openly gay, and many his most memorable works focus on issues that are of pressing concern to Black, gay men. Anna Kisselgoff, dance critic of "The New York Times," has written of Brown's choreography: "Racism, AIDS, love and loss. No choreographer has a corner on these themes, of course, but Ronald K. Brown delves into them with originality as well as passion. Few today can match the depth of his ability to marry message and medium."
In the early 1990s, a former lover died of AIDS, leading Brown to make a firm commitment to dealing with AIDS issues in his work. Among such works are "Dirt Road" in 1994, "Combat Review/Witches in Response" in 1994, "Lessons" in 1998, and "Better Days" in 1998, named for a New York dance club particularly popular among Black gay men. In November of 2000, Brown wrote: "I think with very few exceptions all of my work has been influenced by the amount of loss that I have experienced personally due to the AIDS epidemic. Loss remains a constant theme in my work that I use to direct us towards a productive, service-filled, and peaceful walk."
We thank Ronald K. Brown for his life-long commitment to the beauty and message of dance, for his touching performances and community service, for his HIV/AIDS activism, and for his many contributions to our community.