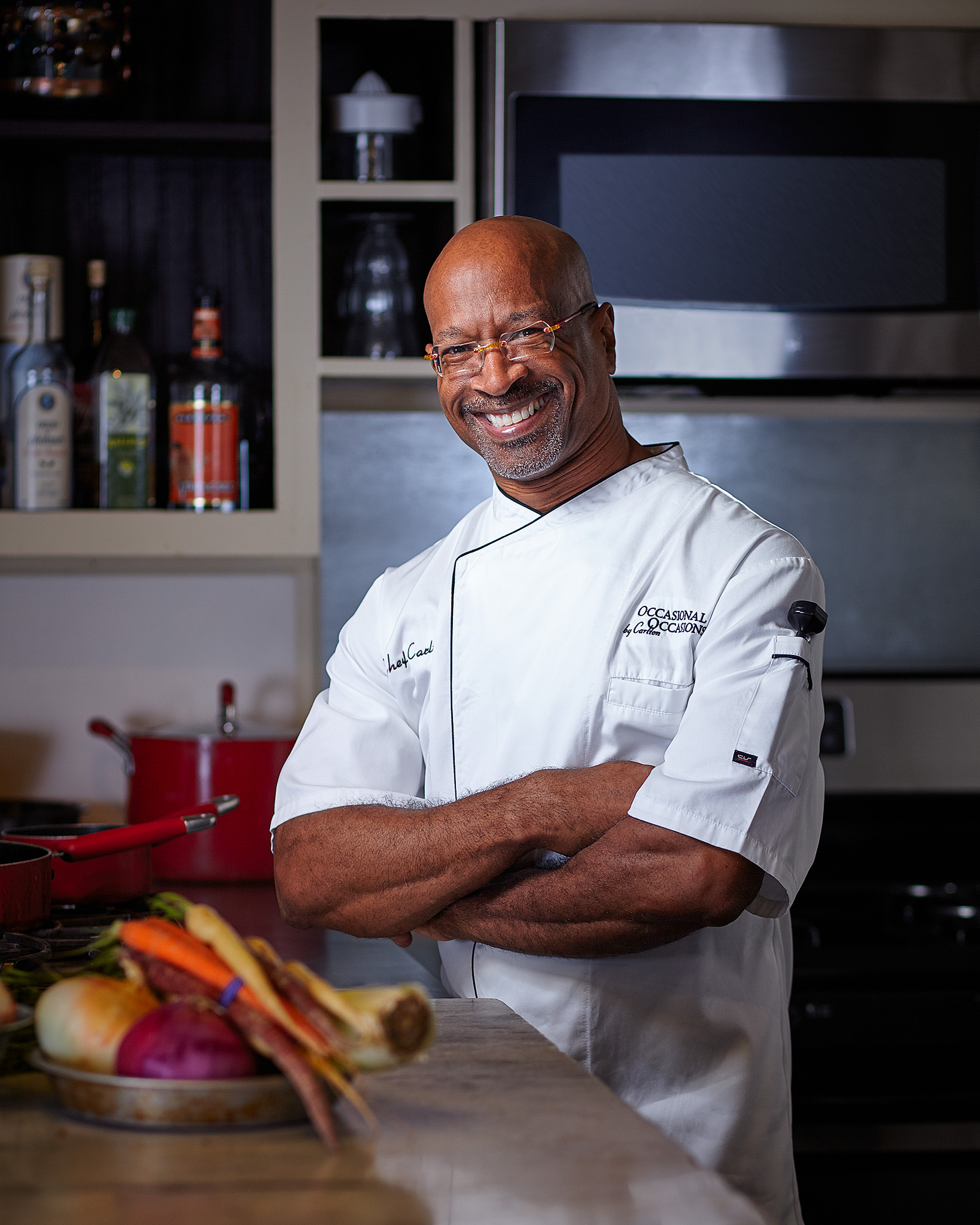 Carlton Brown
Carlton Brown was born on February 2, 1959. He is a passionate entrepreneur, family man, chef, caterer, event host, and optimistic advocate, who loves life and always sees the glass as half full.
Carlton Antonio Brown was born in Jacksonville, North Carolina, to Calvin Brown, who was a retired United States Marine Corp non-commissioned officer and a cook, and his mother, Hilda Brewer Brown, a retired home economics teacher in the North Carolina schools. Carlton's identical twin brother was Calvin A. Brown, and he has a younger brother and sister. Carlton Brown attended Infant of Prague Catholic Elementary School, Divine Heart Catholic Seminary, and Jacksonville Senior High School, where he graduated in 1977. Following high school, he enrolled in East Carolina University for one semester, and then joined the United States Air Force from 1978 through 1983.
Brown says his coming out experience was fairly easy because he typically experienced life in the shadow of his identical twin brother. Calvin Brown was the extrovert while Carlton was the introvert, and his brother was more daring and rebellious. Because of his strict religious upbringing, Carlton Brown had a very tainted idea of what "gay" was. His brother very proudly came out to him in 1981, but Carlton was against it, and recalled telling him that he needed to "get back involved in the church and to marry his high school sweetheart." After Carlton Brown completed his Air Force tour, he moved to Atlanta to be with his fiancé, who he met in England. He was still very much against Calvin's lifestyle, but his brother was still in the Air Force, stationed at that time in Denver. Calvin came out to his commanding officers, and was released from duty and joined Carlton in Atlanta. After Carlton spent time with his twin and his gay friends, he realized they were no different than his presumed straight friends.
Carlton Brown ended his relationship with his fiancé but didn't see himself as anything but straight. He did know, however, that he enjoyed being around attractive men. Brown had a nurturing demeanor with them, but he never looked at it as an indication that there was an underlying same-gender interest. One day, Brown's curiosity got the best of him, and he took the plunge with one of his brother's friends. The relationship ended after a month, and Brown was shattered. He called his brother to share what had happened, and tell him he was gay. His brother's response was that he and his friends always knew that it would happen—they just didn't know when.
Because his twin brother had already broken the ice by admitting to his parents his same-gender attraction, and receiving the wrath of their military father, it was less traumatic for Carlton to speak freely about who he was. His family had taken notice that he was no longer bringing women around, so his coming out was softened tremendously by his brother and his outgoing personality. Tragically, Carlton lost his twin brother Calvin to AIDS in 1990.
While in the Air Force, Brown acquired an associate's degree in general studies, and following his military service, he obtained his bachelor's degree in computer science from DeVry Institute, and went to work for Southern Bell/BellSouth from 1983 to 1996. Brown attended the Art Institute of Atlanta, and earned his associate's degree in culinary arts, and launched his catering company Occasional Occasions by Carlton in 1994. In the midst of all that, Brown purchased a mobile dry cleaning franchise in 1996, and then parlayed his company into an independently owned and operated business. He managed that company with great success until 2008, when he sold the company to concentrate once again on catering.
In 2011, Brown earned a Bachelor of Science degree in culinary arts management from the Art Institute of Atlanta, graduating magna cum laude. Carlton says he learned a lot in culinary arts school, but that much of his management strategy and design style was self-taught, including wisdom from his mother and other family members, and sometimes relying on his own intuition. His knowledge and intuition has paid off, and he says he's always learning to fine tune his company, and make it just a little better than the competition.
Occassional Occasions by Carlton is celebrating 24 years of exceptional service, and has been praised for its culinary displays, dynamic flavors, and unique table presentations. The boutique style, custom catering company specializes in Contemporary Southern cuisine, and providing off-premise catering for the Atlanta Metropolitan Area. As a culinary professional, Brown's clients have included supermodel Beverly Johnson, former Atlanta mayor Andrew Young, Reverend Jesse Jackson, Bishop T.D. Jakes, the late author E. Lynn Harris, poet Nikki Giovanni, celebrity doctor Ian Smith, local anchorwoman Karyn Greer, and the late Coretta Scott King, just to name a few. He has also provided services to such corporate giants as American Express, Morgan Stanley & Co., Hewlett Packard, Wells Fargo, 100 Black Men of Atlanta, Georgia Pacific, Georgia Power, Delta Airlines, and Fed-Ex.
Chef Carlton was nominated for Business Man of the Year, Small Business of the Year, and Member of the Year in 2016 for the Atlanta Gay & Lesbian Chamber of Commerce (AGLCC), receiving the award for AGLCC Member of the Year. He has appeared on WAGA Fox 5's "Breakfast with Buck," highlighting his former breakfast restaurant Hilda's…A Breakfast to Write Home About!, and WXIA Channel 11's "Atlanta and Company," demonstrating several live cooking segments. He is an active member of the International Catering Association, American Culinary Federation, National Association of Catering and Events, as well as the AGLCC.
Brown told the Ubuntu Biography Project that he is a strong supporter of the Black, gay community, and believes that it is most important for mutual support and "for my community to see that with all of the obstacles that we face on a daily basis, that we can still overcome." Brown was diagnosed with HIV in 1985, and initially had a hard time accepting the diagnosis and learning to love himself. "After getting over that, I have the perspective in life that I'm not going anywhere any time soon," said Brown.
Brown tries to live a simple and healthy life, with a disciplined regimen at the gym. He resides in Atlanta with his partner of more than six years, and a mixed Retriever/Dachshund named Cooper who brings him lots of joy, and occasionally, toys. Brown and his partner enjoy movies and eating out, and he's quick to add: "My boo is extremely supportive, and although we have an interesting age difference between us, we are the perfect match and I love him beyond imagination."
We thank Carlton Brown for his contributions to the culinary world, and for his support of our community.