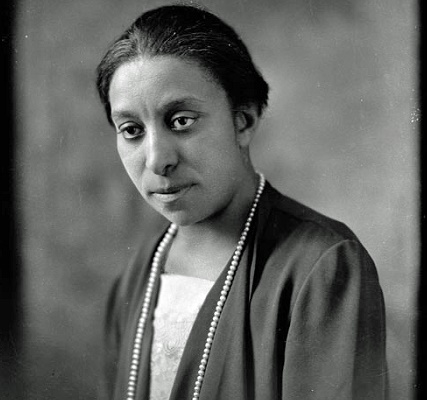 Lucy Diggs Slowe
(1885-1937)
"If the college is going to do for the girl what the community and the girl herself has a right to expect, it must provide opportunities not only for her intellectual development, but for the development of her powers of initiative and self-direction." 
Lucy Diggs Slowe was born July 4, 1885 in Berryville, Virginia to Henry Slowe and Fannie Porter. By the time she was six, both of her parents had passed, leaving her to live with her aunt, Martha Slowe Price, in Lexington, Virginia. Years later, when Slowe was 13, the family moved to Baltimore, Maryland, where she attended the Baltimore Colored High School and graduated second in her class in 1904. 
After high school, Slowe attended Howard University. She was very involved in campus life. Slowe was one of nine original founders of Alpha Kappa Alpha Sorority, Incorporated – the first sorority founded by Black women. She served as the sorority's first chapter president, sang in the university's choir, and was a member of the women's tennis team. In 1908, she graduated from Howard as class valedictorian. 
After graduation, Slowe taught English at Baltimore's Douglass High School. In 1911 she began studies at the Columbia Graduate School of Arts and Sciences in New York City, where she graduated with a Master of Arts in 1915. 
Along with a passion for education, Slowe was passionate about tennis. After playing tennis as an undergraduate, she went on to win the American Tennis Association's national tournament in 1917. With that, she became the first Black woman to win a national title in any U.S. sport. 
Slowe was also passionate about her connection to educator and playwright Mary Burrill, her longtime friend and confidante whom she met when she was a third-year student at Baltimore High School. Burrill taught there at the time. The two lived together for many years in Washington, D.C. and they were often addressed as a pair. Her family acknowledges the relationship as being the reason Slowe never married. Slowe and Burrill have been regarded as a great historical example of a same-gender-loving couple.
While working as an educator in Washington, D.C. in 1919, Slowe founded the city's first Black junior high school. She served as the school's principal until 1922 when Howard University invited her to be the Dean of Women. This made Slowe the first woman to serve as the Dean of Women at any university in America. As a faculty member, she also worked in the English department, while working to make Howard a woman-friendly campus. Notably, she helped organize the National Association of College Women (NACW). She also became secretary for the National Council for Negro Women (NCNW). 
On October 21, 1937, Slowe died from kidney failure. On November 10, 1948, Howard University dedicated Slowe Hall, a dormitory, in her honor. In 2020, the home she shared with Burrill (1256 Kearny Street, NE) in the Brookland neighborhood of Washington, D.C. was declared a historic landmark in a unanimous vote by the Historic Preservation Review Board.
We offer this biography in honor of Lucy Diggs Slowe: trailblazer, founder, athlete, and educator.