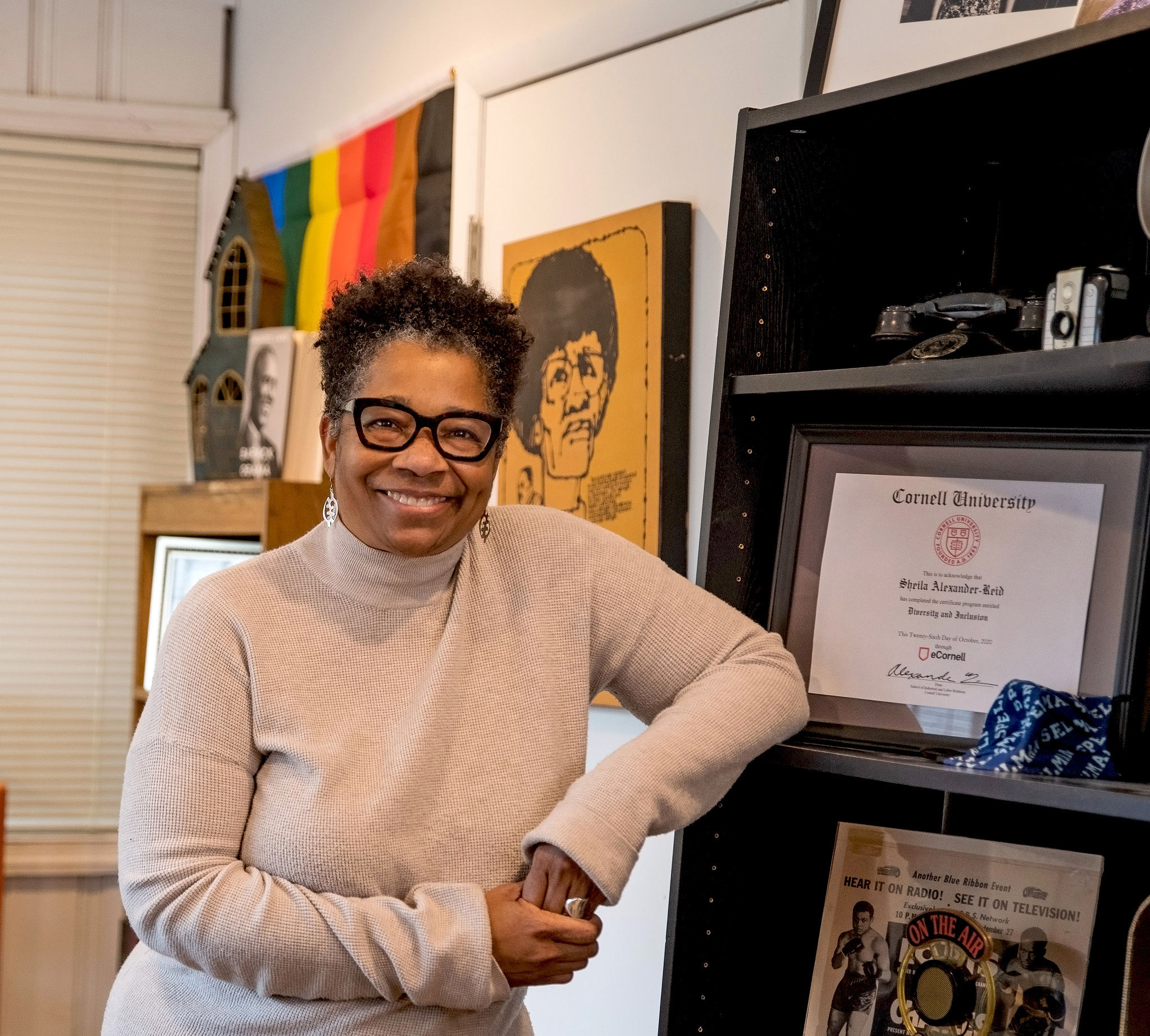 Sheila Alexander-Reid
"My life's work has brought me face to face with the next generation of very diverse LGBTQ+ leaders who are deeply committed to advancing the cause of social justice and fighting to retain the freedoms and rights attained by my generation and the preceding generations. I am impressed and inspired by this new generation of Black lesbian and queer feminist activists. This mantel, this torch that is being passed, is in safe-keeping." Sheila Alexander-Reid 
Sheila Alexander-Reid received her Bachelor of Arts in English and mass communication from Spelman College. Alexander-Reid invited people in during her early to mid-20s. She invited her mother in first when needing her comfort and support after  Alexander-Reid and her girlfriend broke up. 
In 1992, after college, she realized there was little variety and no safe place for lesbians of color to party in the District of Columbia. Because of this, Alexander-Reid started to rent safer spaces and hired security to protect club-goers from cat-callers and muggings. This turned into Women in the Life, Inc., an events management company that created safe spaces for Black lesbians to interact through dance parties, concerts, fundraisers, and open mic poetry sessions in over 50 locations throughout Washington, D.C. alone. As her parties became more popular, she hosted events across the country, including in New York, Philadelphia, Baltimore, and Atlanta. 
Over ten years, Alexander-Reid published 86 issues of Women in the Life Magazine, addressing the problems of Black lesbians/same-gender loving women. 
In 2005, after the death of activist, friend, and mentor Wanda Alston, Alexander-Reid made the switch to social justice advocacy. In its second decade of existence, Women in the Life, LLC was transformed into Women in the Life Association, whose mission is to advance the rights of lesbians of color through cultural affirmation, education, and advocacy. Alexander-Reid formerly served as the organization's executive director and currently serves as the board president. 
When it started, the primary program of Women in the Life Association was the Wanda's Will Project, named in honor of Wanda Alston. The initiative provided free legal workshops with attorneys to educate the LGBTQ+/SGL community on the critical need to execute a will and advance directives. Wanda died without a will, and her family did not honor her wishes or acknowledge her partner of several years. 
Alexander-Reid has a long career as a community activist, shedding light on issues affecting the voiceless and championing causes for young people, women of color, the LGBTQ+/SGL community, and survivors of domestic violence. She formerly served as the Vice-President of the Gertrude Stein Democratic Club and represented Stein at the D.C. Democratic State Committee. Alexander-Reid was the director of Strategic Engagement at the Washington City Paper and Vice President of Strategic Initiatives at the Washington Blade. 
In 2015, she served as the Director of D.C. Mayor Muriel Bowser's Office of Lesbian, Gay, Bisexual, Transgender, and Questioning (LGBTQ+) Affairs. The Office of LGBTQ+ Affairs connects LGBTQ+ residents with city services, advocates for programs and policies that improve the lives of LGBTQ+ residents, provides grants to community-based organizations that serve the LGBTQ+ community and LGBTQ+ homeless youth, and hosts events to enrich, promote, and bring together the LGBTQ+ community. In 2021, she stepped down as the director and announced her switch to the private sector. 
Alexander-Reid currently hosts Inside Out, D.C.'s only FM, LGBTQ+, radio show.  The show airs Tuesday at 2 pm on WPFM. She also works as a Diversity and Inclusion strategist.