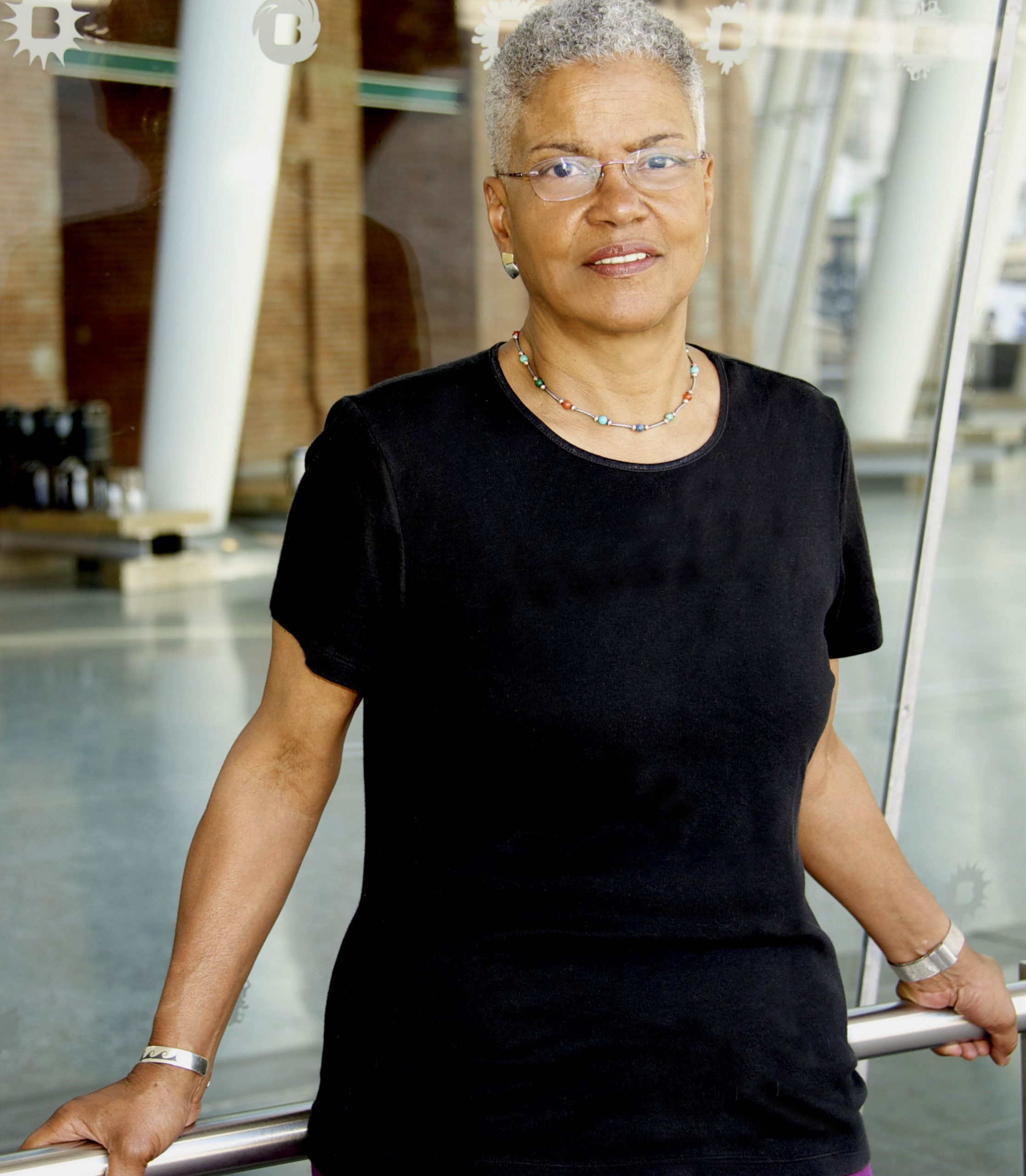 Cheryl Lynn Clarke
"For a woman to be a lesbian in a male-supremacist, capitalist, misogynist, racist, homophobic, imperialist culture, such as that of North America, is an act of resistance." – Lesbianism: An Act of Resistance – Cheryl Clarke. 
Cheryl Lynn Clarke is a poet, essayist, academic, activist, and Black lesbian feminist. 
Cheryl Lynn Clarke was born on May 16, 1947, in Washington, D.C. She is one of four children, born to James Sheridan Clarke, a World War II veteran, and Edna Clarke. Her family is Catholic, descending from formerly enslaved people. Living during the height of the Civil Rights Movement and being born to civil servants and Democrats, she was raised with a strong sense of social and political justice. At only 16 years old, she attended the 1963 March on Washington, where she ran into Dr. Martin Luther King Jr. 
Clarke attended parochial schools in the District of Columbia and enrolled at Howard University in 1965, where she received a B.A. in English literature in 1969. She then completed a master's degree in 1974, an MSW in 1980, and a Ph.D. in 2000 at Rutgers University. Her work at Rutgers began in 1970 as a student services administrator. At Rutgers, she founded the Diverse Community Affairs and Lesbian/Gay Concerns, now the Office for Social Justice Education and LGBT Communities, in 1992. During her time at Rutgers, she was an integral part of creating co-curricular programming, making the university more accessible to students of color and LGBTQ+/SGL students. 
Clarke's writing includes poems and essays highlighting the significant contributions women of color have made in the progression of literature, politics, and LGBTQ+/SGL and POC rights. Her work also focuses on issues of homophobia and discrimination against women in the Black community. Her famous essay "Lesbianism: An Act of Resistance" was published in 1981 in her feminist anthology, This Bridge Called My Back: Writings by Radical Women of Color. In this essay, she refers to lesbianism as a spectrum, "as an ideological, political, and philosophical means of liberation of all women from heterosexual tyranny." Regardless of how women feel about sexual and domestic partners, women being attracted to one another is an act of resistance to the dominant paradigm of heterosexual male-dominant relationships. 
Another essay titled "The Failure to Transform: Homophobia in the Black Community" was published in 1983 in the book Home Girls: A Black Feminist Anthology. In this essay, she critiques LeRoi Jones' "Preface to a Twenty Volume Suicide Note "(1961), Michele Wallace's "Black Macho and the Myth of the Superwoman" (1979), and Bell Hooks' "Ain't I a Woman" (1981). She dissects homophobia in the Black community, specifically Black men's role in it, anti-Black ideas on sexuality and gender perpetuating homophobia. She also wrote about the exclusion of Black lesbians in the women's rights movement, coining the phrase "homophobia by omission," resulting in an incomplete idea of feminism and a barrier to women's liberation. 
Clarke is still an active member in organizations dedicated to Black and women's equality and equity. She served on the New York Women Against Rape, New Jersey Women and AIDS Network, Center for Lesbian and Gay Studies at the CUNY Graduate Center, and the Astraea Lesbian Foundation for Justice organizations. She is a member of the Board of Directors of the Newark Pride Alliance and the Sinister Wisdom Editorial Board. 
She retired from Rutgers University-New Brunswick, New Jersey, in July of 2013 after 41 years of administration and teaching. At Rutgers, Clarke worked as Dean of Students on the Livingston Campus, Office of the Vice President for Student Affairs. With Barbara J. Balliet, her partner of 24 years, she co-owns Blenheim Hill Books in Hobart, New York., the Book Village of the Catskills. Both Clarke and Cohen are involved in organizing the annual Book Village Festival of Women Writers in Hobart, New York. 
Some of her most recent awards include the "Change-Maker" Award from Griot Circle: A Gathering of Elders (2018), the "Lifetime Achievement" Award from Black Women's Blueprint (2017), and the Kessler Award from the Center for Lesbian and Gay Studies at the CUNY Graduate Center (2013).