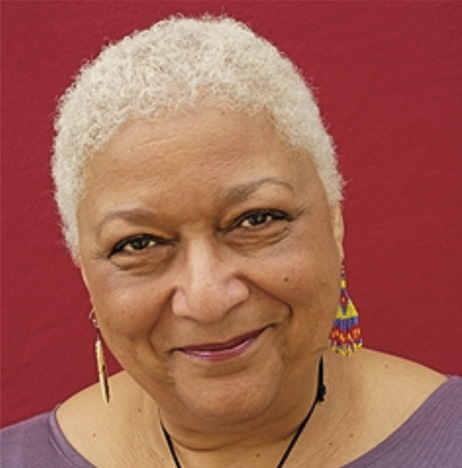 Jewelle Gomez
"For femmes, that evolving feminist thought reacquainted us with something we kind of knew already: men and women might mistake us for "just girls" when they see our makeup and fashions, but we were/are actually guerrilla warriors, fighting undercover in the war to save women from the continuing campaign to make us irrelevant fluff." Jewelle Gomez. 
Jewelle Gomez is a Black author, poet, critic, and playwright whose writing focuses on LGBTQ+ women of color. 
On September 11, 1948, Jewelle Gomez was born in Boston, Massachusetts. Her mother, Dolores Minor LeClaire, was a nurse, and her father, John Gomez, was a bartender. She was raised by her great-grandmother Grace, who has Native American/Indian and African American ancestry, which inspired some of Jewelle's later writings. 
Growing up in the 50s and 60s in Massachusetts and New York, her activism and writing began during her high school and college years and reflected the intersection of race, gender, and sexuality at the time. She became involved in Black political and social movements and lesbian feminist activism.
Jewelle's writings include the two-time Lambda Award-winning novel, "The Gilda Stories," which was read at the Museum of the African Diaspora and the Queer Arts Festival in 2011 for the 20th anniversary of its first printing. She adapted the novel into a play, "Bones & Ash: A Gilda Story." The play was performed by the Urban Bush Women company in 13 U.S. cities. Jewelle also has published three collections of poetry: "The Lipstick Papers," "Flamingoes and Bears," and "Oral Tradition." With Eric Garber, she edited the fantasy fiction anthology series "Swords of the Rainbow" and selected the fiction for "The Best Lesbian Erotica of 1997." She also wrote "Forty-Three Septembers," a collection of personal and political essays, and "Don't Explain," a collection of short fiction stories. 
Gomez was an original staff member of "Say Brother," now called "Basic Black," one of the first weekly Black television shows airing on WGBH-TV, Boston, and "The Electric Company," on the Children's Television Workshop, NYC. She was a founding member of the Gay and Lesbian Alliance Against Defamation (GLAAD) in 1984. Gomez and Diane Sabin were founding members of "100 Lesbians and Our Friends," a collective dedicated to educating culturally miseducated lesbians on the use of money and the benefits of philanthropy. 
She has been a lecturer and professor at numerous institutions, including San Francisco State University, Hunter College, Rutgers University, New College of California, Grinnell College, San Diego City College, Ohio State University, and the University of Washington in Seattle. 
Gomez and her partner, Dr. Diane Sabin, were two litigants who fought for same-sex marriage in California and one of 18,000 couples married in California before same-sex marriages were banned in 2008.  
Gomez's other positions over the years include executive director of the Poetry Center and the American Poetry Archives at San Francisco State University, former director of the Literature program at the New York State Council on the Arts, and the director of Cultural Equity Grants for the San Francisco Arts Commission, former Director of Grants and Community Initiatives for Horizons Foundation, and former President of the San Francisco Public Library Commission.
Today, Gomez is a Playwright in Residence at New Conservatory Theatre Center. She is the Director of Grants and Community Initiatives for Horizons Foundation, the oldest LGBTQ+ foundation in the U.S. She is working on new writings, including "Unpacking in PTOWN," a colored comic soap opera and third play in the "Words and Music" trilogy, "Televised," a novel about the 30th-anniversary reunion of a group of former Black student radicals, and a new excerpt from the "Gilda" novel that will appear in the anthology series "Black to the Future."