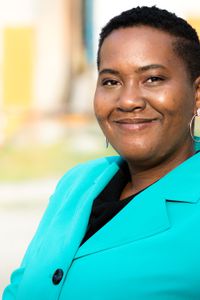 Sheena Barnes
Sheena Barnes is an at-large member of the Toledo Public Schools Board of Education in Ohio. Barnes assumed office on January 1, 2020. Barnes' current term ends on December 31, 2023.
Barnes ran for election for an at-large seat of the Toledo Public Schools Board of Education in Ohio. Barnes won in the general election on November 5, 2019.
Sheena is a committed advocate, mother, and community member. Sheena is a Community Health Worker for Lucas County, working with youth to serve as a bridge between the community and healthcare, government, and social service systems. Sheena has experience with public policy and youth crisis intervention advocacy. Sheena moved to Toledo from Flint, Michigan about 10 years ago and made Toledo a home for herself, and her three children. Sheena quickly became involved in the community, she is a board member for Advocates for Basic Legal Equality (ABLE), a Coordinator For The Equality Toledo Food Pantry, and a Buckeye Region Anti-Violence Organization (BRAVO) trainer. All three of Sheena's children attend Toledo Public schools and her daughter is a recent graduate of Bowsher High School.
Toledo, OH Background
Toledo is a city in and the county seat of Lucas County, Ohio, United States. A major Midwestern United States port city, Toledo is the fourth-most-populous city in the U.S. state of Ohio, after Columbus, Cleveland, and Cincinnati, and according to the 2010 census, the 71st-largest city in the United States. With a population of 274,975, it is the principal city of the Toledo metropolitan area. It also serves as a major trade center for the Midwest; its port is the fifth busiest in the Great Lakes and 54th biggest in the United States. The city was founded in 1833 on the west bank of the Maumee River, and originally incorporated as part of Monroe County, Michigan Territory. It was re-founded in 1837, after the conclusion of the Toledo War, when it was incorporated in Ohio.
As of the census of 2010, there were 287,208 people, 119,730 households, and 68,364 families residing in the city. The racial makeup of the city was 64.8% White, 27.2% African American, 0.4% Native American, 1.1% Asian, 2.6% from other races, and 3.9% from two or more races. Hispanic or Latino of any race were 7.4% of the population (The majority are Mexican American at 5.1%.) Non-Hispanic Whites were 61.4% of the population in 2010, down from 84% in 1970.