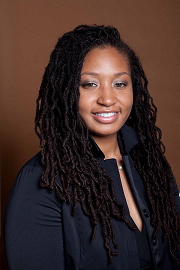 Monica Motley
Dr. Monica Motley was born on April 23, 1984. She is a self-described Black, lesbian, and gender-fluid scholar, activist, scientist, daughter, and lover that fights for and believes in the lived experience and best quality of life for people residing in small cities, towns, and rural areas.
Dr. Monica Motley was born in Fort Bragg, North Carolina, the daughter of Dr. Fred Motley, an activist, artist, writer, and poet, and Rev. Dr. Virginia Motley, an ordained minister, activist, and retired U.S. Army captain and teacher. Her family also includes a brother, the soon-to-be doctor Bo Motley, sister-in-law Kisha Carmichael-Motley, and beloved nephews, Adae and Aidan (Dr. Motley calls them "little Black boys that will be our future"). Dr. Motley was raised in the small rural city of Danville, Virginia, where she felt isolated as a Black, lesbian-identified teen.
"Growing up I saw no 'out' person that looked like me. Anywhere," Dr. Motley told the Ubuntu Biography Project. "Also, culturally Danville tends to be slow moving on the progressive side. Therefore, even talking about sexuality and gender expression wasn't common. I felt very alone as a teenager growing up and being 'outed' in high school. This is a common experience for many youth and adults growing up in small rural areas, and it's got to change. Even when I relocated back home in 2016, I was very uncomfortable holding my partner's hand at home, even though I was very out anywhere and everywhere else."
After graduating from George Washington High School in Danville, Dr. Motley received her Bachelor of Science from Virginia Commonwealth University in Richmond, Virginia. She earned her Master of Science in Education, Master of Public Health, and Doctor of Philosophy (PhD) from Virginia Tech in Blacksburg, Virginia. Dr. Motley played on the Virginia Commonwealth and Virginia Tech women's rugby teams, was elected the first Black and openly gay homecoming queen while at Virginia Commonwealth University, and is a member of Delta Sigma Theta Sorority, Blacksburg Alumnae Chapter.
Dr. Motley is the CEO and founder of The Motley Consulting Group (TMCG), a boutique consulting firm that uses proprietary research, inclusive innovation and diversity, health and social equity, and capacity building as a fundamental way to help organizations and community activists achieve shared goals and reduce community disparities. As a result, TMCG strives to better ensure people can experience their greatest quality of life regardless of who they love, where they live, how much money they make, and what they look like.
In 2017, TMCG was selected as one of 50 businesses to participate in the inaugural US/China Youth Entrepreneurship Forum, hosted in Shenzhen, China to highlight entrepreneurs whose business model shows exciting potential and innovation. TMCG was selected for its model that addresses health, social justice, and entrepreneurship within rural communities. More importantly, TMCG trained more than 160 health providers and community members from across Virginia's Dan River Region about inclusion, equity, and diversity to improve organizational climate, quality of care, and community engagement practices.
In the summer of 2016, TMCG had the opportunity to develop a first-of-its-kind community health evaluation to assess the health, needs, and interest of community members from several public housing communities in the Danville area. Six local women were trained in data collection, and helped design the community events. The initiative had 209 community members participate in the assessment, and there are plans to continue working with the community to develop new projects based on the information collected.
Additionally, Dr. Motley is a Research Associate for the Virginia Tech Center for Public Health Practice and Research, where she manages research projects that work directly with communities of color to address diabetes, nutrition, and health-related issues via faith-based partnerships.
You can read Dr. Motley's work on obesity in the Dan River Region here, and view her contributions to the Middle Border Forward Fellowship ("Stories of the Middle Border: Monica Motley").
"I get to work with amazing and brilliant friends, colleagues, and mentors to address and work on issues that are the root causes of injustice and inequity in our communities," Dr. Motley told the Ubuntu Biography Project. "I get to dream and then do, while learning the whole way. I don't have to wait for someone to tell me when it's the right time to do something. My goal is to help rural communities like mine become the model for shifting the status quo."
As part of her desire to give back to her community, Dr. Motley mentors two scholars from The Point Foundation, the nation's leading scholarship granting organization for LGBTQ students of merit. She is also a faculty member for the Racial Justice Institute (RJI), headed by mentor Dr. Jamie Washington. RJI is part of the national "Creating Change" Conference hosted by the Washington, DC-based National LGBTQ Taskforce. Dr. Motley worked with two facilitators to host a session for LGBTQ people of color and indigenous people to disrupt internalized oppression, and begin a healing plan to care for themselves during the journey.
"It's important that we are proud of who we are because we've been taught through socialization that there is nothing prideful nor valuable in being Black and LGBTQ+," Dr. Motley stated. "This doesn't even include our other identities that are marginalized and attacked on a regular basis. Seeing, being, feeling, and having access to Black SGL/LGBTQ is vital to a centered, grounded, healthy livelihood."
Dr. Motley's honors and recognition include: White House Fellow regional finalist; selected for the 2014 White House internship in the Office of Public Engagement and Intergovernmental Affairs; Virginia Tech's Student of the Year nominee; National Black Justice Coalition Emerging Leader; The City of Danville Distinguished Community Member Award; Yale and Howard University's Edward Alexander Bouchet Graduate Honor Society, Virginia Tech Chapter; and Point Foundation Scholar.
Dr. Motley lives in Danville, Virginia, where she enjoys music, rugby, cooking, food, books, and the arts. She adds that she is growing into a traveler and wants to go across the world. "Give me a river, lake, beach, some fields, my journal, and trees with banging incense—I'm a happy person!" Dr. Motley is also happy to report that she will be working with activists to create an LGBTQ/intersectionality opportunity in which local residents can gather.
"Especially if you come from a small/rural community…life for us will be much more challenging than others but we deserve better. Often you will be the trailblazer. You will be your own cheerleader and you will be the one shifting the culture. Even when someone tells you [that] you don't make sense—you do! Take care of yourself please. We need you! For my fellow community members in Danville and the region, it's time to shift our culture from one of the Confederacy and bias to a destination place for activism, justice, and love. We are at a tipping point, so let's tip it in the right direction," said Dr. Motley.
We thank Dr. Monica Motley for her trailblazing advocacy—particularly in non-urban areas— and for her support of our community.