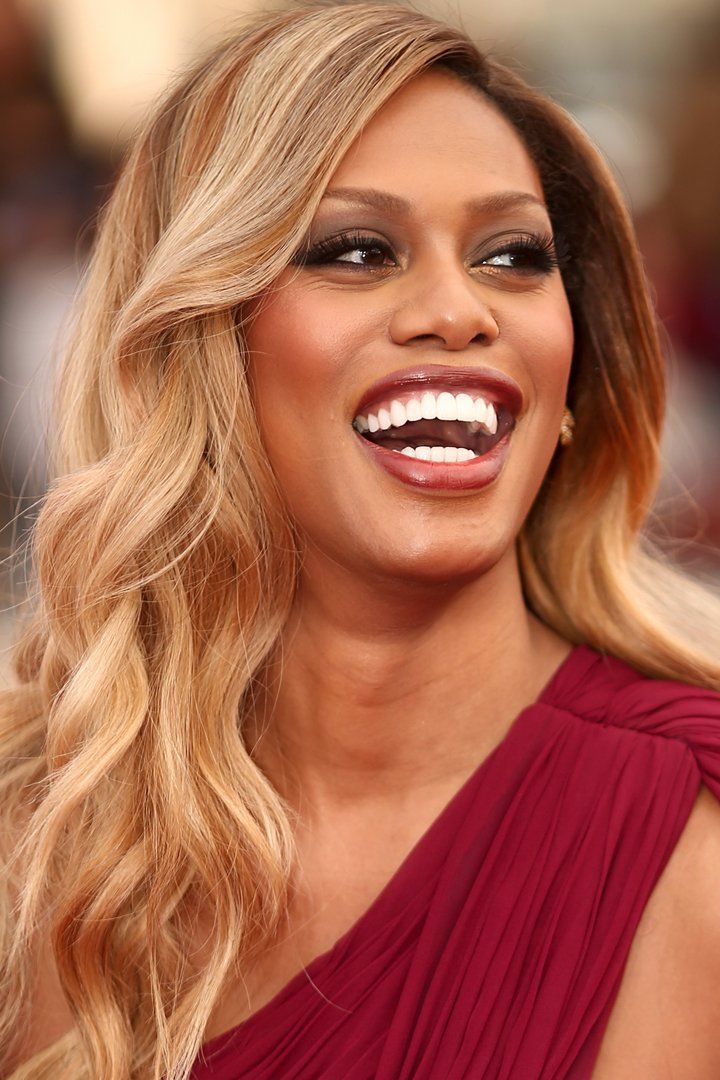 Laverne Cox
(b. 1972)
"Each and every one of us has the capacity to be an oppressor. I want to encourage each and every one of us to interrogate how we might be an oppressor and how we might be able to become liberators for ourselves and for each other."
Laverne Cox was born on May 29, 1972 in Mobile, Alabama and raised  with her twin brother M. Lamar by her grandmother and single mother Gloria. Cox grew up in the African Methodist Episcopal (A.M.E.) church, where she was an usher, in the youth group, and sang in the choir. In church, she also honed her public speaking skills. For Cox, church was an early introduction to life onstage. She is, and has always been, an artist, she says. 
"I begged my mother to put me into dance classes and finally, in third grade, she did," Cox said. "Tap and jazz, but not ballet," she continued. [My mother] thought ballet was too gay…Throughout all of that, I was very feminine and I was really bullied, majorly bullied."
It was around this time that Cox would enter what she has called "reparative therapy." This came after her third grade teacher called her mother to warn, "Your son is going to end up in New Orleans wearing a dress if you don't get him into therapy right away."  At this point, Cox knew who she was and this only made her feel ashamed. The bullying and shame led Cox to attempt suicide.
Cox attended high school at the Alabama School of Fine Arts in Birmingham, where she studied creative writing. The school attracted students from all over the country. She eventually switched to a focus on dance during her junior year, which she'd been pursuing since she was 8. 
Cox went on to study at Indiana University in Bloomington for two years before transferring to Marymount Manhattan College in New York City, from which she graduated with a Bachelor of Fine Arts in dance. She also studied acting in college.  
In 2008, Cox appeared on Law and Order: Special Victims Unit and appeared as a contestant on the reality series I Want to Work for Diddy. She went on to co-produce and co-host TRANSform Me, a reality makeover series that also made her the first Black trans woman to produce and star in her own television show. She continued to act in television and independent films before landing her big break in the series Orange is the New Black. 
For her work on Orange as Sophia Burset, an imprisoned trans woman, Cox was nominated for two Emmy Awards, making history as the first openly transgender person to be nominated in an acting category. Also among the list of firsts, in June 2014, Cox became the first openly transgender person to be featured on the cover of Time magazine.
In 2015, she won a Daytime Emmy Award in Outstanding Special Class Special as executive producer for Laverne Cox Presents: The T Word. The honor made her the first openly trans woman to win a Daytime Emmy as an executive producer. That same year, Cox achieved another milestone: the first openly transgender person to have a wax figure of herself at Madame Tussauds museum. In 2016, Cox was awarded an Honorary Doctorate from The New School in New York City for her progressive work in the fight for gender equality.
Cox' other film and television credits include The Mindy Project, Grandma, Free CeCe, Bored to Death, Musical Chairs, and the reboot of The Rocky Horror Picture Show: Let's Do the Time Warp Again. In 2017, she became the first transgender person to play a trans series regular on broadcast television as attorney Cameron Wirth on CBS's Doubt. While Cox' work in all facets of entertainment continues to advance the field, it is important to highlight her executive production of the documentary Disclosure (2020), which offers "an in-depth look at Hollywood's depiction of transgender people and the impact of those stories on transgender lives and American culture." This film and the conversation it has invited have broken new ground. 
We offer this biography in honor of Laverne Cox for her pioneering advocacy and visibility, the ways she has helped popular media level up, and for all that she will contribute in the years to come.