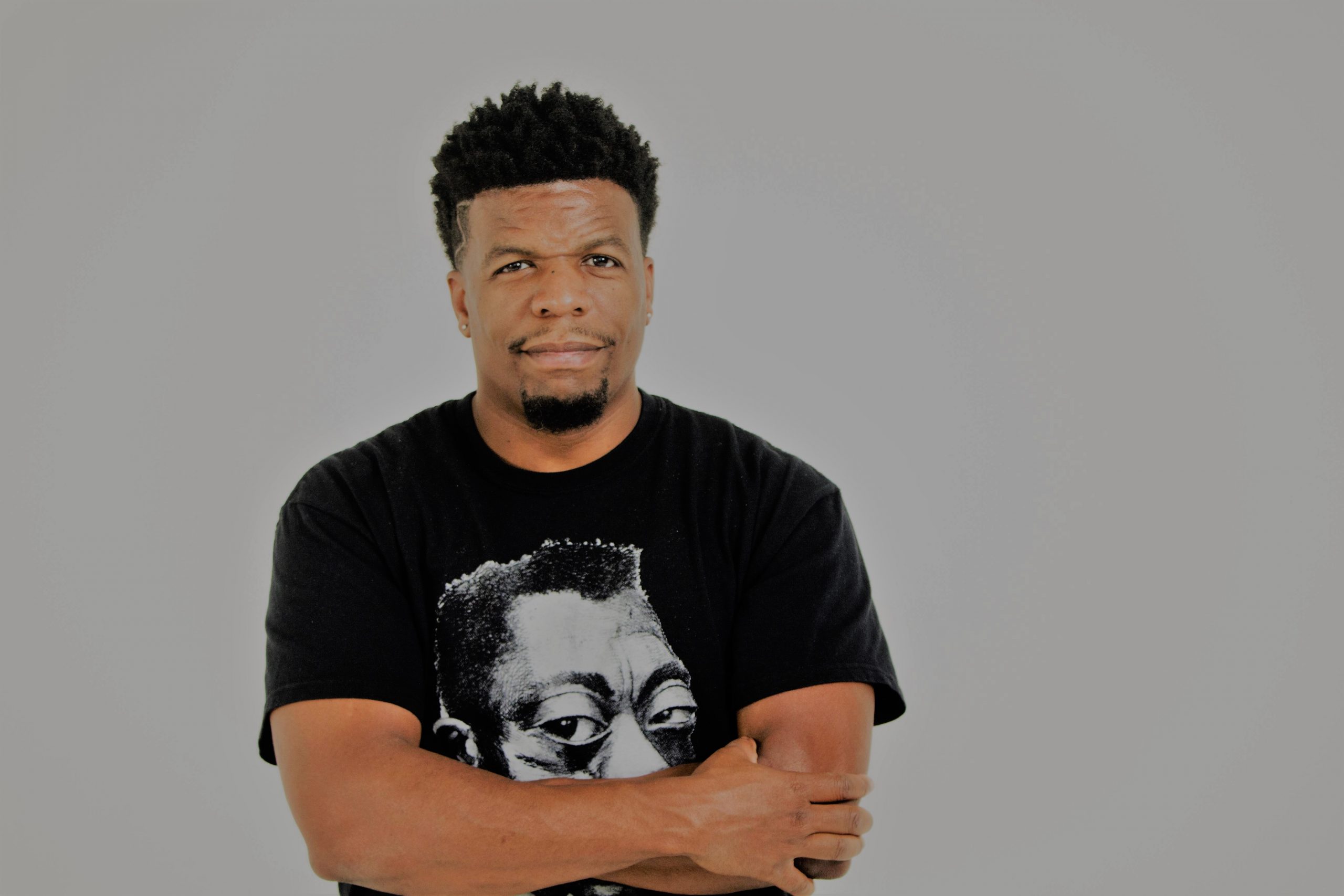 Tim'm T. West
Tim'm T. West was born on July 6, 1972. He is an educator, public intellectual, scholar, and youth advocate who is also a multi-discipline performance artist. He has produced multiple critically celebrated books and hip-hop projects.
Born Timothy Terrell West, Tim'm had a speech impediment that caused him to stutter and repeat the 'm' in his first name. Several of his family members jokingly called him "Tim & m" which was later translated into Tim'm as his unique moniker. He was the second son of nine children born into a musical family in Cincinnati, Ohio, to Charles Edward West, a minister, and his mother, Irma Pearl Stinson West, who served at various times as an administrative assistant and nurse.
Tim'm grew up primarily in Little Rock and later in Taylor, Arkansas, where he attended Taylor High School. He served as captain of his high school basketball team and president of his school's chapter of Future Farmers of America. He participated in Upward Bound at Southern Arkansas University and competed in the esteemed National Science Competitions where he was twice selected to represent his state at the National Junior Science and Humanities Symposium. He had the opportunity to meet then-Governor Bill Clinton and traveled to The United States Military Academy at West Point to compete. While there, he was interviewed by West Point recruiters, but after admitting his same-sex interests in the pre-"don't ask, don't tell" era, he was dropped as a potential recruit.
Tim'm's activity as a Boy Scout led him to join the Mormon Church which sponsored his Boy Scout troop. He began attending church functions at the age of 12. As a high school senior, while being considered for a Mormon mission, he came out to his bishop, which heightened his existing feelings of rejection and shame. This was a difficult time for Tim'm, and while he was contemplating his future, he also contemplated suicide and struggled with depression and anxiety. He finally reached the decision to move on to attend college and embrace who he was, even in the midst of uncertainty.
Tim'm T. West enrolled at Duke University, in Durham, North Carolina, and used an opportunity while at Duke to attend Howard University after his junior year to experience and study at a Historically Black College. He returned to complete his studies at Duke and graduated in 1994, earning his Bachelor of Arts degree in Philosophy, with a concentration in Women's Studies and Pre-Law. After receiving his degree at Duke, and a few years working as a college admissions counselor, Tim'm moved to New York City to attend The New School for Social Research, where he earned his Masters of Arts degree in Liberal Studies and Philosophy in 1998, while immersing himself in the spoken word and poetry scene in Brooklyn and Manhattan.
Not one to sit still, Tim'm T. West traveled to the West Coast to enroll in a Ph.D. program in interdisciplinary Modern Thought and Literature at Stanford University. Shortly thereafter, he was diagnosed with AIDS, so he decided to take an academic break to focus on his health, and options for his future. It was during this time that he deepened his youth advocacy work and joined forces in 1999 with Juba Kalamka and Phillip Atiba Goff to form the Black and queer hip-hop group, Deep Dickollective (D/DC). D/DC was unprecedented and they quickly caught the attention of curator William Jones, who booked them to perform as part of his "Black Gay Male Radical Performances" series at the legendary Black Dot Café in Oakland.
Their debut recording, "BourgieBohoPostPomoAfroHomo," rocked the hip-hop and spoken word communities with its fresh approach to the political and social issues of the day, and injected a new perspective—that of the increasingly vocal Black and queer community. What started as a parodic exercise to vent frustration became a blooming underground yet internationally critical success. In 2007, D/DC released its final, full-length studio project, "On Some Other," on Sugartruck Recordings. The group disbanded in 2008. As a pinnacle moment in D/DC history, the supergroup enjoyed a powerful academic mention in the 2010 release of "The Anthology of Rap" from Yale University Press.
Widely published and anthologized in both academia and the mainstream press, Tim'm occupies a unique position among the provocative voices and critics of the contemporary hip-hop landscape. He is featured prominently as one of the critical voices in the acclaimed 2005 hip-hop documentary, "Pick Up the Mic," and he also appears in Byron Hurt's critically acclaimed documentary, "Beyond Beats and Rhymes." Tim'm also appeared in a set of documentaries directed by Mario Van Peebles about Black manhood and responsibility, "Bring Your 'A' Game" and its complement, "Fair Game?"
Professionally, Tim'm has a vast history in HIV/AIDS advocacy and community mobilization, marked by his work for young Black gay/bi/SGL men at both AID Atlanta and at Saint Hope Foundation's FUSION Center in Houston. He also has been widely recognized for his work over multiple years with the National Association of People with AIDS Positive Youth Institute, and his graduation as a distinguished fellow of the Black AIDS Institute's "African-American HIV University's Community Mobilization College."
Tim'm T. West also taught as an educator, sometimes parallel to his experiences as a public health youth advocate. He served as the Department Chair of English and Creative Writing at the Oakland School of the Arts from 2002 to 2004 before relocating to Washington, DC, where he taught in the English department of the Cesar Chavez Public Charter High School. In various capacities since 1995, Tim'm has also worked for College Summit, Inc., notably as a High School Coordinator in DC in 2006 and 2007, where he helped build capacity of high schools to get more of their students into college.
He is known for his engaging teaching methods, and has taught on the post-secondary level as an instructor of writing pedagogy classes at Eugene Lang College of The New School in New York City, and as an instructor in Stanford University's first-year Writing and Critical Thinking Program. In the 2008-2009 academic year, Tim'm taught in the Department of World Languages and Cultures as a visiting lecturer in ethnic studies at California's Humboldt State University. In 2009, he served as an adjunct professor of English and Philosophy at Houston Community College. In the summer of 2011, he joined distinguished faculty with the Washington National Cathedral Scholars Program, where he taught a six-week, blog-based social justice/activism course.
Tim'm had already relocated to Chicago, where his daughter, Shannon Rose Matesky, a recent DePaul University graduate and well-known poet, spoken word artist and performer, lived at the time. That year, he started mywritingprofessor.com, where he serves as the owner and principal consultant. In December of 2011, he accepted a position at the Center on Halsted, where he was quickly promoted to serve as their Director of Youth Services.
Tim'm's creative accomplishments have always happened alongside his work as an educator and youth advocate, earning him the title of "Renaissance Man" as noted by the "Chicago Reader" in the 2013 cover story, "The Masculine Mystique." Tim'm has been interviewed by an array of media outlets from "Newsweek" to the "New York Times," who want to know what this Black and queer renaissance man of the 21st century is thinking. In recognition of his extraordinary advocacy and artistry, he was honored by PrideIndex.com at their 2013 Esteem Awards in Chicago.
As a solo hip-hop artist, Tim'm released "Songs from Red Dirt" on Cellular Records in 2004. The critically acclaimed solo debut provided a musical complement to his first book, 2003's "Red Dirt Revival: A Poetic Memoir in 6 Breaths." "Flirting," released in 2007, was his second full-length poetic memoir book, and followed his chapbook, "BARE: notes from a porchdweller" in 2005. In the same year that "Flirting" was published, Tim'm completed his second solo album, "Blakkboy Blue(s)," which was also met with great critical acclaim. In the fall of 2008, and in support of the campaign against California's Proposition 8, Tim'm created a limited edition chapbook, "Love In Full Color."  In January 2009, he released his third solo rap project, "In Security: The Golden Error," and after a two-year hiatus, he released the popular "Fly Brotha," a 2011 release which has received critical acclaim everywhere.
In April 2014, in part due to the return of his father's prostate cancer, Tim'm made an urgent decision to move from Chicago to the Washington, DC area so that he could be closer to his father in Richmond, VA. His good faith was rewarded by eventually landing a position as Managing Director of LGBTQ Strategic Initiatives with Teach for America, which he believes is the perfect culmination of his long-time work as an LGBTQ activist, educator, and youth advocate.
His fifth solo release, "Snapshots: The He-Art and Experience of Tim'm T. West," was released that year and gained wide appreciation for its poetic artistry and soul-touching creativity. Given that his father was not always accepting of his sexuality, the impact and power of his redemptive power of forgiveness was captured in a 2014 Father's Day video release, "forgiven" from the "Snapshots" album.
Tim'm released his latest book, "pre|dispositions: affirmations on loving" in the spring of 2015. The pre-publication buzz and reader reviews elevated it to "highly recommended" and an "impactful work."  One review suggested you will "lose yourself here to find yourself." You can (and should) order "pre|dispositions: affirmations on loving" at  www.braveeducator.com, a new platform created to connect Tim'm's creative and activist work. In October 2015, Tim'm released his sixth solo album, "ICONography," a title chosen without awareness that he'd be named 2015 LGBT Icon during LGBT History Month, receiving the honor and his own day on October 29th.
After working in DC for a year, Tim'm desired the ability to take advantage of a city with a cost of living that would better enable the nesting he'd began to seek more in his 40s. He continues his work with Teach for America as Senior Managing Director of its LGBTQ Initiative from Atlanta, GA, where his work in southern and rural regions is especially critical to his national commitment to advancing safer and braver classrooms for LGBTQ K-12 students and their teachers.
Nationally, Tim'm has continued to host his popular Front Porch series, a spoken word/hip-hop/soul showcase that has mobilized performance artists, musicians, and poets in major urban centers all over America and at various colleges and universities. He continues to teach, perform, and raise consciousness while nurturing a community of progressive artists and intellectuals nationally. A dedicated professional, as well as an artist, Tim'm is selectively touring with his one-man show ,"Ready, Set, Grow: a coming of age story," as time permits.
Tim'm was very impacted by the untimely 2016 death of his friend and Ubuntu Biography Project founder, Stephen Maglott. He fondly remembers Stephen as one of his strongest and most consistent supporters—a friendship captured in his tribute, "Black Like Me" in the November/December issue of "Swerv" magazine. On being an out and proud, Black, queer man, Tim'm says, "daring to be visible as LGBTQ people of color is among the most important political things we can do; just to honor our courage and truth where some would prefer that we lie to ourselves or hide in shame, is very important."
We thank Tim'm T. West for his considerable contributions to the spoken word arts, his commitment to teaching and serving others, his advocacy for our youth, and for his many contributions to our community.