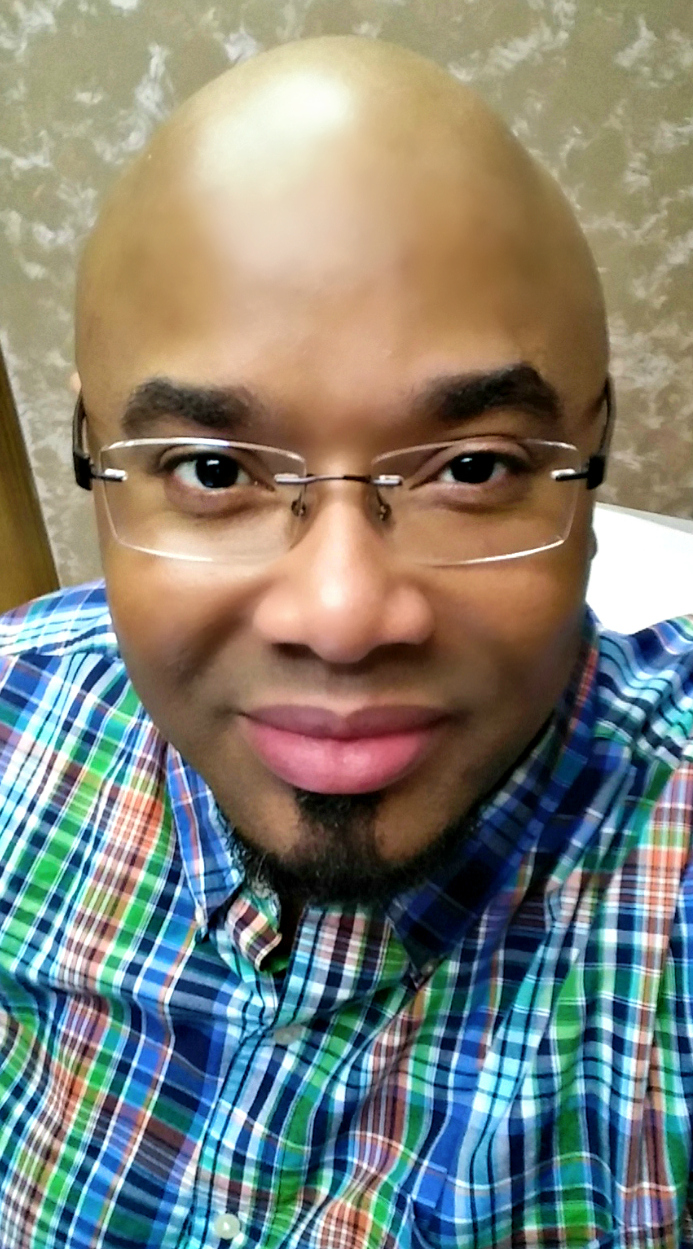 De'Marcus Jackson
De'Marcus Jackson was born on July 8, 1978. He is an educator, advocate, activist, and agent of change.
De'Marcus Ibdul Jackson was born the youngest of four siblings in Hopkinsville, Kentucky, to Darylnene and Fred D. Jackson. He attended Christian County High School in Hopkinsville, Kentucky, graduating in 1996. Up to that point in his education, De'Marcus had experienced a fairly bumpy ride. During all of his elementary school years he was enrolled in special education, demonstrating serious impairments in reading comprehension, writing, and mathematical aptitude, and diagnosed with dyslexia and a stuttering and speech disorder. Fortunately, De'Marcus had very caring teachers who did not give up on him and would not allow him to fall through the cracks of the public education system. His teachers stressed the importance of being responsible for his own learning and they helped him develop an intrinsic motivation to excel.
Education was not optimally reinforced in De'Marcus' family, however, and he did not have any highly educated family role models to look up to. But though his early education took place in a special education program, he began to see how critical education was, and developed a passion for learning, spending weekends tucked away in the public library, reading literature, studying astronomy, and letting his imagination run wild. De'Marcus had a deep need to understand the natural world and the universe in which humankind existed.
As he transitioned from the 4th grade to middle school, De'Marcus tested out of special education. From that point forward, he excelled in most of his academic endeavors. By the time he reached high school, De'Marcus was taking advanced-level and advanced placement courses demonstrating aptitudes in creative writing, the humanities, history and other social sciences, and biology.
De'Marcus attended Hopkinsville Community College (HCC), becoming the first in his family to attend college, and he graduated in 1998 with his Associate of Arts degree with High Distinction. He became active in student government and was inducted into Phi Theta Kappa Honor Society, a unique distinction that served as testament to his resilience and hard work.
After community college, he transferred to Austin Peay State University (APSU), located in Clarksville, Tennessee, where he double-majored in Psychology and Philosophy and graduated in 2001 with his Bachelor of Science degree with Cum Laude distinction. He was also a member of Omicron Delta Kappa honor society.
De'Marcus followed that by enrolling in Capella University, based in Minneapolis, Minnesota. He majored in Educational Psychology with a concentration in Developmental Psychology, graduating in 2003 with a Master of Science degree. Capella is a regionally accredited institution of online learning, which presented a major change in his educational journey. He was skeptical that he would get a high-quality education, but applied himself and found the curriculum to be the most rigorously challenging he had ever encountered; he remains a huge advocate for online learning.
The educational journey of De'Marcus continued at Northcentral University, another online school. He graduated in 2013 with a Post-Master's Certificate in General Psychology. De'Marcus enrolled at Touro University Worldwide, another regionally-accredited institution of online learning and part of the Touro College & University System, based in New York City. De'Marcus is pursuing a doctorate of psychology degree (Psy.D.) in human and organizational development, with a concentration in individual development.
De'Marcus' professional work experiences include themes of human services, mental health advocacy, juvenile justice, and child welfare. He possesses a decade of quality professional experience in non-profit and government sector human and social services. He began as a human service worker at the Christian County-Hopkinsville Family Young Men's Christian Association (YMCA), where he served in several positions, including site director for an after-school program. At the same time, he worked for the Pennyroyal Mental Health Center in Hopkinsville, Kentucky, serving as a residential counselor for adolescent males presenting with emotional and behavioral problems and substance addiction, as well as involvement in the juvenile justice system.
Following the YMCA and Pennyroyal Center, De'Marcus sought employment with the Clarksville Primary Treatment Center (CPTC), a juvenile detention facility serving both male and female juvenile offenders, including sexual offenders. De'Marcus served as Direct Care Counselor, but was quickly promoted to Direct Care Supervisor after one month on the job. He moved on to do similar work for Centerstone, a nonprofit community-based mental health organization, and later at the Tennessee Department of Children's Services (TNDCS), where he served as a team leader and supervised case managers, social workers and administrative staff.
Since early adolescence, De'Marcus has struggled with severe clinical depression and anxiety. Although he manages his mental illnesses through psychotherapy and medication, unfortunate flare-ups of major depression have made De'Marcus acutely aware of the seriousness of mental illness and the need to champion optimal mental health and to advocate erasing the stigma often associated with mental illness. Many of his personal experiences with the mental health system shaped De'Marcus' professional work as a mental health specialist and therapist at Centerstone and TNDCS.
But despite his rewarding work in human and social services, De'Marcus had always wanted to pursue a career in higher education and even worked part-time as an adjunct instructor of psychology at his alma mater, Hopkinsville Community College, while he was at TNDCS. Eventually, he seized an opportunity to teach full-time at Columbia State Community College in Columbia, Tennessee. He currently serves as Assistant Professor, teaching full-time within the Psychology Department at Columbia State. He also formerly served as coordinator for the Education, Health & Physical Education, Psychology, and Sociology departments. Additionally, he served as President of the Faculty Senate for the 2014-2015 academic year.
De'Marcus absolutely loves teaching and says his experience has been immensely rewarding, especially his work as an academic advisor. Most of Columbia State's student body is of rural origins. He is based at the Lawrence County extended campus, located in Lawrenceburg, Tennessee, a small rural town of roughly 11,000 residents. In addition to being a teacher, his goal is to strengthen his students' critical thinking skills, to enhance their sense of self-efficacy, to develop their own motivation for learning, and to eventually create a person prepared for a dynamic workforce or to continue their education at the four-year university level.
De'Marcus considers being gay a core aspect of his total identity, and came out at the age of 17. Growing up in a religiously conservative, Black Baptist household was difficult because he knew he was "different" from a very young age. After coming out, many of his relationships changed or completely dissolved, including his connection to a few family members. At the same time, he gained new friends, many of whom became his chosen "family" and helped him to affirm his sexual identity. Today, De'Marcus lives his truth completely in the open.
He has worked with several local groups in Tennessee in an effort to promote LGBTQ unity and solidary, including Nashville Cares, Brothers United of Tennessee, Human Rights Campaign- Nashville, and the Tennessee Equality Project. He has presented twice at the LGBTQ+ Conference at Middle Tennessee State University. At Columbia State Community College, De'Marcus is an active faculty advisor for the Gay-Straight Student Alliance, and has been routinely integrating LGBTQ issues into his class lectures and discussions since first being hired by Columbia State.
De'Marcus believes strongly in unity and solidarity. The Black LGBTQ community is important to him because within it he sees much potential for growth and evolution. He deeply respects those who live their life openly and honestly and who strive to uplift the community. In De'Marcus' opinion, the Black LGBTQ community must find a way to build unity and solidarity with the larger Black community and with the mainstream LGBTQ equality movement.
De'Marcus is an atheist and secular humanist. He is also an ardent supporter of what he calls "the scientific attitude" of viewing the world through empirical reasoning. As a humanist, he also believes in the potential greatness of humankind without the crutch of religious, mystical, or spiritual thinking. He is single, HIV negative, enjoys Asian and Italian cuisine, sci-fi and horror films, does not smoke, and drinks only socially.
We thank De'Marcus Jackson for his invaluable contributions to education, social services, mental health advocacy, and our community.