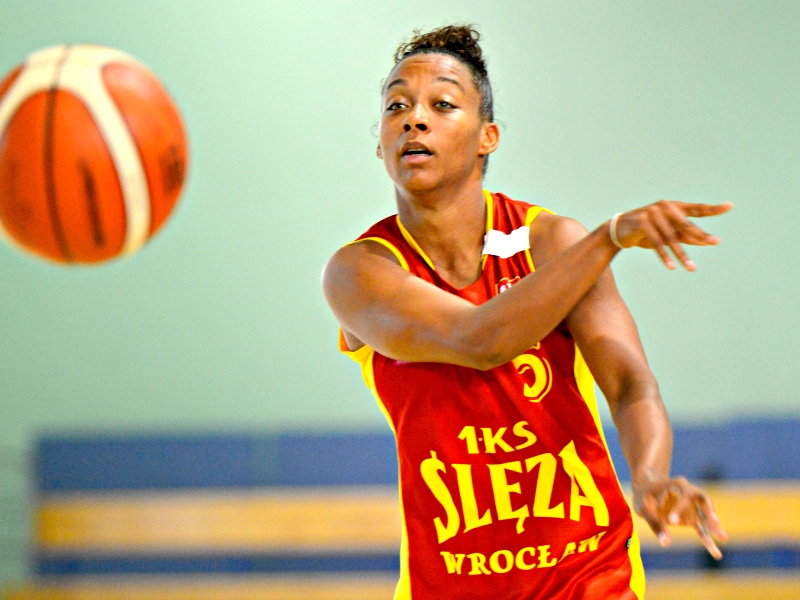 Sharnee Zoll-Norman
Sharnee Zoll-Norman was born on July 11, 1986. She is a point guard who played professional basketball throughout Europe and with the Chicago Sky of the Women's National Basketball Association (WNBA).
Sharnee Zoll was born in Philadelphia, Pennsylvania to Tony and Cheryl Zoll; because her mother served with the Armed Forces, she spent much of her upbringing living at McGuire Air Force Base in New Jersey, as well as Sembach, Germany. After attending three years at Marlboro High School in New Jersey, she transferred to Highland Regional High School in Blackwood.
From 2004-2008, Zoll-Norman played basketball at the University of Virginia, where she graduated as the Atlantic Coast Conference's (ACC) career leader in assists (785), surpassing Dawn Staley's previous record of 729. As a senior, she led her team back to the NCAA Tournament after a two-year absence. She was also a 1000-point scorer and two-time All-ACC third team honoree. She is the only woman in ACC history to have three seasons of at least 200 assists (2006-2008), and won a gold medal with USA Basketball at the 2005 FIBA U19 World Championships.
Following graduation, Zoll-Norman was drafted 29th overall in the 2008 WNBA Draft by the Los Angeles Sparks. She was waived by the Sparks, and spent six games with the Minnesota Lynx before going overseas. In Europe, Zoll-Norman played for teams in Romania, Turkey, and Poland before being signed as a free agent by the Sparks in 2012 but missing the season due to injury. She joined the Chicago Sky in 2013.
Later that year, in an interview with the "Windy City Times," Zoll-Norman came out publicly as a lesbian. Although she had been out to her family, friends and college coaches, and had mentioned her wife, Serita Norman, in previous interviews, this marked the first time she discussed in her private life in great detail.
"I never felt whether I'm gay, straight, bi, [or] whatever that my sexuality had anything to do with me as a basketball player, and I don't think it necessarily has anything to do with me as a person," she said. "If I was straight, I wouldn't have to come out and say that I was straight. So I've never had an official coming out, or something where I felt I had to announce that I was gay. But everyone knows. I wear my wedding ring proudly; I have matching tattoos with my wife, and also have her name tattooed on me. We go a lot of places [together] and I surely don't hide it [that she's my wife]."
Shortly after the interview, Zoll-Norman made her first appearance in a pride parade, riding a bus in the annual Chicago parade alongside her wife. Although she had previously attended pride events in New York City and Washington, DC, this marked the first time she was more than a spectator.
Sharnee and Serita have been together since the summer of 2008. "I think we instantly had a connection," Zoll-Norman told the "Windy City Times." "I don't want to say it necessarily was love-at-first-sight because it took us a while, but once we met each other and went out on our first date, we have talked every day since—be it on the phone, via Skype, via text."
As for her place in history as an openly out athlete, Zoll-Norman was quick to point out the great strides that other professionals have made, including Jason Collins.
"It takes so much courage to come out, especially Jason as a Black professional athlete," said Zoll-Norman. "I think we have kind of a stigma in our community, that if you're gay you're less masculine. So I really applaud him. Throughout his NBA career, no one has questioned his masculinity, his toughness. So Jason really puts a different face to what some people see as gay."
Today, Zoll-Norman plays with 1KS Sleza Wroclaw in Poland, where she led her team to victory in the 2017 Euroleague Premier League championship. She is also part of the Philadelphia Belles EYBL coaching staff.
We thank Sharnee Zoll-Norman for her contributions to the world of basketball and to our community.