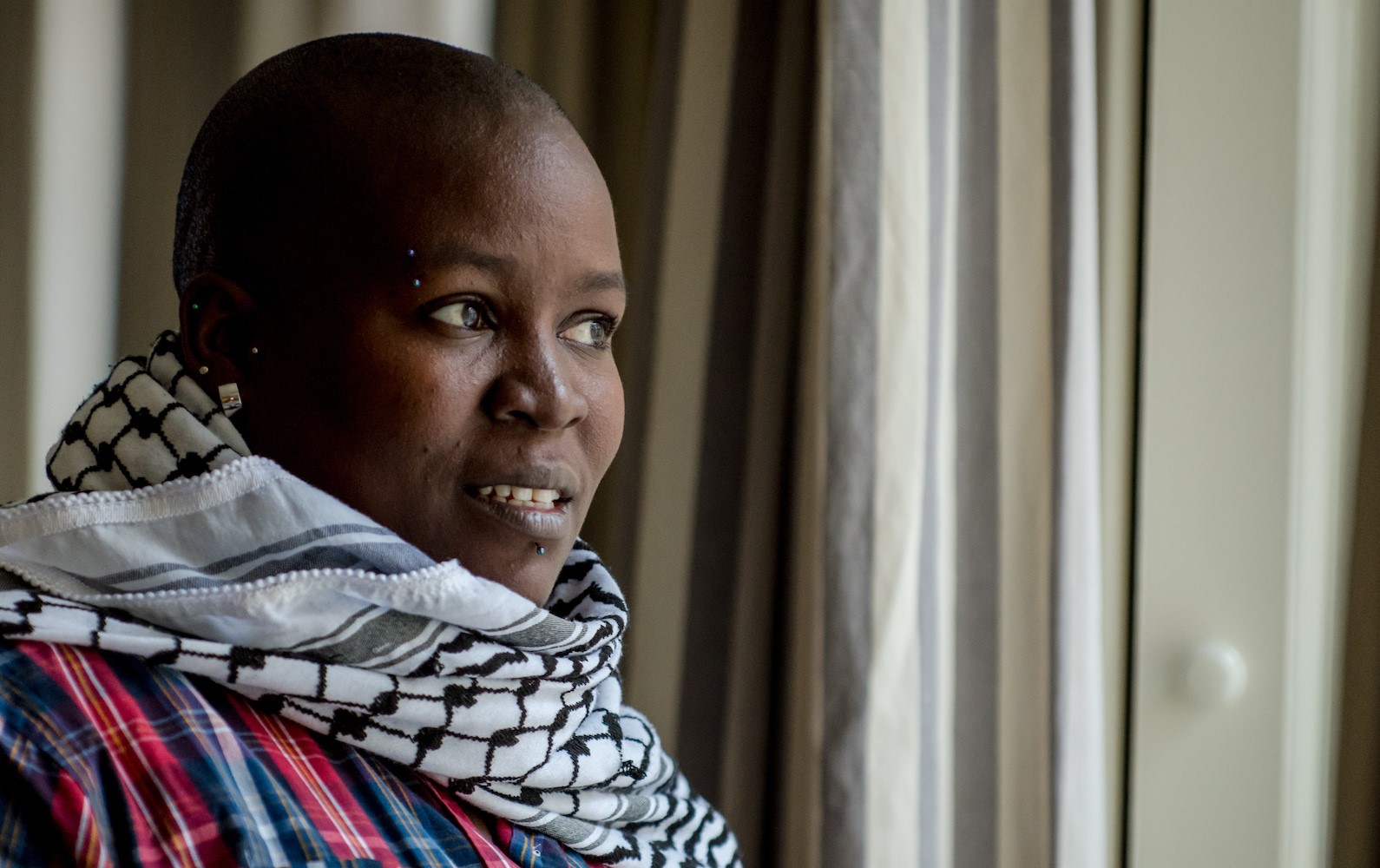 Kenita Placide
Kenita Placide was born on July 11, 1978. She is a Saint Lucia native who has a passion for advocacy and LGBTI issues that has led to her becoming a peer counselor, voluntary counseling and testing provider, HIV rapid tester, gender activist, regional organizer, program executive, and human rights defender.
Kenita Placide was born at Victoria Hospital in Castries, on the Caribbean island of Saint Lucia, to Kenneth Placide, who was a stevedore, and Hellery Julian, a seamstress. She attended the Canon Laurie Anglican Primary school and the Vide Boutielle Secondary School, where she graduated in 1995. Kenita later obtained certificates in System Analysis and Design and Public Speaking from Saint Lucia's Sir Arthur Lewis Community College.
Kenita went to Canada to study women's psychology and women's human rights at Athabasca University, and moved to Toronto, Ontario to further her studies at the Women Human Rights Institute (WHRI) at the University of Toronto, where she subsequently served as guest lecturer. She has also completed studies and been a guest lecturer at the Institute for Gender Development Studies at the University of the West Indies, Cavehill.
Self-taught in several areas, including community mobilizing and fundraising, Kenita has also been trained in HIV/AIDS education, human rights, empowerment, counseling, facilitation, financial management, psychology, para-legal, media advocacy, and now business management. She is passionate about using her knowledge to serve others and address unmet needs in her community.
Kenita Placide is the Executive Director of the year-old Eastern Caribbean Alliance for Diversity and Equality (ECADE) after serving as the Lead Director of United and Strong Inc. (U&S), an LGBTI Human Rights organization in Saint Lucia, for the past eleven years. ECADE aims to network the advocacy of human rights groups in the Eastern Caribbean.
Kenita has endured great difficulty as an advocate for LGBTI people in the Caribbean. She has lost three friends who were murdered for being LGBTI, has been threatened, mugged and attacked because of her advocacy, and witnessed the vandalizing and arson of her organization's offices.
She has served as an outreach officer with the AIDS Action Foundation (AAF) and as a community animator who helps to raise community awareness and interest about HIV/AIDS for the Caribbean HIV/AIDS Alliance (CHAA). These positions involved HIV counseling, testing, education and case management within the community.
Kenita served as the Co-Secretary General to the Caribbean LGBTI group, CariFLAGS, from 2010-2012, and served as its Eastern Caribbean coordinator. In addition to her national and regional commitments, she has contributed to the International Lesbian and Gay Association World Board as an Alternate Co-Secretary General, as a representative of CariFLAGS to the Alternate Women's Secretariat, and a representative of U&S for the Women's Secretariat.
Prior to becoming an LGBTI human rights advocate, Kenita sat on the 1993 National AIDS committee and was a drug free activist for many years. She served as an advisor and consultant in many capacities as well as an educator in schools, communities, and businesses.
Kenita Placide submitted the first presentation by United and Strong to Saint Lucia's Constitution Reform Commission in 2009, and followed up with a submission to the Universal Periodic Review process at the United Nations in 2010. She was instrumental in staging the first Organization of Eastern Caribbean States (OECS) regional security and human rights training for LGBTI and sexual rights defenders, and has since coordinated other training for regional activists. This important training in July of 2011 was designed to examine regional constitutions and laws regarding equality, non-discrimination, and organizations' roles in effecting these changes.
She made history when she co-coordinated the Caribbean's first International Dialogue on Human Rights in February of 2012 in Saint Lucia. Seeking to break the barriers of patriarchy in LGBTI advocacy on a feminist platform, Kenita serves as lead organizer of the Caribbean Women and Sexual Diversity Conference (CWSDC), an annual event first held in 2013.
A spokesperson in various regional and international forums, including the United Nations in New York and Geneva, Kenita was a runner up for the LGBT Intergroup's GO Visible Award in 2012. In 2013, she was selected as Star Publishing's People's Choice for Person of the Year in Saint Lucia, the first time an LGBTI person had been honored with the award in her country. She was featured in a World Human Rights Day forum in New York, sponsored by OutRight Action International and by The Daily Beast, in December of 2014.  She mesmerized the audience with her personal story, which you can view here..
Kenita Placide's many achievements come from her enthusiasm, love for volunteerism, community development, and leadership. Her work is grounded in compassion, dignity, and justice for all. She credits her innovation to Dr. Robert Carr, who consistently challenged her to be a voice for the voiceless, and redirect the conversation on the human rights of marginalized people, while maintaining a firm position on the issues most affecting the communities she serves.
She believes in the statement "the personal is political" and acknowledges her diverse identities are all important to her because they are parts of her truth that "social justice has not always won." She adds, "The struggles of, for, or lack of recognition are still very real. Our identity, belonging, and history are continuously challenged and undermined. The true understanding of diversity and equality are often missing. Just to be recognized as a human."
Kenita lives selflessly and makes her home in her beloved community of Gros Islet in Saint Lucia. She enjoys watching movies, surfing social media, meeting people, and listening to music. She also welcomes personal interaction with LGBTI folks.
We thank Kenita Placide for her advocacy and support of our community around the world.