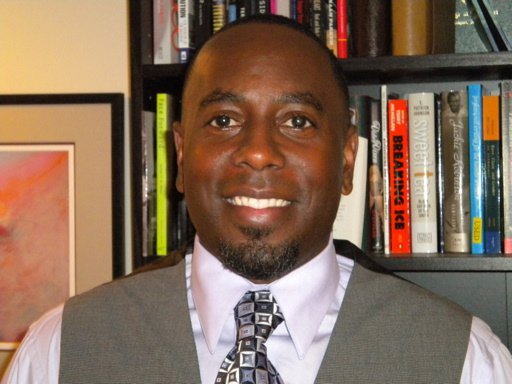 Lee Carson
Lee Carson was born on July 12, 1973. He is a widely respected educator, therapist, community-builder, brother, son, uncle, feminist, activist, and humanitarian.
Lee Fulton Carson was born the oldest of four children in Rochester, New York, to Larry Lee Carson, who was employed at Xerox, and Janice Faye Carson, who held various jobs over the years, including work in a bank and as a teacher's aide. His parents have been together for more than 40 years.
While in grade school, Lee played the clarinet in the school band, aspiring to be the next Benny Goodman, the most notable clarinet player he was aware of at that time. At Wilson Magnet High School, he ran track, mostly middle distance, competing in 400 meter and 800 meter singles and 4×4 and 4×8 relays.
Lee doesn't feel he's had any challenges coming into his identity as a gay man, other than internally coming to grips with it, and finding a niche and social group that he felt comfortable with. He says he began to realize his attractions to men around the age of ten, but didn't begin to explore it until after graduating high school at 18. He had his first relationship with a man at 20, which is the time he disclosed his sexual orientation to his mother, who stated she already knew and that she was giving him space to tell her when he was ready. To this day, he appreciates that she was so accepting and supportive in light of her being a Jehovah's Witness.
He did not come out to his father until a year later, which came about while they watched an episode of "Ricki Lake." The talk show featured LGBTQ people and his father made a negative comment. Lee spoke up and his father replied, "the way you keep sticking up for gay people, I'm starting to think you may be gay!" Lee, having had a positive response from coming out to his mother, decided to take the opportunity to tell his father and disclosed that he was gay. His father was silent initially, but stated that he was his son and that he would always love him, though he didn't understand the idea of homosexuality. To this day, Lee enjoys a good relationship with both of his parents.
In 1994, Lee obtained his Associate's degree in Liberal Arts from Monroe Community College. Two years later, he earned his Bachelor's degree in Health Science, with a concentration in chemical dependency counseling, from the State University of New York (SUNY) at Brockport. After passing his written and oral examinations, he became a credentialed alcoholism and substance abuse counselor (CASAC) in the State of New York.
Lee started his professional career at East House Corp in Rochester, where he served as a counselor in a halfway house that provided rehabilitation services to persons in recovery from substance abuse and mental health challenges. The unit in which he worked was a specialty house that also served deaf and hard of hearing populations. While all staff had to take a basic American Sign Language (ASL) class, Lee took it upon himself to take additional classes to build his proficiency in ASL to better serve clients in the program.
On World AIDS Day in 2000, Lee began working as the program coordinator at the Men of Color Health Awareness Project (MOCHA) site in Rochester. He was amazed that an organization serving such a specific demographic existed in a city the size of Rochester, and he was enthused to have the opportunity to work in an agency that matched his personal and professional interests on multiple levels. Some of his mentors included Guy Weston, George Bellinger, Jr., Al Forbes, Colin Robinson, Reggie Griggs, Cornelius Baker, Ernest Hopkins and a host of others who helped Lee understand what it is to excel as a Black gay man, advocating fiercely for the lives of other Black gay men. During this time he served as a board member of the groundbreaking New York State Black Gay Network.
In 2001, he returned to school to earn his Master's degree in Social Work from SUNY Brockport and Nazareth College, a public and private university collaboration. After graduating in 2004, Lee moved to Philadelphia, Pennsylvania, where he secured a position as a behavioral science researcher for a large public health firm, the Public Health Management Corporation (PHMC). During his nine years at PHMC, most of Lee's projects were related to HIV prevention among men who have sex with men (MSM) and various efforts related to LGBT communities. His first project was involved the nationally known Brothers y Hermanos Study, the largest study ever conducted to better understand the socio-cultural factors contributing to HIV risk among Black MSM in Philadelphia.
Lee was able to marry his social work training to research and led several community advisory boards during his tenure at PHMC, including the Advisory Board on LGBT Research, which he helped found and served as their co-facilitator. He also worked on a few projects geared toward decreasing health disparities among general populations, such as the Black Men in HD (Hypertension and Diabetes) project, where he worked to culturally tailor guides to help Black men better manage their hypertension and diabetes.
In 2006, while at PHMC, Lee began working as a therapist for Open Door, the behavioral health department at Mazzoni Center, an LGBTQ health and wellness center in Philadelphia. During this time, he also began teaching as an adjunct professor. In 2009, he completed a needs assessment on transgender communities in Philadelphia and worked on another needs assessment for older LGBTQ adults completed in 2013. After more than six years as a therapist with Mazzoni, Lee decided to pursue his passion for teaching and resigned as a therapist. After his time at PHMC, he dove into teaching full time.
From July 2016 to June 1, 2017, Lee worked part-time as the Interim Executive Director of the Philadelphia-based COLOURS Organization, a Black LGBTQ community-based organization. As of July 1, Lee has returned to the board of COLOURS to continue his work in helping to strengthen the work of the organization. Currently he works in a part- time capacity as the Director of Training for the The Ladipo Group, a black-owned and operated company in Philadelphia. In addition, he is an adjunct professor at both Temple University and the Community College of Philadelphia (CCP). He has helped to educate hundreds of students, instilling in them the values of social justice and motivating them to be agents of change in the community. Since December 2014, Lee has also served as a therapist for Talk Space, an online therapy provider.
Lee Carson is one of eight founders and the first President of the Black Gay Men's Leadership Council (BGMLC), a Philadelphia-based volunteer-run, grassroots organization. He served as their president for eight years, and was involved in numerous discussions with the local AIDS office to enhance service provision and funding for Black MSMs. Additionally, he helped organize a track during the national LGBTI Health Summit in Philadelphia featuring asset-based research on the lives of MSM of color; testified in front of the City Council on the need to ensure adequate HIV funding in the city; held numerous networking events for professional Black gay men and allies; and engaged in several letter writing and advocacy efforts when he felt a sense of injustice experienced by Black gay men in public institutions.
BGMLC was a founding organization of the LGBT People of Color Coalition, in which Lee was the BGMLC representative. The LGBT People of Color Coalition was a multi-racial, multi-gender, grassroots organization that sought to work collaboratively on projects to decrease racial divides among LGBT populations in Philadelphia. Lee currently serves as the President Emeritus of BGMLC.
Lee has also worked as a consultant and trainer, and was hired by the technical assistance division of PROCEED, Inc., and worked as the trainer for a national leadership development training institute conducted in four cities across the country. He has provided recruitment and retention technical assistance through Mayatech Corporation, and has also served on consultation groups for the Centers for Disease Control, including the Testing Makes Us Stronger campaign. Lee conducted a workshop at the Mandate DC conference in 2012 geared toward helping Black gay men assess what they are looking for in a partner, which required them to do self-reflection and introspection as they work toward finding an ideal mate. He has also conducted workshops on interracial dating, providing a framework for couples to think about as they work to reconcile racial and cultural differences that may present themselves in the context of the relationship.
Lee has been with his partner Boris for more than five years. They live in Philadelphia and enjoy vacationing together, cooking and entertaining. He tries to get home to Rochester as often as his schedule permits, to spend time with family and friends.
Of his work Lee says, "Our basic need as humans is to be loved and accepted as who we are, and I see my life's work as providing that love and acceptance directly, as well as training future social workers and human service agents how to do the same for clients they will work with throughout the course of their career."
We thank Lee for his outstanding service and dedication to building communities, including our own.