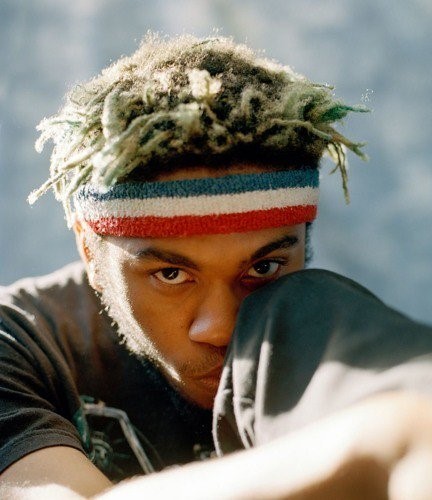 Kevin Abstract
Kevin Abstract was born on July 16, 1996. He is a musician, songwriter, and performance artist based in Los Angeles who records as a solo act and as part of the boy band BROCKHAMPTON.
Born as Ian Simpson (some sources list his birth name as Clifford Simpson) in The Woodlands, Texas, Abstract says he never fit in growing up—although he craved it. "I wanted to blend in 'cause I knew I was different," he told "The Guardian." He has described his parents as Mormon and "extremely" religious.
At the age of 12, he came up with what would become his performing name—Kevin was the first name of a boy he thought was cool, and Abstract was the response of a friend he asked to describe his music. Abstract moved around frequently as a boy and teen, everywhere from Corpus Christi, Atlanta and New York to Florida and San Marcos, Texas. Compounding his unsettled life as a boy was an ongoing struggle with his sexuality.
"I probably always knew," he recalled for "The Guardian." "But that's one of those things that's hard to accept. It's hard to accept the truth, especially about yourself."
Abstract wrapped himself up in Will Smith films and created what he calls his "own little world." He told "USA Today" that he idolized Smith because "I think that's like me trying to…fill a void of not having a dad in my household so I look at someone who's kinda similar to me—someone I look up to…that was Will Smith at the time. So since he rapped I was like damn, I should rap, too."
In 2012, when Frank Ocean revealed that his first love was with another man, Abstract says it changed his life forever at age 16.
"I remember exactly where I was when I read it," he told "Fader." "I had just had my first experience with a dude. It was just like, thank you. It saved me."
Abstract left home as a teen and moved to San Marcos, where he lived with friends and spent a year making music with them. After moving to LA, the group, AliveSinceForever, released their first collective mixtape. Abstract released his debut album, "MTV1987," that same year (2014), and received positive attention from major music blogs and magazines, including "Billboard," "Complex," and "Spin."
AliveSinceForever disbanded and re-formed with an amended roster as BROCKHAMPTON, a multi-racial "All-American boy band." BROCKHAMPTON's debut single, "Bet I," was released in January 2015. Abstract says of the band, "We are what America actually is. We speak for people of color who have a hard time expressing themselves publicly."
As BROCKHAMPTON continued to release singles, a collective mixtape ("All-American Trash"), a documentary, and music videos, Abstract was working on his solo projects. He announced that his sophomore album, "Death of a Supermodel," would be released later in 2015. It was scrapped in favor of a new album, "They Shoot Horses," part of what he dubbed the Death of a Supermodel trilogy. After touring in Europe and the United States, Abstract changed the title of the album to "American Boyfriend" and told fans it would be coming out toward the end of the year.
In November 2016, "American Boyfriend: A Suburban Love Story" was released, and with it came a very public unveiling of his sexuality. "…Can't tell my family I'm bi/Can't tell my mother I'm gay/The hardest part of my day is wishing I was fucking straight," Abstract laments on the track "Papercut." In "Miserable America," he raps, "My boyfriend saved me/my mother's homophobic/I'm stuck in the closet, I'm so claustrophobic." In "Seventeen," the lyrics "Showed me obscure bands he was into/His mom was in the dining room, we're in his bedroom" tackle an unrequited teenage crush.
For Kevin Abstract, music has been a "way out" and gives him the chance to connect to audiences that may feel as if they are "other."
"Me telling that story [of coming out] helps another kid. 'Cause no one has ever said that in a song, and I resonated with that. "That's why it's important for me to open up for bigger pop stars. 'Cause [kids] won't hear my music otherwise. And for me to be onstage in front of that many kids and for them to be like, damn, I identify with this person—now they have a new hero that looks like them."
We thank Kevin Abstract for his courage and honesty through music, and for his contributions to our community.