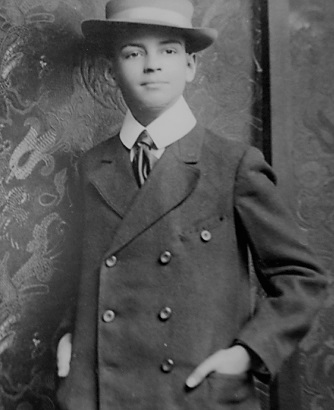 Norris Herndon
Norris Herndon was born on July 15, 1897 (to June 7, 1977). He was the second president of the Atlanta Life Insurance Company, founded by his father, Alonzo Herndon, in 1905. He was an important philanthropist, and an active member of Alpha Phi Alpha Fraternity, the first collegiate-level fraternal organization for African American men.
Norris Bumstead Herndon was born in Atlanta, Georgia, the only child of Alonzo Herndon, who had been born into slavery, and Adrienne Elizabeth McNeil, a graduate and teacher at Atlanta University. Norris Herndon attended the Atlanta Public School System, and got an early taste of activism at age seven when his father took him to the first meeting of the Niagara Movement, an early Black civil rights organization. Because Norris and his family were light-skinned, they were also able to blend into Atlanta's white community.
Just as Herndon became a teenager, and four months after the family moved into a new home, his mother died. Already struggling with identity and sexuality issues, Herndon losing his mother at a young age only added to an emotionally difficult adolescence. Despite that, he graduated in 1919 from Atlanta University, and earned a Master's in Business Administration from Harvard University's Business School in 1921. He was one of the only two African Americans in his graduating class.
Herndon became a cashier at his father's firm, the Atlanta Life Insurance Company, which was founded by buying out benevolence funds from small Black churches. He was subsequently promoted to become the company's first vice president. Following his father's passing in 1927, Herndon, now 28, was elected as the company's second president. During his nearly 50 years at the helm, Herndon guided the company through incredible growth—from assets of just over a million dollars when he became president to $84 million when he retired.
Herndon's wealth enabled him to pursue philanthropic endeavors, including the establishment of the Alonzo F. and Norris B. Herndon Foundation, which still operates Herndon Home, a museum that details the family's rise from slavery to prominence and wealth. He also gave money to civil rights leaders such as Martin Luther King, Jr., and gave to the United Negro College Fund, the NAACP, the African American YMCA, Atlanta University, Morris Brown College, First Congregational Church in Atlanta and the National Urban League, among others. In 1948, Herndon donated the land and money to build Atlanta University's Herndon Stadium.
Despite his success, Herndon was extremely reclusive. Although the public had no idea Herndon was gay, his inner circle was well aware. Growing up with a strict father who demanded his son to stay "the straight and narrow course," Herndon learned to hide his affection for men and live a very private life. There is a well-documented account of how boxing champion Joe Louis came to dinner at Herndon's house and commented, "Nice place you got here." Herndon simply replied, "Thank you," and said nothing else the entire night.
In the summer of 1977, Norris Herndon was found in his bed, dead of a heart attack. He was buried in his hometown of Atlanta.