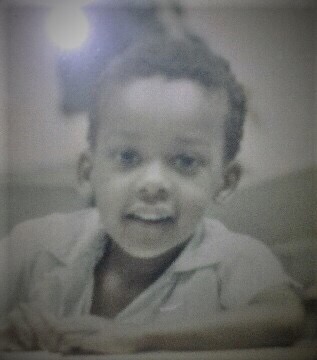 Mark J. Tuggle
Mark J. Tuggle at age five
Mark J. Tuggle was born on August 6, 1960. He is an activist, educator, humanitarian, mentor, writer, and spiritual being.
Mark J. Tuggle was born on the south side of Chicago, and raised by Lawrence Tuggle, a CTA bus driver and business owner, and Mary Tuggle, a dancer and teacher. Mark was the fifth of seven children that included three brothers and three sisters. He graduated from Kenwood Academy High School in 1978. Later that year, Mark attended the University of Illinois at Chicago as a business administration major. His emerging interests were not defined by social norms, and he learned to value critical thinking, cultural affirmation, and self-determination.
Mark played tennis for three consecutive years at the University of Illinois, and earned a letter annually for his competitive spirit and team play. He was the only player of African descent on the squad each year, and sometimes endured racial profiling when the school traveled around the country. There were no Black-affirming groups on campus, and Mark struggled with feelings of alienation, inadequacy, and loneliness.
As a freelance writer and poet, Mark has been published in various magazines, newspapers, and online zines. Mark has been featured in, on, and with: Africana.com, Afrikan Poetry Theater, BET Tonight with Tavis Smiley, BLACKLIGHT Online, BLACK NOIR, Brooklyn Moon Cafe, KLMO-FM, Longmoor Productions, MasculineUs LIVE, New York Times, Nuyorican Poets Cafe, Our Corner, POZ, PULSE, Rolling Out New York, Rush Arts Gallery, Sexplorations, Sports Qualified, Soundz Bar, The CITIZEN, Trenton Times, UPN News, UZURI, Venus, VIBE, Village Voice, WBAI-FM, WNYC-FM, and WQHT-FM.
Mark started his personal blog (www.markyourtruthhere.blogspot.com) in the summer of 2005. His intention was to provide a community resource of information for diverse people worldwide, as well as share his provocative thoughts about various issues which include anti-homosexual thinking, body image, domestic violence, family patterns, genealogy, immigration laws, mental health, prison industrial complex, racist imagery, sexual fluidity, terrorism, voting rights, and white supremacy.
Mark feels most passionate about serving humanity. He actively supports, and has volunteered with organizations such as Bailey House, Central Harlem HIV/AIDS Network, ColorofChange.org, East Harlem Tutorial Program, Exponents/ARRIVE, Housing Works, IMAGENATION Film and Music Festival, Drug Policy Alliance, Sidney Hillman Family Practice, The Osborne Association, and The Sledge Group, where he's mentored a young, Black male since 2002.
Mark is a same gender-loving contemporary descendant of enslaved Africans. He's single, has no children, and lives in Harlem. Mark is an NBA junkie—"minus the needles," he quips—and cannot(!) survive w/out ESPN, NBA TV (or NBA on TNT) for more than 24 hours. He loves dancing to classic house music, and was inspired as a young man in Chi-town venues (Club Rialto, Power Plant, Warehouse, etc.) by the late Frankie Knuckles, the godfather of house music.
Mark wants to travel around the world, and learn more about his powerful ancestral legacy. In June 2015, he visited Rio de Janiero, Brazil, where he spent ten glorious days, residing just blocks away from Copacabana Beach. He feels compelled to visit the slave dungeons in Accra, Ghana, and the prison in South Africa where Nelson Mandela was brutally oppressed for 27 years. Mark is also a proud member of Adodi.
Mark began 2016 by renewing his annual gym membership, and working out several days a week there with a personal trainer. He's committed to exercise and nutrition, prayer and meditation, and continues to explore new ways to affirm his body, mind, and spirit. Mark intends to edit a book about Black male sexuality in contemporary America, self-publish some of his poetry, and become an entrepreneur in the greeting card industry.
We thank Mark J. Tuggle for his contributions to the written word, his activism, and his numerous contributions to our community.