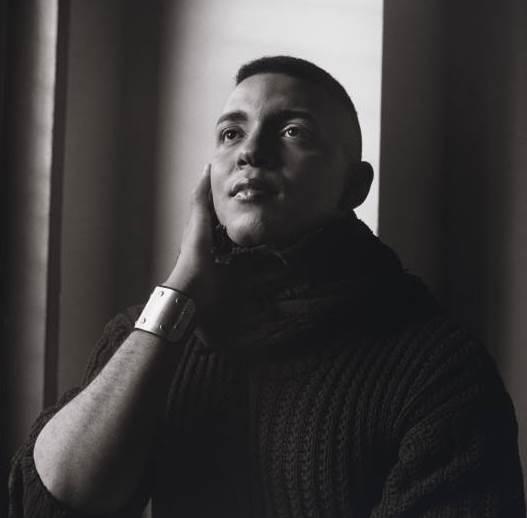 Assotto Saint
Assotto Saint was born on October 2, 1957 (to June 29, 1994). He was a Haitian-born, pioneering poet, author, performance artist, musician, editor, human rights and AIDS activist, theatrical founder, and dancer. Saint was among the first Black activists to disclose his HIV positive status, and one of the first poets to include the AIDS crisis in his work.
Saint was born in Haiti as Yves François Lubin. He was raised by his mother, Marie Lubin, a registered nurse anesthetist, and did not meet his father until he was an adult. After Saint's grandmother passed away in 1965, Marie Lubin moved to Geneva, Switzerland, and Saint moved in with his aunt. Saint's mother eventually moved to New York City, where Saint would visit her during a life-changing trip in 1970.
While walking with his mother at Coney Island, Brooklyn, Saint would stare at men dressed in high heels, to which his mother responded with assurances that such sights were not uncommon in the United States, and that people felt free to express themselves. Although he was scheduled to return to Haiti that week, Saint wanted to stay, even though his mother warned him about the difficulties he would face living in New York. Saint also learned during this time that his father, Mercier, had asked Marie to abort Saint after the unwed couple discovered they were expecting.
After graduating from Jamaica High School, Queens, in 1974, Saint enrolled as a pre-med student at Queens College; he soon left to pursue his interests in theater and dance, including a stint with the Martha Graham Dance Company. Around this time, he adopted the name Assotto Saint—"Assotto" for a ceremonial drum used in Haitian vodoo rituals, and "Saint" for Haitian revolutionary leader Toussaint L'Ouverture. Saint also grew more interested in poetry, theater, music, and fiction.
In 1980, Saint fell in love with Jaan Urban Holmgren, a Swedish-born composer with whom he began collaborating on a number of theatrical and musical projects. Their relationship would last 14 years, during which time Holmgren would write songs for Saint's many theater pieces on gay Black life, which they produced themselves for Metamorphosis Theatre. The duo also formed the band Xotica, and released the dance song "Forever Gay" on the CD "Feeding the Flame: Songs by Men to End AIDS." Saint also founded Galiens Press, a combination of the words "gay" and "aliens."
After Saint and Holmgren were both diagnosed as HIV positive in 1987, Saint, now an American citizen, threw himself into AIDS activism. He was aware of too many artists who went to their deaths in secrecy about their status, and determined that he would be open about his struggle.
In 1990, the Black Gay and Lesbian Leadership Forum presented Saint with its James Baldwin Award, and the New York Foundation for the Arts awarded him a Fellowship in Poetry. "The Road Before Us: 100 Black Gay Poets" received the 1991 Lambda Literary Award for Gay Men's Poetry, and Saint appeared in Marlon Riggs' 1992 film, "No Regrets (Non, Je Regrette Rien)." Despite these significant achievements, Saint and his work attracted little sustained critical attention outside of the Black Gay community. What little attention he did garner often focused on the political aspects of his work; unfortunately, non-Black, heteronormative critics have often portrayed his words as "troubling" and "angry."
The death of his partner Jaan Urban Holmgren on March 29, 1993 profoundly affected Saint. In the three-part prose piece entitled "No More Metaphors," and interwoven through the poems in "Wishing for Wings," Saint concludes that no words can convey his despair over Holmgren's death.
Saint died of AIDS-related complications on June 29, 1994. He had requested that, in protest of the indifference of American society to those dying of AIDS, that the American flag be burned at his funeral and its ashes scattered on his grave. Holmgren and Saint are buried side-by-side at the Cemetery of the Evergreens in Brooklyn.
Saint's collection, "Spells of a Voodoo Doll: The Poems, Fiction, Essays, and Plays of Assotto Saint," was published posthumously in 1996.
Assotto Saint's legacy includes his own literary and theatrical work, and his role as publisher and editor of other writers. Through Galiens Press, he produced "The Road Before Us: 100 Black Gay Poets," "Here to Dare," and "Milking Black Bull: 11 Black Gay Poets." Saint also served as poetry editor for the anthology "Other Countries: Black Gay Voices" in 1988. His theatrical and multimedia productions made him one of the central figures in the Black, gay cultural arts movement of his time, and as the editor and publisher of several important literary anthologies, he helped to make queerness an important element within the Black literary community.
Saint contributed to several anthologies, including "Here to Dare: 10 Gay Black Poets" in 1992, and the transformative "In the Life: A Black Gay Anthology" in 1986, edited by Joseph Beam. He was able to publish two collections of his own writing, "Stations" and "Wishing for Wings," at a time when the American government was still reluctant to fund AIDS research and prevention programs. The works celebrated the solidarity among gay men in the face of the disease, and contrasted this type of queer heroism with the indifference of politicians and policy-makers.
In his essay "Why I Write," Saint stressed that his aim was to make Black queer voices fully part of American life. Through his editing and publishing, he became a mentor for an entire generation of Black gay writers such as Essex Hemphill, Marlon Riggs, and Melvin Dixon, and influenced the lives and work of Samuel Delaney, Carl Phillips, Kobena Mercer, Phillip Brian Harper, and Isaac Julien.
Saint conceived his work as a challenge to the social norms that required invisibility and silence from both Black gay men and people living with AIDS. His writing constantly reverses expectations regarding sex and gender, and provocatively combines queerness and traditional Haitian folklore and mythology. In spite of the widespread homophobia in the Haitian diasporic community, Saint felt linked to that community because of their common fights against the oppressive regime of the Haitian dictator Jean-Claude "Baby Doc" Duvalier.
In addition to retaining close connections to his home country, Saint also fully participated in the social and political movements in the United States, demanding more effective measures against racial and sexual discrimination, and participating in demonstrations and protests against the government's ineffective response to the AIDS crisis.
Honoring him for their annual literary award, Lambda described Saint as "one of the fiercest spirits ever to grace the planet."
We remember Assotto Saint for his fierceness, his inspiring voice, and his many contributions to our community.