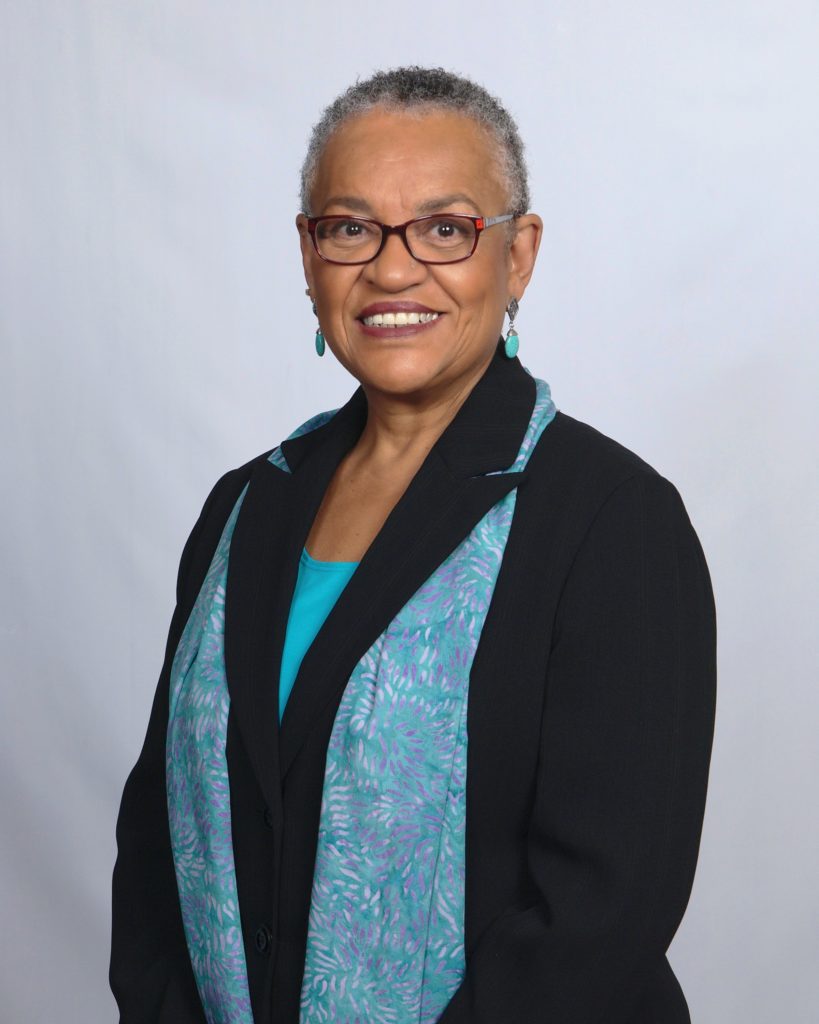 Darlene Garner
Darlene Garner was born on September 28, 1948. She is an ordained minister, LGBTQ activist, public speaker, and co-founder of the National Coalition of Black Lesbians and Gays (NCBLG).
Darlene Onita Garner, of African, Cherokee, and Irish descent, was born in Columbus, Ohio, the oldest of five children. Her parents divorced when she was around two years old. She was raised in the National Baptist Convention, and baptized at age seven at the Union Grove Baptist Church. At age 10, Garner was taken in by her great uncle and aunt, and lived a few blocks away from her mother and siblings. She attended public schools, was a Girl Scout, and performed in the All-State Orchestra. Garner had the opportunity to meet Dr. Martin Luther King, Jr. at a friend's house when she was just 13, and became an admirer of the civil rights leader.
Following graduation from East High School in Columbus in 1966, Garner attended Ohio State University, got married, and eventually had three children. Although Garner had attractions to female teachers and women she saw on television as a young girl, she admits getting married to a man was "…to prove to myself that the feelings that I had for women were something other than being, as my family would say, being―that way," she told the Lesbian, Gay, Bisexual and Transgender Religious Archives Network (LGBT-RAN) in 2010. "And it felt to me at the time that getting married was really the only option that was available to me." The marriage ended in divorce after several years.
In 1973, Garner came out as a lesbian to her family, and relocated with her three young children to Washington, DC, where she worked full time at World Bank. It was also during this time that Garner officially joined the Episcopal Church. As a teenager, she had worshipped at an Episcopal church in Columbus with her then-boyfriend. In 1976, she "came home" when she joined the Metropolitan Community Churches (MCC), the "world's first church group with a primary, positive ministry to gays, lesbians, bisexual and transgender persons." Although she felt welcomed at the inclusive MCC, Garner told LGBT-RAN that she became conflicted.
"One of the realities that I faced at the time was that as a Black woman, it felt as though I had to choose between being Black and being lesbian," Garner recalled. "And so, when I look back on that particular time in my life, I say that… I became unwoven, my strands all came apart."
Despite her personal challenges, Garner co-founded, along with six others, the National Coalition of Black Gays (later called the National Coalition of Black Lesbians and Gays) in 1978, believed to be the first national LGBTQ organization devoted to the Black community. Garner married a man, and moved back to Ohio and had a fourth child, even though she still identified as a lesbian. After a four-year sabbatical and period of healing, Garner left her husband (with his blessing) and moved to Philadelphia, where she went to work for the Girl Scouts, and was drawn back to Metropolitan Community Churches.
As a lay person at MCC, Garner served as a treasurer, lay delegate, and assistant district coordinator. She entered Lancaster Theological Seminary in 1986, and was ordained in MCC in 1988. Garner's first full-time ministry was in political activism, and she served as executive director of the Philadelphia Mayor's Commission on Sexual Minorities, and as a member of the Philadelphia Commission on Human Relations. Garner was associate pastor at MCC in Philadelphia; pastor of MCC in Baltimore; and senior pastor of MCC of Northern Virginia in Fairfax. During this tenure, Garner served as the chaplain for an AIDS hospice, and as president of the board of Northern Virginia AIDS Ministry.
Other roles at MCC included interim pastor of Good Hope MCC in Cape Town, South Africa, and convener of the MCC Conference for People of African Descent (PAD), Our Friends, and Allies, which she founded in 1997.
In 1993, Garner was elected to the Board of Elders of Metropolitan Community Churches. She moved to Los Angeles and served as clerk of the Board of Elders from 1999 until 2003. During this time, she was the Liaison Elder for MCC in Western Canada, Australia, Aotearoa/New Zealand, Europe, and various parts of the United States. Garner then moved to Cape Town for two years to serve as the resource person for Africa. She relocated to Mexico, where she lived for five years in support of MCC's ministry in Latin America. Garner was the director of the MCC Office of Emerging Ministries, which provided oversight and support of new ministry development around the world, affiliations, diversity and inclusion efforts, and missiology.
Garner's career with MCC ends in December 2017.
Garner's volunteer community work has included being part of the historic first meeting between the White House and gay and lesbian people of color; chairing the first International Conference for Gay and Lesbian People of Color; and serving with the Chase-Brexton Health Clinic, the West Hollywood Business License Commission, the Human Rights Campaign (HRC) Religion and Faith Council, and the HRC Diversity and Inclusivity Council.
Garner was praised in "The African American Almanac" as "contributing to the visible image of gays in society," and was named a Capital Pride Hero by Capital Pride in 2010.
In 2010, Garner and her partner, Rev. Candy Holmes, were one of the first same-gender couples to apply for a marriage license in the District of Columbia. They were married along with two other couples at the Human Rights Campaign building on March 9. Three months later, they celebrated their union in a religious ceremony.
Garner loves traveling, home organizing, Cirque du Soleil, and being a loving grandmother and great-grandmother. She and her wife live in St. Petersburg, Florida.
We thank Rev. Elder Darlene Garner for her outstanding spiritual leadership, and for her unwavering support of our community.