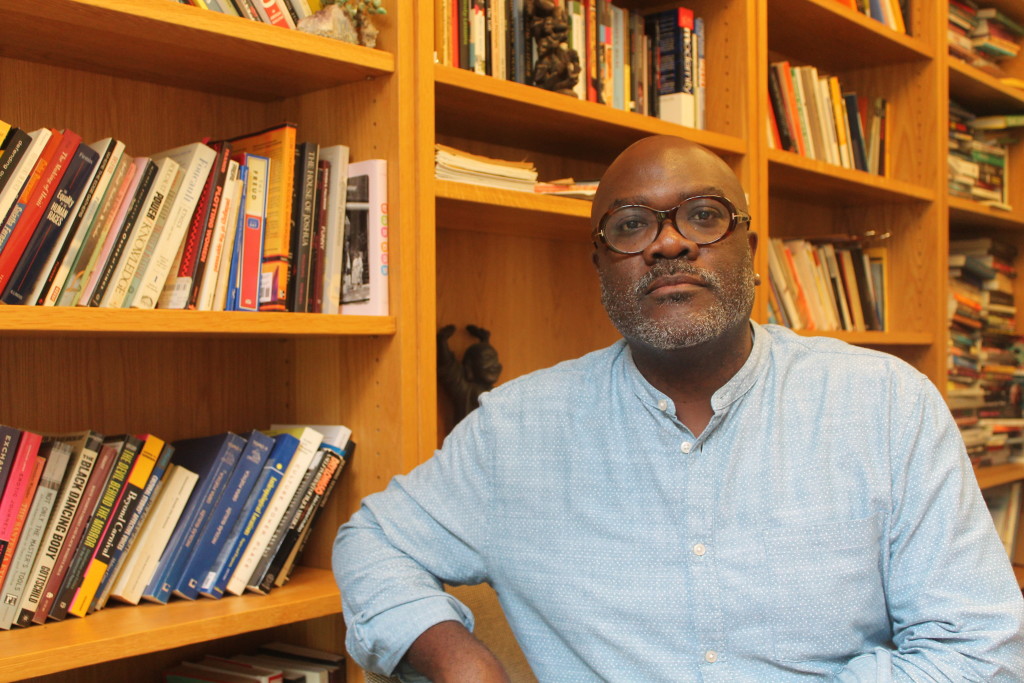 Jafari S. Allen
Dr. Jafari S. Allen was born on October 2, 1968. He is an author, scholar, LGBTQ community advocate, and community builder.
Jafari Sinclaire Allen was born in Queens, New York City, the youngest child of J. Herbert Allen, an engineer, and Geri Allen, a homemaker. He attended Springfield Gardens High school before enrolling at Morehouse College in Atlanta. Allen went on to major in Africana Studies and Anthropology at New York University's Gallatin School (where he was a University Honors Scholar), and receive his M.A., M.Phil., and PhD. degrees in Social/Cultural Anthropology at Columbia University.
During his pivotal years at Morehouse, Allen was a member of the Student Government Association, and served as a student representative to the Morehouse College Board of Trustees. However, he also was struggling with his sexuality, and was expelled from the Afrikan-centered fraternity KMT for being gay (he writes extensively about his Morehouse experiences here and here).
"When I arrived at Morehouse I knew that I had desire for other men, but had resolved that homosexuality was a behavior—if I did not do it I would not be it," recalls Allen, who also dated a girlfriend at the time. "I watched the woman I had loved receive her degree at Spelman, even as she dealt with her own disappointment and perhaps embarrassment over our break-up and the surveillance, attempts at discipline, and final expulsion that I was subject to by my fraternity brothers and friends." Allen says he broke up with his girlfriend with no explanation. All he knew was that "it was unfair to ask her to bear the burden of not knowing what was going on in my head and heart…no relationship could work until I had resolved these issues for myself."
Looking back, he says "the Black LGBT community in Atlanta was a great place to come out in the early 1990s." And despite his personal challenges, Allen dedicated his time to various organizations, including ALLGO, Second Sunday, AID Atlanta, Gay Men of African Descent (GMAD), and the Coalition. He worked at Amnesty International as a Ralph J. Bunche Fellow, and founded the AYA Institute (which has since evolved into V-AYA) with Dr. Michel Alexendre (Sacha) Vington in 1994. The mental and spiritual health organization worked through the Audre Lorde Project in Brooklyn for more than four years, providing drop-in mental health groups, and board development for community-based organizations.
Allen is the newly appointed Director of the Africana Studies Program and The Miami Initiative on Intersectional Social Justice, and is Associate Professor of Anthropology, all at the University of Miami. He also served as Associate Professor of African American Studies, and Associate Professor of Anthropology at the University of Miami, and as the Women's, Gender, and Sexuality Studies Program Director of Graduate Studies at Yale University. Allen's scholarship and teaching has opened new lines of inquiry, and offered re‐invigorated methods of narrative theorizing in anthropology, Black diaspora studies, and feminist and queer studies.
Allen has received fellowships and awards from the National Science Foundation, the Social Science Research Council, Columbia and Yale universities, and others.
Allen is the author of "¡Venceremos?: The Erotics of Black Self-making in Cuba," and is editor of "Black/Queer/Diaspora" and a number of other publications. He is currently completing a new book, "There's a Discoball Between Us," and beginning research on a third monograph, Structural Adjustments: Black Survival in the 1980s.
Dr. Allen's scholarly writing includes "Black/Queer Rhizomatics: Train Up a Child in the Way Ze Should Grow" from "No Tea, No Shade: New Writings in Black Queer Studies"; "The Decolonizing Generation: (Race and) Theory in Anthropology since the Eighties"; and "One View from a De-territorialized Realm: How Black/Queer Re-narrativizes Anthropological Analysis."
Allen says the best part of his work is "teaching and mentoring students; sharing and discovering new things about Black folks' freedom dreams and work toward a new and more possible world. He also loves "the sort of writing and research that goes along with the teaching—trying new ways to see things and to say things, so that next generations can push it further."
Allen and his partner of 16 years make their home in Miami, and enjoy a beautiful and quiet life, "made more beautiful by a constant flow of students, creatives, family and friends." He loves to cook, garden, discover museums and galleries, visit the parks and beaches of South Florida, and watch "too much" television.
Inspired by "bright, creative and committed Black people—most of all Black LGBTQ/SGL/+ folks," Allen declares, "I know that I am here today because of my friends and my community, who have supported and educated and corrected me, and a large part of my mission here is to expand and share the wisdom and love and care I have been fortunate to receive."
You can learn more about Jafari Allen by visiting his website.
We thank Dr. Jafari Sinclaire Allen for his numerous scholarly contributions, activism, and steadfast support of our community.