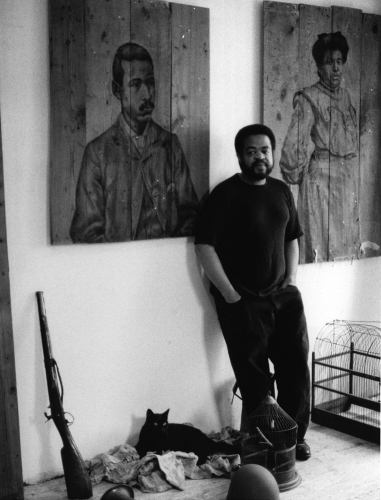 Whitfield Lovell
Whitfield Lovell was born on October 2, 1959. He is an acclaimed visual artist best known for his contemporary installations and works on paper using historical African American images and found objects. In 2007, Lovell was awarded the MacArthur Foundation fellowship.
Whitfield MacAllister Lovell was born in New York City. He was the third of four children born to Allister Lovell, a postal worker and self-taught photographer of Barbadian descent, and Gladys Glover Lovell, an elementary school teacher whose parents migrated from South Carolina during the Depression. Lovell was drawn to the arts early on, studying voice and piano, and doing quite a bit of creative writing. Due, in part, to his shyness, Lovell moved away from the performing arts and eventually concentrated on visual arts.
Raised in the Bronx, where art was either misunderstood or dismissed, Lovell felt isolated and had to seek out resources that were available in other areas of New York City. He attended the Fiorello H. LaGuardia High School of Music and Art, where he was recognized for his writing and received several arts awards. Lowell enhanced his art studies by attending the Metropolitan Museum of Art High School Programs, The Cooper Union Saturday Program, and the Whitney Museum Art Resources Center.
Following graduation from high school in 1977, Lowell spent the summer in Mallorca, Spain, studying painting and sculpture with Manhattanville College. He returned and enrolled at The Maryland Institute College of Art in Baltimore. Lovell also studied at Parsons School of Design, and The Cooper Union School of Art, where he obtained his Bachelor of Fine Arts degree in 1981. He traveled throughout Europe with the American Institute for Foreign Study, and later attended New York University's Graduate Program in Venice, Italy.
Whitfield Lovell started teaching art to children on a freelance basis so that he could have enough time to devote to his creativity. He moved into a loft in Manhattan, where he maintained a studio and did mostly works on paper.
The death of Lovell's older sister, Reva, at age 22, and the violent death of his grandfather, Eugene Glover, led to his works becoming extremely personal and of an autobiographical nature. There were many family stories and narratives that wove in and out of his art. Lovell worked from his father's photographs for about 10 years before he began to ponder the images in his grandmother's photo albums. Lovell became increasingly intrigued by the history of African Americans during the post-slavery and Jim Crow eras.
During his childhood, Lovell's summers were spent with relatives in the South, where he learned about his Southern heritage. Lovell's relationship with his grandmother, Mary Jane Glover, whom he describes as true griot and a dear friend to him, cemented his interest in memorializing this group of people. They were the ancestors whose names and stories were lost to history, who rarely if ever appeared in the art created during their lifetimes, but who left behind the wonderful studio photographs they had posed for—the proof that they were here. Lovell began making works on paper with imagery drawn from vintage studio portraits that he found at flea markets and antique stores. Having collected over 1000 vintage photos, Lovell eventually began making full-scale installations with drawings on wooden walls, incorporating found objects.
Lovell started drawing on the walls of old houses, first in an old villa in Italy during a residency, and then at Project Row Houses, a not-for-profit arts organization in Houston, Texas. He was given an empty "shotgun" house, and carte blanche to create a full-scale installation, which occurred while he was in Houston for a yearlong teaching residency at Rice University. Lovell subsequently created installations at such venues as Cuba's Havana Biennale, The Bronx Museum, The Contemporary Art Center of Virginia, and Whispers from the Walls, an installation created at the University of North Texas in Denton, which traveled to 15 museum and art center venues across the nation.
While Whitfield Lovell enjoys the act of drawing, he says he gets the most excitement from the "hunting and gathering" aspect of his work, scouring through flea markets for inspiration for new works, as well as hunting down specific items to help resolve a work in progress. He learned to bargain from his grandmother, a flea market enthusiast who took him to Englishtown, a market in New Jersey that his family enjoyed visiting on weekends.
Lovell's experience teaching children led to a college teaching position at the School of Visual Arts Art Education Department, which he held from 1987 through 2001. He trained student teachers, and ran arts and crafts programs for homeless children (for which he received an American Red Cross Special Service Award and The City of New York Human Resources Administration's Certificate for Volunteer Services).
Today, Lovell enjoys interacting with young artists during visiting artist engagements, and in alternative settings such as residency programs. He continues to serve on the board of governors at the Skowhegan School for Painting and Sculpture, a program that made a major impact on him when he attended in 1985. It was here that Lovell found the support and encouragement that was hard to come by for a young Black artist in the New York City art world of the 1980s.
Lovell's extraordinary and moving works have been honored with a 2007 fellowship from the John D. and Catherine T. MacArthur Foundation (commonly referred to as the "Genius Awards"), a New York Foundation for the Arts Fellowship, a Joan Mitchell Foundation Award Grant, a National Endowment for the Arts Mid-Atlantic Fellowship, and a New York State Council on the Arts Grant.
Whitfield Lovell's work is in the permanent collections of some of the finest galleries across the nation, including The Whitney Museum of American Art, NY; The Metropolitan Museum of Art, NY: The Corcoran Gallery, Washington, DC; The Smithsonian American Art Museum, DC; The Smithsonian National Museum of African American History and Culture, DC; Pennsylvania Academy of the Fine Arts, PA; The Yale University Art Gallery; The Hunter Museum of American Art, Chattanooga, TN; The Brooklyn Museum, NY; The Studio Museum in Harlem, NY; Seattle Art Museum, WA, and many others.
From October 2016 to January 2017, The Phillips Collection in Washington, DC, hosted The Kin Series and Other Related Works. The major exhibition focused on Lovell's Kin series and his Tableaux and other installations. A monograph, Whitfield Lovell Kin, was published in tandem with the exhibition by Skira Rizzoli.
A global travel enthusiast, Whitfield Lovell's hobbies often inform his artwork. He is passionate about antiquing, music, cinema and theater. Particularly fond of jazz and classical music, Lovell is a self-described scholar on the life and music of Nina Simone, whom he met several times and considers a mentor. He is an avid movie buff, and considers theater among the major inspirations for his installation works.
Whitfield Lovell lives in New York City with artist Fred Wilson, his close partner of nearly 37 years.
You can view some of Lovell's remarkable work here.
We celebrate Whitfield Lovell, and thank him for his creative brilliance, his loving art, and his continuing commitment to our community.