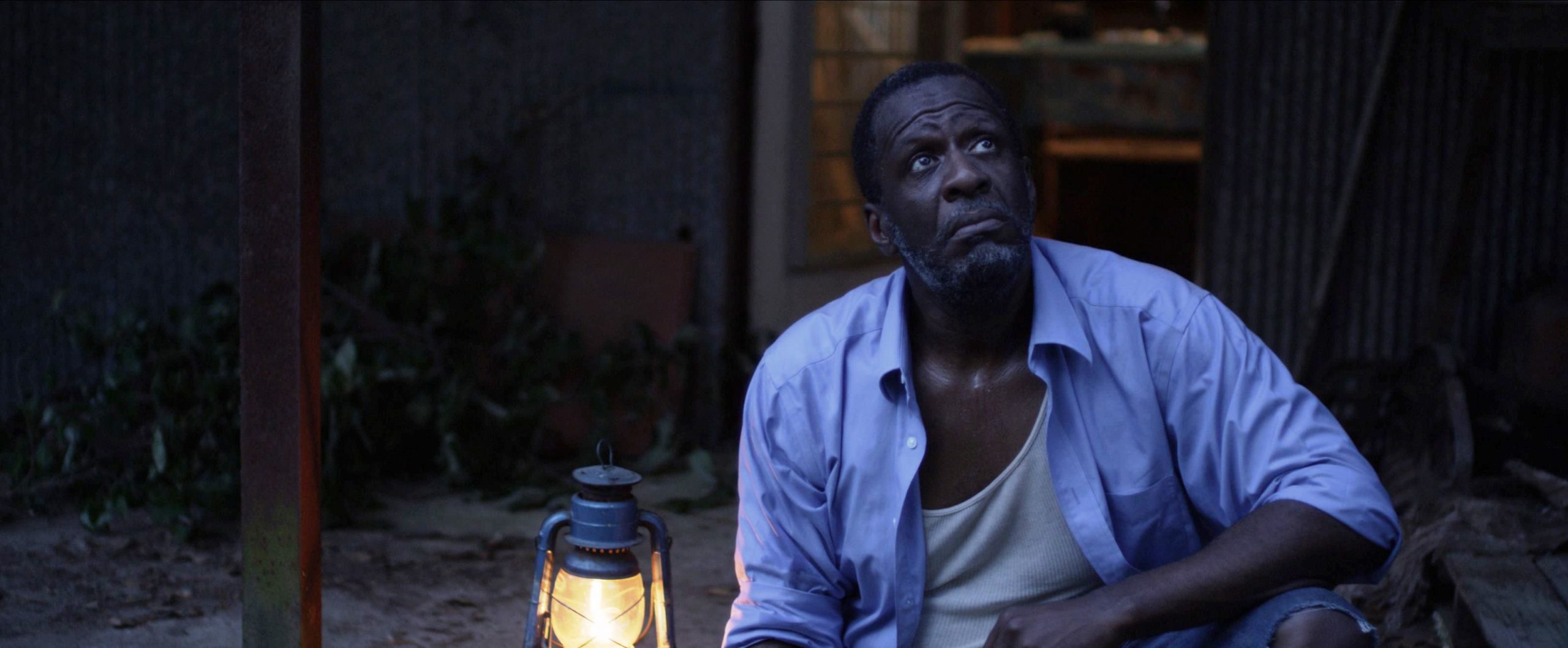 Stan Brown
Stan Brown in the film "The Bespoke Tailoring of Mister Bellamy"
Stan Brown was born on October 25, 1962. He is a widely respected educator, actor, voice and dialect coach, vocalist (since the age of three), recording artist, and stage director.
Stan Brown was born in Walterboro, South Carolina to Dan Brown, Jr., who served in the Navy during World War II (Philippines) and was a general factotum at DuPont, and his mother, Mattie Stokes Brown, a career educator and community leader. He has one older sibling, Lerna Brown, a retired, multiple award-winning educator and published poet. Brown attended Jenkins Hill Elementary School, and was a member of one of the first integrated classes at the historically, all-white Harleyville Elementary School in South Carolina. He also was a student at Jenkins Hill Elementary-Middle School, and graduated with honors from Harleyville-Ridgeville High School in 1980.
Following high school, Brown enrolled at the University of South Carolina, and earned his Bachelor of Arts and Master of Fine Arts degrees in theatre and acting. Brown was named a graduate acting fellow at the Folger Shakespeare Library Theatre in Washington DC, where he received the core of his classical actor training.
Brown began his work in university teaching at the University of Warwick in Coventry, England, where he taught acting and was a post graduate researcher in Contemporary Shakespearean Performance. He explored concepts, interpretation, and development in director Peter Brook's body of work with the Royal Shakespeare Company, as intentional artistic responses to relevant social, political, and cultural realities.
In the United Kingdom, Brown was invited to work with the Voice Department at the Royal Shakespeare Company (RSC) by legendary voice and diction expert Cicely Berry, the RSC Director of Voice. This training and experience initiated his ongoing explorations into (and publications on) perceptions and impacts of "culture" on voice and speech training for the actor. Brown maintains an active professional relationship with the RSC's Voice Department, and, specifically, Berry's work in voice. Berry is author of the internationally renowned books, "Voice and the Actor," "The Actor and His Text," and "Text in Action," in which one of Brown's published articles is cited.
Apart from his work as a teacher, voice/dialect coach, and director, Brown has worked in both the United States and UK as a professional actor in theater, film, television, and radio for 30 years. Some of his credits include featured roles on NBC's "Homicide Life on the Street," and recurring roles on "In the Heat of the Night," and the critically acclaimed, "I'll Fly Away."  In film, Brown co-starred in Robby Benson's "Modern Love," the GLBT cult hit "Almost Normal," and opposite Dave Chappelle, Christine Baranski, Matthew Perry, and Calista Flockhart in "Getting In," the directorial debut of Doug Liman.
Brown played the central character in the acclaimed short film, "The Bespoke Tailoring of Mister Bellamy," which was released in 2015 to rave reviews from both critics and audiences alike. Set in the 1960s south, the film is the story of a homeless Black man who learns to sew on an abandoned sewing machine. When he discovers a job opening for a janitor at a local law firm, he pours his heart and soul into designing and making a one-of-a-kind suit to wear to the interview. The Louisiana Film Prize named the film its Grand Prize Winner for 2015, and awarded Brown with the Best Actor Award. You can view the film's trailer and Facebook page.
Since the age of 17, Brown has relocated an astounding 46 times for school or work. In addition to his time in the United Kingdom, and at the University of South Carolina, he has held teaching positions at the State University of New York at Oneonta, Miami University in Ohio, Towson University, the University of Nebraska, and The National Theatre School of Canada in Montreal, Quebec.
Brown is most passionate about helping young artists discover their voice, their presence, their core passion, and direction. He has spent most of his teaching career coaching students and actors to perform using their "authentic voice" while on stage and on cue.
As a gay man, Brown believes, "Until one embraces all of who he or she is, a genuine experience of loving the self will be unattainable, regardless of sexual orientation, gender, or ethnicity. I think it's profoundly important to try and love yourself before you have to leave this planet." He adds that he "is inspired by people who allow themselves to be present, and people who value giving and receiving love."
In July 2015, Brown married his best friend, Joe Bowie, currently a sought-after professional baker. Bowie is a modern dance legend in New York City, celebrated internationally for his 25-year body of work with both the Paul Taylor and Mark Morris dance companies.
Brown is currently working on a creative non-fiction book for artists, teachers, and anyone in search of their authentic voice.
We thank Stan Brown for his work in education and the arts, and for his unwavering support of our community.