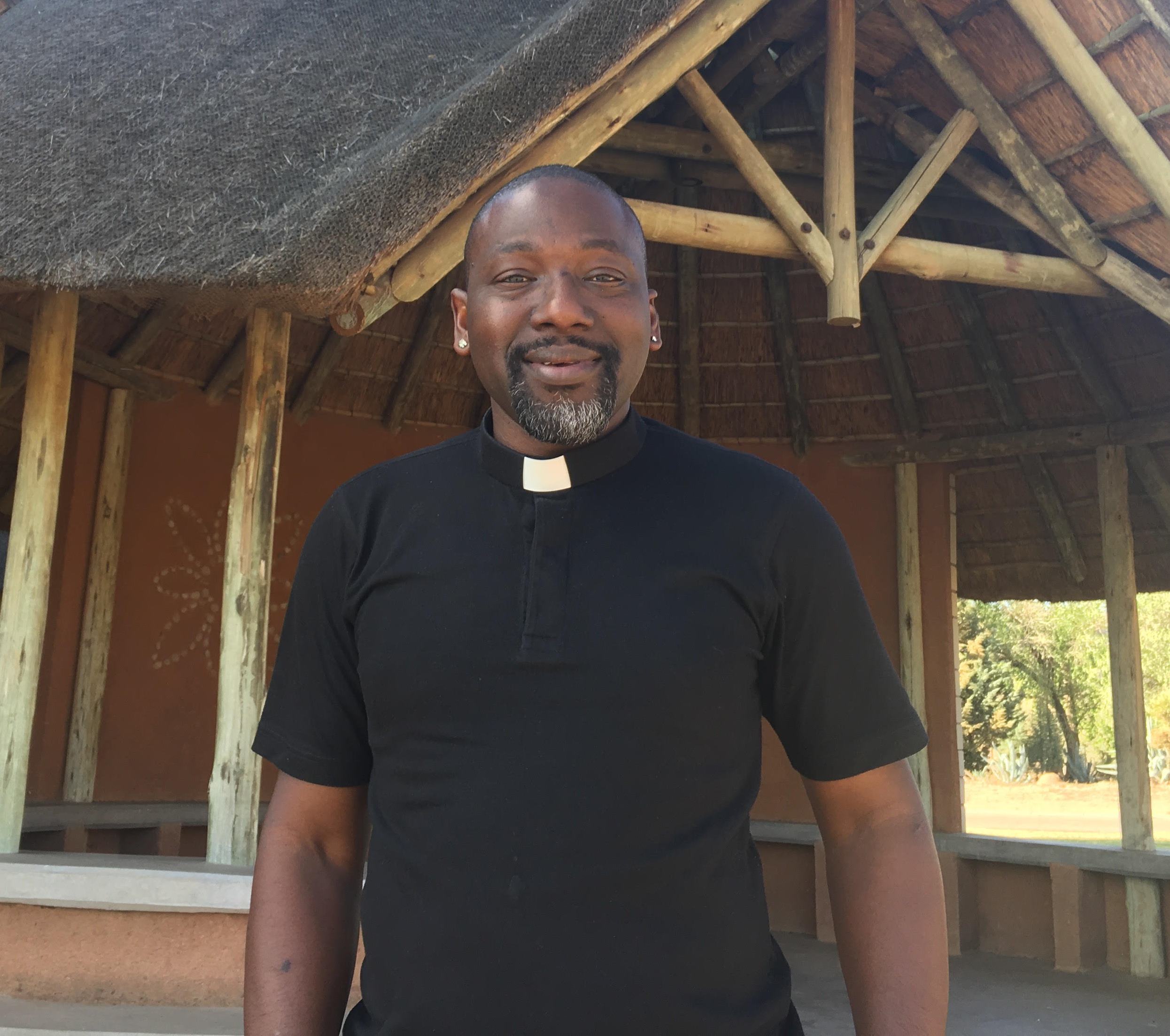 Jide Macaulay
Jide Macaulay was born on November 4, 1965. He is a pastor and ordained minister, an LGBTQ, human rights, and HIV/AIDS activist, community builder, queer theologian, lawyer, and parent. Macaulay founded House of Rainbow, Nigeria's first house of worship catering to the LGBTQ community, and currently serves as its executive director.
Rowland Ayoola Babajide Macaulay was born in London, England. Macaulay's father, August Olakunle Macaulay, is a theologian, principal, the founder of United Bible University, and the president of the Association of Christian Theologians in Nigeria. His mother, the late Helen Olusola Macaulay, was a midwife. He has four siblings, a son, and several godchildren, all living and working in the United Kingdom. As a young person, growing up LGBTQ in the 1980s was never easy, particularly in Nigeria. Macaulay was not able to come out as gay, but knew of his sexuality since the age of 7.
Macaulay studied at several primary and secondary schools in Nigeria, and graduated in 1986. While in school, he was involved in several drama and poetry activities, and later set up the Poetry Inspired Club for young people. Macaulay was also interested in music and directing, but soon lost passion for both and began to focus on his theological development.
Following high school, Macaulay enrolled at Thames Valley University in London, where he obtained his Legum Baccalaureus (LL.B.) law degree. That was followed by further training at United Bible University Nigeria and Anglia Ruskin University Cambridge, where he obtained a master's degree in practical theology, and a post-graduate certificate in pastoral theology, respectively. Macaulay is a self-taught writer and charismatic preacher who also trained at the Pacific School of Religion in Berkeley, California.
Macaulay's Christian upbringing had always forced him into a different understanding of same-sex relations, and he married a woman under the guise of spiritual healing at the age of 24.  While Macaulay experienced same-gender relationships and desires before marriage, it was not until after his divorce in 1994 that he fully came out as gay, with a great effort to reconcile his faith, spirituality, culture, and sexuality.
Maccaulay worked for Crown Prosecution Service from 1987 to 1999, where his career rose from administrator to legal executive. He then went to work with PricewaterhouseCoopers as an IT procurement manager, became self-employed in 2001, and decided to combine his career with developing his passion and preparation for full-time Christian ministry.
On September 2, 2006, Macaulay founded House of Rainbow Fellowship, "an inclusive, welcoming and affirming religious community to all people including sexual minorities and marginalised people." The project ran into trouble with residents and the Nigerian government, and amid massive media frenzy, there were numerous attacks and death threats made against Macaulay and other members. Despite the dangers, Maccaulay secretly traveled back and forth to Nigeria to reach the communities House of Rainbow serves. It is expanding with the help of more than 33 volunteer local leaders, and has active communities in eighteen countries, mostly in Africa.
"The House of Rainbow Fellowship remains my great passion—the ability to take risks for the sake of the inclusive gospel, in order to reach people in hostile regions and part of the world," Macaulay told the Ubuntu Biography Project. "What I like the most about my work is helping people, and seeing transitional changes and developments in people. I like the theological training and pastoral care associated with my work and personality. The ability to help and assist with reconciliation of sexuality and faith is epic."
Macaulay served on the board of Bermondsey Community Nursery (1994-2000), the executive board of the Pan Africa International Lesbian, Gay, Bisexual and Trans Association (2007-2013), and the board of GMFA UK. He was a mentor at the Southwark Black Mentoring Scheme in London. Macaulay is currently the Africa regional representative of the Global Interfaith Network, a member of the board of trustees at Kaleidoscope Trust and INERELA+ Europe, and an Afruca Children's Charity Champion.
In 2003 and 2007, Macualay was honored as Man of the Year by the UK Black LGBT awards for his role in helping LGBT people of faith. He was shortlisted for the National Diversity Award in 2014 for being a positive role model in the category of Race, Faith and Religion, and won the nOSCARS MSM HIV Award in 2014, and the Open and Affirming (ONA) Courage Award and the United Church of Christ (UCC) Recognition Award, both in 2017.
In 2016, Macaulay wrote on his Instagram page, "To be a homosexual is honourable, a gift from God. It is who I am. God makes no mistakes. Knowing the truth as a gay Christian is liberating and gives me the most joy of my freedom."
Jide Macaulay is single and lives in London, where he enjoys socializing, traveling, and experiencing new people, food, and cultures. He has traveled to more than 38 countries, and counts Johannesburg, South Africa, and Chicago, Illinois among his favorite cities. Macaulay is also passionate about drama, writing, and performing poetry. You can read his work at https://poetryinspiredrebirth.wordpress.com/.
Macaulay is developing resources on specific Black African Queer Theology, and is working on a House of Rainbow project called RIMA (Radically Inclusive Mission to Africa) in association with destabilizing heteronormativity. In the near future, it is Macaulay's hope to enhance the broad spectrum of the inclusive gospel across the world, particularly to marginalized communities in Africa.
"The Black LGBT community is important to me because of the history of the struggles for everything, on the issues of race, culture, politics, faith and spirituality," Macaulay told the Ubuntu Biography Project. "It is important that the Black community is proud of their heritage, religion, and history, and learns to include differences and embrace diversity. It is by these examples that younger and future generations of Black LGBT people would be able to find pride in themselves, and incorporate such an important and positive history."
We thank Jide Macaulay for his courage and advocacy as a man of faith, and for his support of our community in Nigeria, Africa, and around the world.