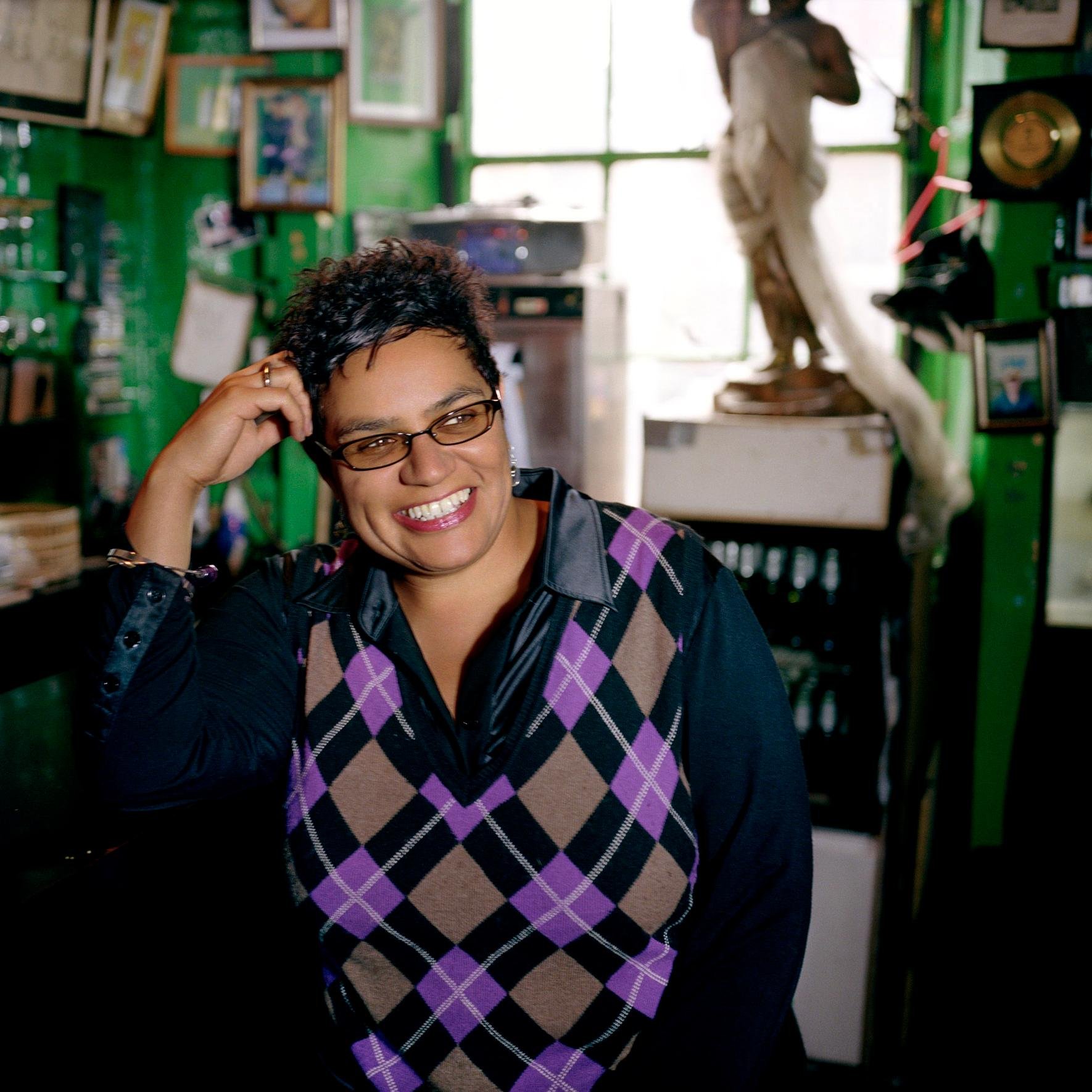 Jackie Kay
Jackie Kay MBE was born on November 9, 1961. She is an award winning Scottish poet, playwright, and novelist who was knighted Most Excellent Order of the British Empire (MBE) in 2006 for her "service to literature." In 2016, she was named the third Scots Makar, the national poet of Scotland.
Jackie Kay was born in Edinburgh, Scotland, to a Scottish mother and a Nigerian father. Her biological parents met when her father was a student at Aberdeen University and her mother was a nurse. She was adopted as a baby by a white Scottish couple, John and Helen Kay, and grew up in Bishopbriggs, a suburb of Glasgow, Scotland. They adopted Kay having already adopted her brother, Maxwell, about two years earlier. Jackie and Maxwell also have siblings who were brought up by their biological parents.
Kay's adoptive father worked for the Communist Party of Great Britain, and once campaigned to become a Member of Parliament. Her adoptive mother was the Scottish secretary of the Campaign for Nuclear Disarmament. Inspired by her parents' political activism, Kay would often attend marches against apartheid and poverty, wrote political poetry, and worked to raise funds and consciousness about progressive issues when she was an adolescent and teen.
Initially harboring ambitions to become an actress, Kay patronized the Royal Scottish Academy of Music and Drama several times each week, but decided to concentrate on writing after Alasdair Gray, a Scottish artist and writer, read her poetry and told her that writing was what she should be doing. A long convalescence after an accident gave her the opportunity to read extensively, and Kay decided to attend Stirling University to study English, graduating in 1983.
Kay went to London, and while working in a variety of places, including a stint as a hospital porter, she wrote poetry and plays, publishing two novels in the 1980s. Her first collection of poems, "The Adoption Papers," was released in 1991, and was immediately recognized as an outstanding debut. It gained the Saltire Society Award for best first book, as well as a Scottish Arts Council Book Award. Written in the three voices of an adoptive mother, a birth mother, and an adopted child, it demonstrated what were to be continuing strengths of Kay's work: the ability to articulate a wide range of emotional experiences, firmly rooted in everyday life, and a keen sense of socio-political realities combined with a deep faith in the transformative powers of human love.
Kay's next collection, "Other Lovers" in 1993, also revolved around a quest for identity, but this time it involved colonial histories and slavery. Her celebrated novel "Trumpet," published in 1998 and winner of the Guardian Fiction Prize, focuses on a jazz trumpeter (again told through several voices) based on the life of American jazz musician Billy Tipton, who was born Dorothy Tipton and lived as a man for the last fifty years of his life, but whose death reveals 'him' to have been a woman. In an online interview for her American publisher, Random House, Kay said, "I don't think I ever set out to write with a message in mind. I was interested in how fluid identity can be, how people can reinvent themselves, how gender and race are categories that we try to fix, in order perhaps to cherish our own prejudices, and how so called extraordinary people can live rather ordinary lives."
Jackie Kay is often categorized as Black, lesbian, and Scottish, yet she has remained determined to escape categorization as a writer, publishing several collections of short stories as well as work for radio and theatre, and writing for children, both fiction and poetry. Kay's early drama training gave her the tools to be a superb performer of her own work, and a very engaging presence. In 2002 she told the Guardian, "I still have Scottish people asking me where I'm from. They won't actually hear my voice, because they're too busy seeing my face."
Audiences respond, with particular intensity, to her readiness to discuss aspects of lesbian life, being Black, and being adopted—whether as fiction, poetry, or memoir, her words go directly to the heart of her audience. The ability to imagine herself in other skins, at other ages, perhaps also accounts for her success as a children's writer. The "Maw Broon Monologues," performed at the Tron Theatre in Glasgow, and combining rhythmic verse and music, was shortlisted for the 2010 Ted Hughes Award for New Work in Poetry. She has also published a novel for children, "Strawgirl," in 2002. Her collection of poetry for children, "Red, Cherry Red," won the 2008 CLPE Poetry Award.
Kay's drama, "The Lamplighter," is an exploration of the Atlantic slave trade. It was broadcast on BBC Radio 3 in March of 2007, and published in poem form in 2008.  Further poetry collections include "Life Mask" in 2005—inspired by the experience of sitting for sculptor Michael Snowden, whose bust of Kay may be found alongside those of other Scottish poets in Edinburgh Business Park—and "Darling: New and Selected Poems," published in 2007.
Kay was commissioned to write a poem for the Scottish Poetry Library's anthology of contemporary Scottish poets' responses to Robert Burns on the 250th anniversary of his birth in 2009. She chose "John Anderson my jo," and brought to her own poem, "Fiere," a passion for reciting Burns's poems, and made it a celebration of strong friendship between women. It became the title poem of her 2011 collection, "Fiere," a poetic partner to her memoir of the previous year, which draws together the languages and landscapes of Scotland and Nigeria.
She took part in the Bush Theatre's 2011 project Sixty-Six Books, with a piece based on a book of the King James Bible. In 2014, Kay was appointed as the sixth chancellor of the University of Salford, and became the university's Writer in Residence the following year. Kay was named the third Scots Makar (national poet of Scotland), succeeding Liz Lochhead, whose tenure ended in January of 2016. In October 2017, she released her latest collection of poetry, "Bantam."
Kay's other honors include the 1994 Somerset Maugham Award for "Other Lovers," the 2009 Scottish Book of the Year for "The Lamplighter," the 2011 nomination for the Costa Book Award for "Fiere," and the 2011 Poets, Essayists and Novelists (PEN Awards) Ackerley Prize for "Red Dust Road," an account of her search for her natural parents.
Kay lives in Manchester, and serves as Professor of Creative Writing at Newcastle University, and Cultural Fellow at Glasgow Caledonian University.
We thank Jackie Kay for her prolific contributions to our literary treasures, her commitment to teaching and serving others, and for her advocacy and service to our community.
[Parts of this biography are from the Scottish Poetry Library].