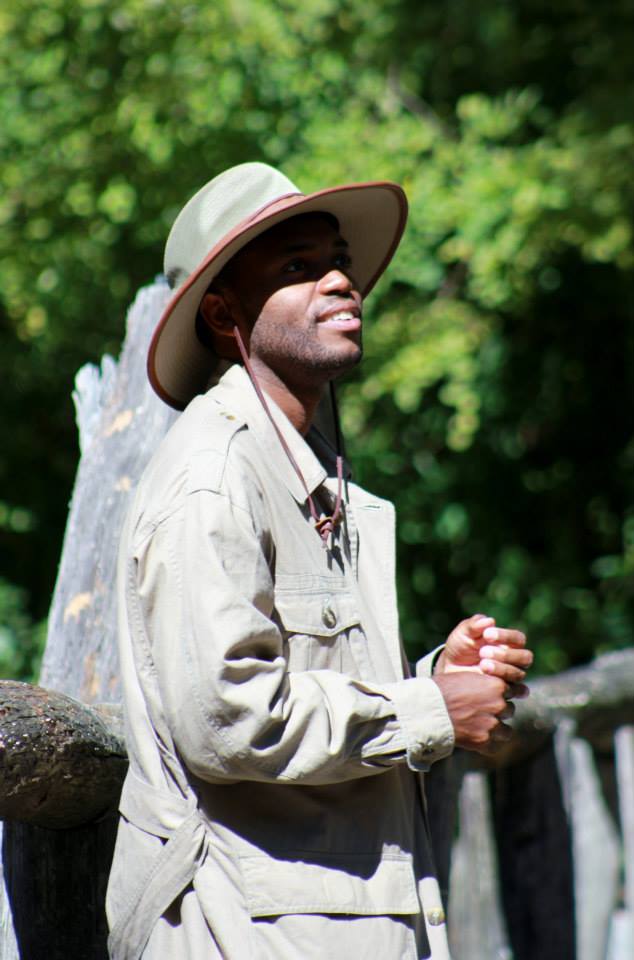 Morgan Powell
Photo: Courtesy of Nilka Martell, who told the Ubuntu Biography Project it was Morgan's favorite.
Morgan Powell was born on November 25, 1973 (to September 29, 2014). He was a beloved Bronx, New York-based historian, ecologist, landscape designer, environmental activist, and gardener with a passion for Black history. Powell used that knowledge in founding Bronx River Sankofa, and shared his research as a major contributor to the Bronx African American History Project.
Kristopher Morgan Powell was born in Mandevol, Jamaica, the youngest child of engineer Mervin Grant and civil servant Barbara Myfanwey Powell. He had three older sisters, Charlene Anders, and Fontaine. After Powell's parents divorced, Barbara Powell came to Harlem, New York City, where her infant son eventually joined her in 1974, when he was less than a year old. Within a few years, Barbara Powell would relocate her family to the Bronx.
"I realize that technically I am a Jamaican-American, but I have always identified [myself] as African American because the connection to Jamaica was weakened and has really become so diluted for me at a very young age," Morgan Powell stated in a 2004 interview with the Bronx African American History Project. "But having said that, I feel like I grew up in the Diaspora with people from West Africa, all different parts of the Caribbean, and a very strong and diverse community of people who were from the South."
Powell attended P.S. 89, P.S. 96, Junior High School 135, and Christopher Columbus High School, where he graduated in 1992. He became interested in horticulture through a program at the nearby New York Botanical Garden. Over the years, Powell paid the bills working as a landscape designer and gardener. But he sustained his spirit with his love of Bronx history, and his advocacy for the natural environment. Unable to afford college, he was self-educated and did his own research, sharing his knowledge and passion on the tours and his Bronx River Sankofa blog.
As friends recounted, his tours were free, immensely popular and fun for participants. He lived for Bronx history, and took every opportunity he was given to speak about everything from the borough's parks, rivers and early settlers—the kind of people for whom streets and neighborhoods are named—to the waves of African American and Latino immigrants who remade the area during the 20th century. Powell gave everyone an opportunity to learn something about the locations and the families that made a difference in the Bronx.
In 2001, Powell began researching the history of the Bronx and the impact on its Black residents. "Most of the time, research like this is done by professors or by people who have gotten grants to do it. He did this all on his own. He did incredible research and published work. I have never seen anything quite like it," said Mark Naison, professor of African American studies and history at Fordham University.
Morgan Powell served as a community researcher and former assistant archivist with the Bronx African American History Project of the African and African American History Department at Fordham University. He was a longtime volunteer on numerous environmental projects throughout New York City, and former park manager at Stuyvesant Cove Park. His presentations have been seen live by hundreds of New Yorkers at the New York Public Library, Cornell University, Fordham University, the City University of New York, and numerous civic societies in all five boroughs of the city.
Powell was also a gifted writer and blogger for the national website Outdoor Afro. His online videos, maps, blogs, and filmed walking tours celebrate the history of Black New York in the Bronx beyond cliché facts, historical figures, and neighborhoods. He also explored social, economic, and environmental themes that interconnected with historical perspectives.
In early 2014, Powell told Naison that he was planning to leave the city, and he wanted to make sure that all the research he had done was preserved. As he turned over his documents to Fordham University, the esteemed professor thought it odd that a man who had spent so much of his life researching and talking about the borough he called home, would abruptly make plans to just walk away. Powell had reportedly told other friends that he would be going away, and not to be upset. Near the end of September, Powell informed a colleague at the Chelsea Garden Center in Manhattan that he had to "go away on family business," and that if he didn't return by October 2, he would never be back.
On September 29, Powell's body was found floating in the Erie Basin off Red Hook, Brooklyn. The NYC Office of Chief Medical Examiner would later rule the death a drowning, but the manner was undetermined. Because Powell's relatives were not aware of, or in contact with his social circle in New York City, there was a delay in claiming Powell's body. Those who knew Powell say they rarely, if ever, discussed his family; "The New York Times" reported that Powell told an acquaintance he had little contact with relatives after he came out as a gay man. His book collection, known affectionately by friends as the Morgan Library, arrived shortly after he died.
Friends had offered to cremate the remains, but in New York City only next of kin can authorize that decision. Eventually, the New York County Public Administrator's office offered to release Powell's body to his friends if they were able to properly bury him. A group called Friends of Morgan Powell raised more than $17,000 through a crowdfunding campaign to purchase a plot in his beloved Woodlawn Cemetery, where he once conducted walking tours.
Powell's sister claimed his body in October of 2014. That same month, the first of many celebrations of Powell's life was held at a private residence on Grand Concourse in the Bronx. Two hundred people showed up, including his sisters, a niece, and a nephew. Powell was cremated, and in early 2015, half of the ashes were donated by the family for a memorial rock in the Brookside section of Woodlawn Cemetery.
On April 11, 2015, the Bronx River Alliance hosted Morgan Powell Tree Planting Day, at which more than 80 people came out to lend support in planting trees along the river's bank.
Morgan Powell was passionate about Black history, the history of the Bronx and the natural world, and cheerfully loved those who shared his vision for a better, more inclusive, and sustainable community. To the casual observer, history, diversity, and environment may appear to be separate public policy concerns, but in Powell's view, they each reflected parts of a continuum of progress focused on celebrating the past, creating the present, and hopefully anticipating a brighter future.
"Morgan brought the Bronx to life with his tours. You always left feeling empowered and more connected to the community. He was so passionate about the borough, and sharing that love with others, that it seems difficult to picture the Bronx without him," close friend Nilka Martell told the "Bronx Free Press" in 2014.
We remember Morgan Powell in deep appreciation for his lifelong commitment to teaching and serving others, for his advocacy for Black history, his passionate commitment to the waterways and parks of our urban environment, and for his many contributions to our community.