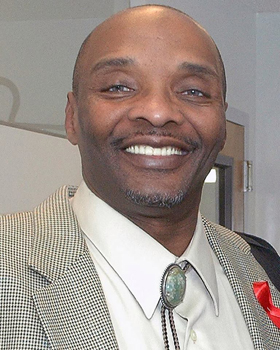 Oliver W. Martin III
Oliver W. Martin III was born on November 25, 1958 (to April 19, 2014). He was a courageous HIV/AIDS activist, a preventative health care advocate, and a pioneering faith community leader.
Oliver Wendell Martin, III was born in Pittsburgh, Pennsylvania, and adopted at birth by Uther Jean Jones and Oliver W. Martin Jr. His large and loving family of seven brothers would later include a stepfather, Ernest R. Jones. Martin described his family heritage as African, Spanish, Indigenous American, and Dutch. He attended Plum Borough Senior High School in the Township of Plum, Pennsylvania, outside of Pittsburgh, and graduated in 1976. Following high school, he enrolled at Bradford Business School, then Pittsburgh's Robert Morris University, where he obtained his Bachelor of Science Degree in Information Systems.
Martin was an important community leader among early HIV/AIDS activists and the SGL/LGBT/Queer faith communities. He had been diagnosed with HIV in 1986, with what was then called GRID (gay-related immunodeficiency disease), but kept it from almost everyone. His younger brother, Kenny, knew of Martin's diagnosis, because he also tested positive at the same time. But for a decade, the two of them told almost no one. "We didn't want to put [our family] through living with the thought that we were going to be dead in a week," Martin said. Only when effective HIV treatment made a longer life with HIV a possibility did they share their diagnoses with most members of their large, tightly-knit family. Martin's brother succumbed to complications from AIDS in 2005.
Martin once told an interviewer, "I've always known my sexuality since I was five years old. I think I just come from a family where we considered ourselves sexual creatures. If you're a human being, you're sexual. How that manifests itself is going to be different for everybody."
Oliver W. Martin III was a staunch advocate for HIV prevention and sexuality education in faith communities. He was the founder and chief executive officer of Conscious Contact of New York, Inc., a health education and prevention program which focused in HIV/AIDS. He was heavily involved in the strategic partnerships that his organization had created with other agencies to bring awareness, create prevention strategies, and expedite crucial services to communities of color.
Martin served as the general secretary for the New York City Faith in Action for HIV/AIDS Prevention, Care and Education Coalition. At its 2011 National HIV Prevention Conference, he conducted a roundtable on building collaborative, inclusive faith, and secular community partnerships. He also served as national administrative leader for the National Faith in Action for HIV and AIDS, as board president of the National United Church of Christ HIV and AIDS Network, and as lead organizer for community events such as World AIDS Day, the Annual Week of Stepping Up In Faith for HIV and AIDS, Christmas in July at Riverside Church, advocacy events for all faith communities at International Conferences, and more.
Martin was also the organizer of Spiritual Outreach Service (S.O.S.) to help individuals participate with HIV prevention and care for the mind, spirit and body, and quarterly HIV support forums in collaboration with the AIDS Service Center New York City and Riverside Church. He was instrumental in the dissemination and promotion of the curriculum Affirming Persons—Saving Lives, and a board member of the National Restoration to Military Families Team, and a charter member of Space for Grace Fellowship Center, a new church he helped start in the greater Lansing, Michigan area.
Prior to getting involved in preventative health care, Martin worked as a grant writer and evaluator for banking organizations in the New York City area, and was a part-time restaurateur in Wisconsin.
Oliver W. Martin III believed it is imperative to lift up the Black, same-gender loving community as a full partner group in the larger queer community. He served on the board of Wider Church Ministries of the United Church of Christ, and on the Common Global Ministries Board of the United Church of Christ and the Christian Church (Disciples of Christ) until mid-2013. Martin contributed his time and energy to serve on several boards of directors, including the United Church of Christ HIV/AIDS Network (UCAN, Inc.), where he served as board president. He had previously served as a board member of the AIDS Service Center in New York City from 1996 to 2010. In addition, Martin was a life member of the National Association for the Advancement of Colored People (NAACP), and a shareholder in the Green Bay Packers NFL football team.
Martin's community service has been recognized by many, and he was honored with: the Positive Changemakers Award from the AIDS Service Center New York City in 2012; an award from National People Living with HIV and AIDS in 2006; the Vanguard Community Service Award from the New York AIDS Coalition in 2003; a Community Leadership Award from People Living with HIV and AIDS in 1996; a New York City Department of Health and Mental Hygiene award in 2001; an award from the New York State AIDS Institute in 2000; a citation from NYC Mayor Michael R. Bloomberg for HIV/AIDS Ministry Leadership at The Riverside Church in 2007; and the Life Changers Award 2014 from the Love Alive International Foundation, Inc.
Oliver W. Martin III brought people together from numerous parts of many communities. His ability to create, coordinate, and collaborate with hundreds of people was nothing short of amazing. Martin had an exceptional ability to plan events down to the minutest details, way in advance, and make them come off like well synchronized works of art. Martin was thought of as a virtuoso convener of people, a disseminator of life-affirming, lifesaving, and life-improving information and resources.
At one point in his life, Martin referred to himself as bisexual, but admitted in an early interview that he was "not completely comfortable with that label." He would later reject the label, and often remind others that he identified "first and foremost as a Child of God." He also later self-identified as pansexual, a designation he said "deliberately rejects the gender binary, as pansexual people are open to relationships with those who do not identify as strictly men or women." Martin believed that monogamy was an important component of his relationships.
Martin made his home in Green Bay, Wisconsin, with his partner of 14 years, Craig J. Kania. No one in New York City seemed to realize that he didn't call the city home any longer, as he seemed to be present at so many community events. Martin and his partner loved to travel, and he often spoke of exotic destinations such as Saint Marten, a cruise to somewhere exciting, or a trip to the Biltmore Estate in Ashville, North Carolina.
On April 19, 2014, Martin passed away from long-term complications related to AIDS. He will be remembered as a relentless activist for justice, and for his advocacy for the spiritual needs of the LGBTQ community. He had a gift of bringing people of diverse backgrounds and agendas together, creating both community and a sense of communion, which benefited everyone.
Oliver W. Martin III loved to quote Reverend Dr. Martin Luther King Jr. who said, "History will have to record that the greatest tragedy of this period of social transition was not the strident clamor of the bad people, but the appalling silence of the good people." A lot of very good people came out on both June 13, 2014 at the Unitarian Church of All Souls Sanctuary on Manhattan's East Side for his Celebration of Life service, and again on August 16, 2014 at the historic Riverside Church in Harlem to remember fondly the life and contributions of a remarkable and unconventional man. Martin was a man who inspired and agitated, made peace and raised hell, built coalitions and loving environments, and, along the way, touched so many lives.
We remember Oliver W. Martin III in appreciation of his lifelong commitment to serving others, his advocacy on behalf of people affected by HIV/AIDS, his important collaborations with communities of faith, and his many contributions to our community.