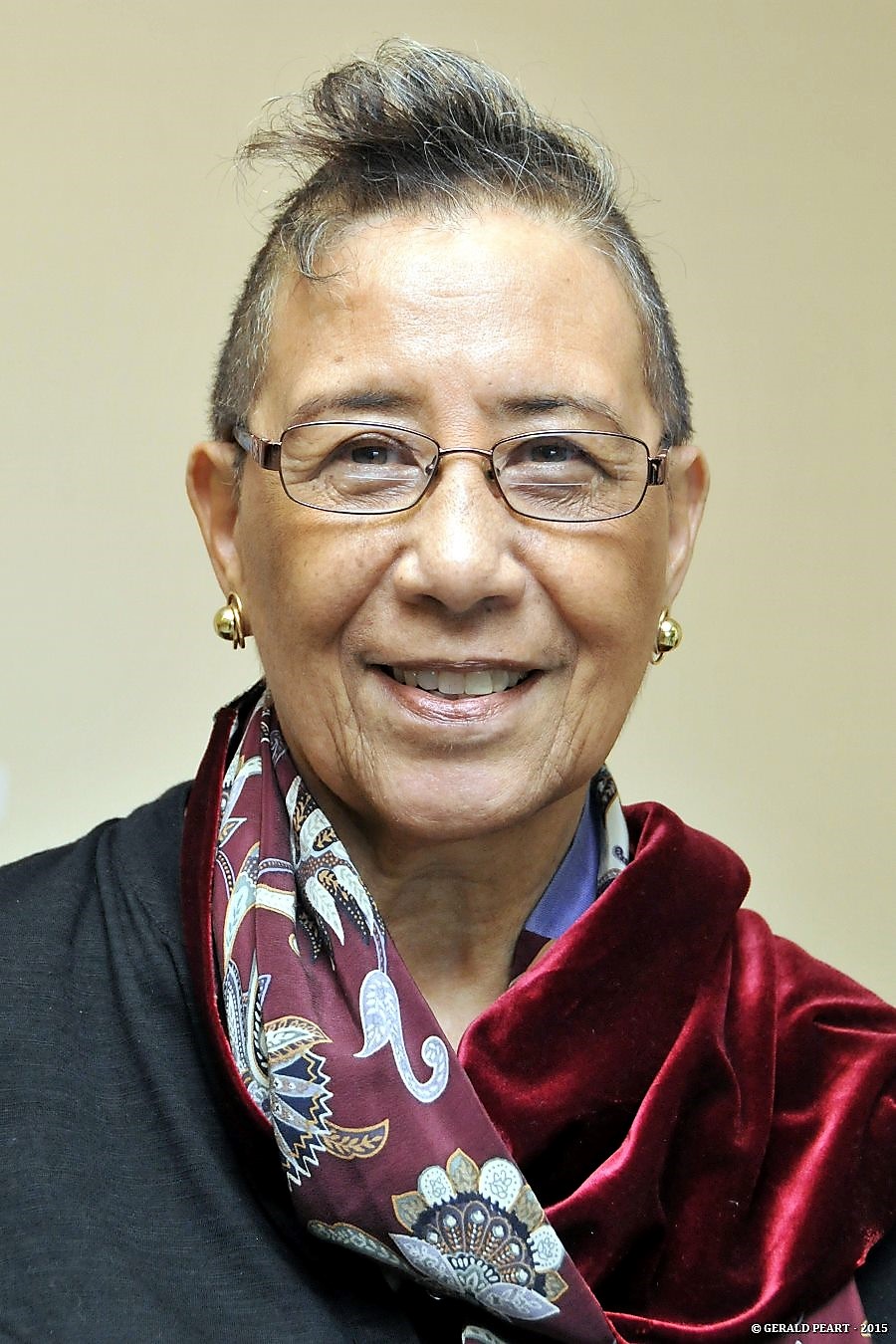 Dr. Wilhelmina Perry
Dr. Wilhelmina Perry was born on December 31, 1934. She is a community and social work educator, spiritual leader, homeless youth and marriage equality advocate, author, and the co-founder of LGBT Faith Leaders of African Descent.
Wilhelmina Perry grew up in Harlem with her parents, grandmother, and eight siblings. Her father was a deacon and union leader who sometimes held two jobs to support the family, and her mother also worked outside the home. Perry was raised in the Pentecostal church, and recalled a household filled with a strong sense of community activism and Black pride.
"Dad was…what was called a "race man"—our race was of great importance to him, and we learned to be proud of who we were, support and participate in the development of community and the furtherance of our race," Perry told the Ubuntu Biography Project. "Being a 'Negro' was a position that we were to feel proud of being. We had an obligation to help others who were a part of the community and race…never to feel embarrassed, ashamed, but always proud."
Perry attended Julia Richman High School in Manhattan, and continued her education at Brooklyn College. She went on to earn a BA in social welfare, and a master's degree in social work. In the early 1950s, she was a caseworker with the New York City Department of Welfare, charged with assisting residents of East Harlem in need. Perry later earned a doctorate in human behavior and leadership.
Although she has always been attracted to women, Perry married and divorced two men before meeting her longtime partner, Antonia Pantoja, while teaching at San Diego State University in California. Pantoja was a civil rights activist who founded ASPIRA in 1961, and received a President Medal of Freedom from President Bill Clinton in 1996. Over the course of their personal and business relationship of three decades, Perry and Pantoja founded the Graduate School for Community Development in San Diego, and were mainly involved with social work in low-income communities in both the United States and Pantoja's native Puerto Rico, to where the pair relocated in the mid-1980s. Although they never kept their relationship a secret, their public advocacy work did not focus on LGBTQ issues for fear that homophobia would jeopardize the good work they were doing in other areas.
Following the couple's return to New York City in the late 1990s and Pantoja's death from cancer in 2002, Perry became deeply depressed and contemplated suicide. She found a purpose by returning to her church roots and joining the Maranatha LGBTQ initiative at Riverside Church in New York City. She co-founded the Interfaith Task Force for LGBT Homeless Youth, and as vice-president, worked with other churches to provide space for homeless LGBTQ young people. Three shelters were established through their efforts, including Trinity Shelter, which operates to this day. Perry also worked as a marriage equality advocate for Empire State Pride Agenda.
In 2009, Perry co-founded LGBT Faith Leaders of African Descent, and has been the organization's lead organizer and administrator ever since. The non-profit strives to reduce homophobia in the African-American community—particularly in churches—by promoting LGBTQ inclusiveness. The organization also continues Perry's dedication to providing a safe haven for LGBTQ young people who are homeless.
Perry is the co-founder of the Circle of Life Celebration and Pride Memorial, established to honor members of the LGBTQ community who have passed, and to provide a space for same-gender-loving and transgender people who have not been mourned or recognized for their authenticity. She was also a co-founder and member of the Black and Latino LGBT Coalition.
Dr. Wilhelmina Perry is the author of several publications related to her professional social work at San Diego State University. She has also been a sought-after public speaker, panelist, and writing contributor.
In 2014, Perry was honored with the Encore Purpose Prize fellowship, one of the nation's largest and most popular prizes for people over the age of 60 fighting social inequality.
Perry, a vegetarian for more than sixty years, lives in New York City, and continues to fight for the ideals that have formed her life's work.
"I have tried to live a productive, honest, and committed life in service to people who are marginalized," Perry told the Ubuntu Biography Project. "I have worked with people from diverse and multiple ethnicities and nationalities throughout the United States and in Puerto Rico. I hope that whatever I leave as a legacy will acknowledge and tell the story of my commitment and principles to eradicate social injustice, racism, and the 'isms' as they destroy and/or block the full development of people."
We thank Dr. Wilhelmina Perry for an extraordinary lifetime of advocacy, for being a trailblazer, and for her unwavering support of our community.