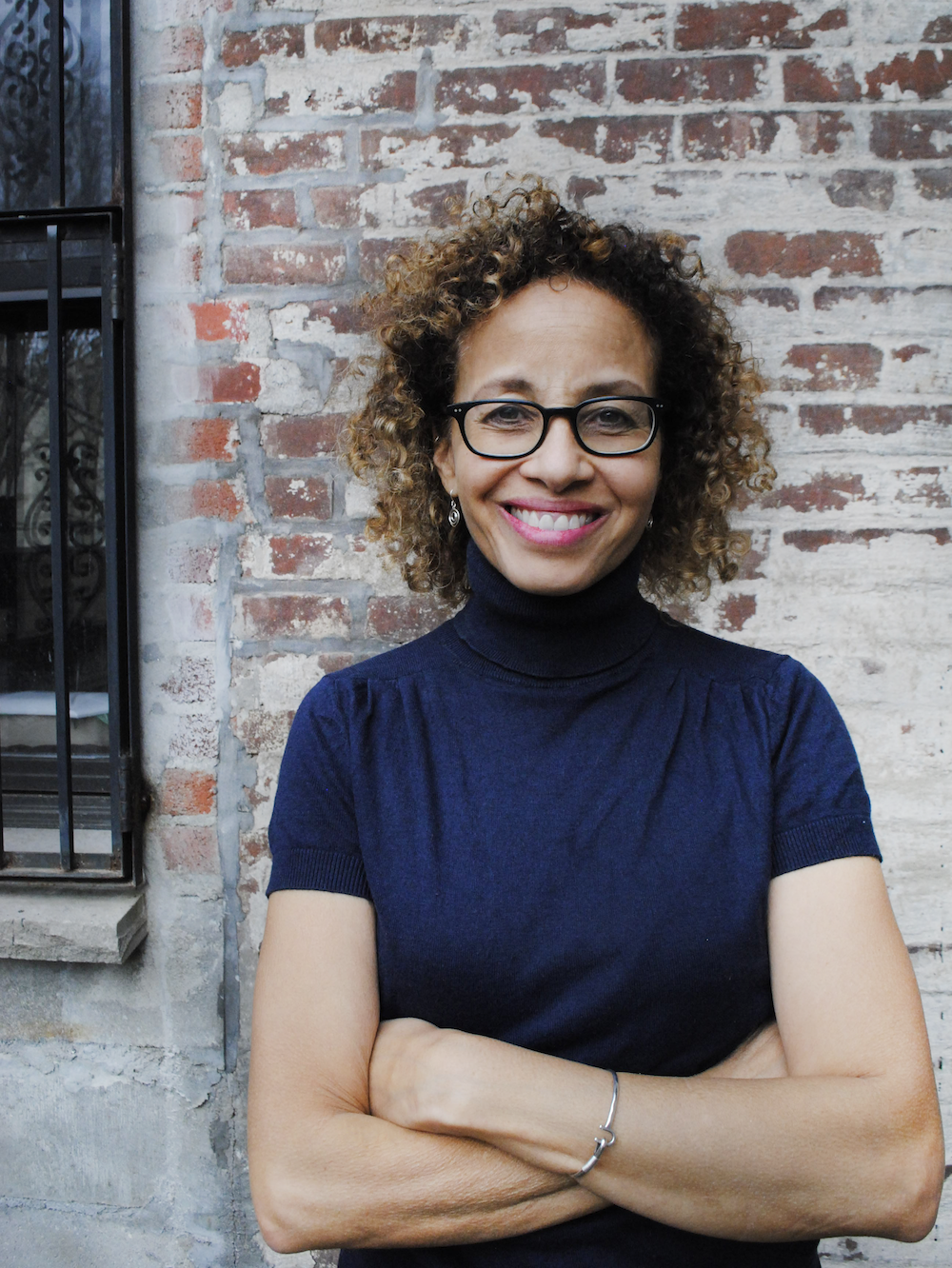 Linda Villarosa
Linda Villarosa was born on January 9, 1959. She is an acclaimed journalist, author, and college professor with a passion for LGBTQ and other social justice issues as well as physical and emotional health. Her June 2017 article, "America's Hidden HIV Epidemic," ran on the cover of "The New York Times Magazine," where Villarosa is a contributing writer. The story looked at HIV/AIDS among Black gay men in the South, and was one of the publication's most popular articles of the year.
Linda Villarosa was born in Chicago, Illinois. Her father, Andres Villarosa, worked in housing and veteran's affairs for the federal government, and her mother, Clara Villarosa, started as a psychiatric social worker and hospital administrator before finding her passion as an entrepreneur. Villarosa and her parents and sister, Alicia, lived with her grandparents on the South Side of Chicago. Her great-aunt May, a retired teacher, taught Villarosa to read, and planted the idea that she could become a writer when she grew up.
In the late 60s, the Villarosa family moved to Denver, where Villarosa attended Rose A. Stein Elementary School in Lakewood Colorado, then Alameda Junior High. She was president of the senior class at Alameda High School, and played basketball and edited the literary publication. Villarosa also ran the hurdles and won the county high jump championship.
Villarosa attended the University of California Irvine on a partial track scholarship, before transferring to the University of Colorado Boulder. There, she studied journalism as a Scripps-Howard scholar, minored in Black Studies and Spanish, and spent a semester in southern Spain. Villarosa also played on the college soccer team. In her sophomore year, she fell in love with her female English instructor, and figured out she was a lesbian.
During her junior year, Villarosa wrote an essay that landed her an internship in New York City at CBS magazines. She lived in the dorms at New York University, and enjoyed exploring the city and its LGBTQ and multicultural communities. After her graduation in 1981, the company hired Villarosa, and she moved to New York for an entry-level position.
Villarosa held writing and editing positions at several other magazines, but her dream was to work at "Essence" magazine. As a freelancer in the mid-1980s, she wrote the first story about HIV/AIDS for an ethnic publication, and editor-in-chief Susan L. Taylor hired her as the magazine's health editor in 1987. Villarosa won a number of awards and honors for covering heart disease, environmental justice, and health care inequality. In 1990, Harvard selected her as a communications fellow at its school of public health, so she commuted back and forth between Boston and New York for a year.
Despite career success and finding a home at "Essence," Villarosa wasn't happy. She felt as though she didn't fit into the magazine's culture of disclosure and "sharing," because she hadn't told anyone on staff she was a lesbian. Finally, while in a car with Susan Taylor driving back to the city from a work retreat, she blurted out, "I'm a lesbian." Because of the warmth and acceptance Ms. Taylor showed her, on the following Monday Linda came out to just about everyone she worked with, and was met with the same kindness.
The next year, the staff encouraged her to share her coming out story in the magazine. With her mother, Villarosa wrote about falling in love with a woman, and the challenges mother and daughter faced as her mom moved from denial and anger at having a lesbian daughter to unconditional love and acceptance.
In May 1991, "Essence" published their story, "Coming Out," to huge acclaim—along with a fair amount of hate mail. The article remains one of the most responded to and memorable in the magazine's nearly 50-year history, and has won many awards. Villarosa and her mom wrote a follow-up story several months later to discuss the response.
After the coming out story, Villarosa was promoted to executive editor of "Essence." In 1995, the magazine excerpted her essay "Revelations" from "Afrekete: An Anthology of Black Lesbian Writing." The piece looked at LGBTQ spirituality and homophobia in the Black community through Villarosa's personal lens, garnering mostly praise but also shock and anger from the publication's readership, partially due to the coverline: A Lesbian Takes on the Bible.
In 1994, Villarosa published her first book, "Body & Soul: the Black Women's Guide to Physical Health and Emotional Well-being," with over 200,000 copies in print. She later wrote and co-authored many other books, including teen girl and parenting guides.
As executive editor of "Essence," Villarosa worked with writers like bell hooks, Bebe Moore Campbell, Nikky Finney, E. Lynn Harris, June Jordan, Audre Lorde, Terry McMillan, and Iyanla Vanzant. But after so many years at the magazine, she became restless and left in 1997 to become the health editor of "The New York Times."
Later, as a contributing reporter for the "Times" during the early 2000s, Villarosa wrote a number of stories about HIV/AIDS, and two of them ended up on the front page of the newspaper. She also attended her first International HIV/AIDS conference in Barcelona, and has since trained journalists and reported on HIV/AIDS news for U.S. ethnic publications as a conference volunteer in Barcelona, Bangkok, Toronto, Mexico City, Vienna, Melbourne, and Durban.
In 1996, Villarosa's daughter Kali was born, and she had a son, Nicolas, in 1999. During the mid-2000s, Villarosa cut back on her work to spend time with her children. She also met her partner, Jana, during this period. The two have been together for 18 years, raising the children along with Villarosa's ex (the children's father), her mother and sister, and a tightknit community of close friends.
While working from home—and thanks to community and family support—Villarosa wrote her first novel, "Passing for Black," which was nominated for a 2008 Lambda Literary Award.
In 2010, Villarosa became the director of the journalism program at the City College of New York in Harlem. She went back to school and finished her master's degree at the CUNY Graduate School of Journalism in 2013, where she focused on multimedia storytelling, urban reporting, and entrepreneurial journalism.
In recent years, Villarosa has continued to write about the ideas and issues she cares most about. For the anthology "The Letter Q," she contributed an essay about moving to her all-white community in Denver, and finding "Niggers Go Home" scrawled on the garage door of her family's new home. On President Obama's 50th birthday, Villarosa wrote about their shared experience as "integration babies." She has traveled to Zambia, where she interviewed an LGBTQ activist and wrote about circumcision, and visited Ethiopia for a story about rural women healthcare workers for "Ms. Magazine." Also for "Ms.," she covered the problem of African girls dropping out of school because they can't afford sanitary pads. For "Essence," she wrote an early profile of Chirlane McCray, the first lady of New York City, and recently covered LGBTQ activism and resistance in Africa. In 2010, Villarosa co-wrote "Career GPS," a guidebook for women, based on her friend Dr. Ella L.J. Edmondson Bell's research and thought leadership.
In 2014, Villarosa teamed with her mother and sister to launch Villarosa Media, a boutique publishing company. Their first book, "The Wind Is Spirit: The Life, Love and Legacy of Audre Lorde" by Dr. Gloria Joseph, won a 2016 Lambda Literary Award. Their second book, "The Marriage Battle: A Family Tradition" by Susan Green and Robin Phillips, was published in December 2017. Linda is also the chair of the board of the Feminist Press.
Villarosa plays soccer most weekends, and goes fishing whenever she can. Every Sunday, she has family dinner with her extended crew of children, friends, and godchildren.
To learn more about Villarosa, visit her website.
We thank Linda Villarosa for her numerous and important contributions to the written word, and for her support of our community.