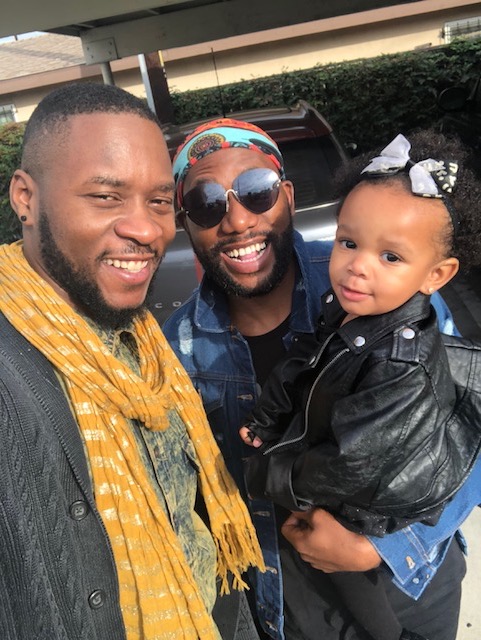 Michael Terry Everett
Photo: Michael Terry Everett (left) with husband Aunsha (center) and daughter Jadenna-Monae (right)
Michael Terry Everett was born on January 15, 1980. He is a husband, champion of same gender love, researcher, advocate, HIV/AIDS activist, creator, and educational facilitator.
Michael Terry Everett was born in Wilmington, Delaware, to William "Bill" Winchester, the grandson of Delaware's first seated Black state representative, and the son of jazz musician Lem Winchester. Michael grew up mostly with his mother, Ida Everett, a homemaker who struggled with addiction most of her life. His older sister and only sibling, Sharonda, played a major role in Everett's upbringing during his school years. In 1999, Michael Everett graduated from Germantown High School in Philadelphia, Pennsylvania, with a concentration in communications.
Following high school, Everett enrolled at Penn State University's Abington Campus, serving as president of the Black Student Union, and earning his Bachelor of Science degree in administration of justice. Craving a higher education experience with people of color, he enrolled at Lincoln University in Pennsylvania, where he received his master's degree in human services. Everett is continuing his education as he works toward completing a Doctorate of Education degree in leadership and change.
Growing up, Everett had few role models he felt he could identify with. Like many gay men, he struggled with owning his sexuality, as it was still very much a taboo topic in communities of color. Everett's uncle, Paul Everett, was the only visibly gay person in the family that he felt connected to, but he was often kept from his uncle due to the family's disapproval of his unapologetic "lifestyle." Like many gay men, Everett's Uncle Paul passed away in the late 1980s as result of HIV and immune system complications. However, his uncle's life would impact Everett, reminding him to also be fearless and unapologetic.
Everett claims to have never had an authentic "coming out," as much of his early life was spent caring for his mother throughout her addiction, and her well-being took center stage. Of that time, he recalled, "While I did not do a tremendous amount of hiding, I was a shy and private kid who was still trying to understand myself. The most defining moment of my 'coming out' was actually quite simple: I met a guy in high school who I called my best friend, and then shortly announced to our mothers and friends that we were boyfriends and happy, and that was that! No questions, no drama. Life quickly returned back to my mother's addiction, and my obsession with finding out what I would make of my life."
Everett always believed that he would be an author or an attorney, but life had a different plan. "I was always with a job, especially as a kid. I remember being in school half days so that I could participate in a school/work program where I earned credits for being employed. I was headed out to work at Cheltenham Mall in Philadelphia when the teacher announced a special presentation done by a group of youth educators for the Youth Health Empowerment Project. I was so impressed, that I stayed and watched the whole safer sex and HIV 101 presentation. I remember thinking that I could do that for work, and that needed to be my next job," Everett recalled. He soon found a position with The Gay and Lesbian Latino AIDS Education Initiative, where he served as a peer educator. He has been working in HIV/AIDS education and prevention ever since.
Michael Terry Everett served in various positions over seven years for GALAEI, a queer Latino social justice organization where he implemented the M-PACT program. This was the first community-based case management program for school-aged LGBTQ youth in Philadelphia. He served as the first assistant director of the Youth Health Empowerment Project, using his capacity building experience to transform a drop-in center into an empowerment center. Everett also served as the director of training and capacity building support for the Harm Reduction Coalition from 2010 through 2014, and as director of the capacity building program at Community Impact Solutions.
Everett is a founder of Intimacy & Colour LLC, a community building movement that uses African-inspired concepts and principles to promote love, and teach loving through intimacy, self-respect, and mutual respect. It was conceptualized around 2011, with the assistance of his now-husband, Aunsha Hall-Everett. "It became more important for me to develop myself as a thought leader around healthy relationships for same-gender loving (SGL) people of color," Michael Everett said. He looks forward to creating strategies that will provide both safety and support for communities and individuals seeking physical, spiritual, and emotional wellness.
Everett told the Ubuntu Biography Project that "in a world that teaches us to be ashamed, pride is often a privilege and luxury. It is important for SGL people to love who they are and what they see when they look in the mirror, because no one else has to like us or love us, and we cannot afford life without love, so we must be prepared to first love ourselves. Much in the same way that Black parents prepare their children for bias through affirmations, it is my charge to prepare SGL people of color to do the work in loving yourself consciously and continuously, particularly in the event that laws, scripture, and loved ones want to reinforce the lie that we are somehow unlovable. I believe that pride is a product of love, and that we must start at the beginning."
Michael Terry Everett has done work around sexual violence in communities of color, but added, "I would love to have done more around sexual violence and young gay Black men of color. I feel that through my conversations with gay men across the country that we have so much more to discuss around this topic. I also believe that it is an important time to have this discussion now that Black gay men have access to marriage, and more support and safety around being who they are. Gay Black men who have spent their whole lives in secrecy and shame are likely to have learned how to hold a secret and bare the shame. These practices can create issues on our journeys to be loved, and can distort what wellness is supposed to look and feel like."
Everett has achieved a considerable amount of experience in community service. He has served as a board member of the William Way Community Center in Philadelphia, as well as at the Community Planning Group, the Public Health Management Corporation Community Advisory Board, and the Proceed Inc. National Community Advisory Board. He was a founder of the Roots & Wings Coalition, and currently serves on the Hyacinth Community Advisory Board, the Black Men's Exchange-New Jersey, the Baltimore Student Union Harm Reduction Coalition, the O'Brien Dennis Foundation, and the Black Treatment Advocates Network.
Everett's writing can be found at ETR Blog, The Body, and at Urban Socialites.
Everett looks forward to creating a permanent Black gay presence in Long Beach, California, and publishing his first book on SGL love and dating. He gladly anticipates completing his dissertation this year. He is focused on building the foundation for Intimacy & Colour, which seeks to house emotional and mental health life coaches at community-based institutions to provide hands-on support for Black SGL people. Everett hopes to create a supportive network that will provide tools for navigating the risk epidemic that will place HIV prevention back in the hands of the communities most at risk.
Everett has been married for four years, and he and his husband have had a daughter since she was two months old. It was a kinship adoption from Everett's first cousin, following the tradition of gay Black men raising the children of relatives as their own. They named their little girl Jadenna-Monae, with Jadenna meaning "honoring the father"—appropriate considering she has two of them.
As a same-gender loving man who is committed to building a loving community that courageously embraces everyone, Everett appreciates the opportunity to support his community, and continues to grow and become an influencer around the best practices of serving LGBTQ people and communities of color.
We thank Michael Terry Everett for his lifelong commitment to teaching and serving others, his advocacy on behalf of people affected by HIV/AIDS, and his many contributions to our community.