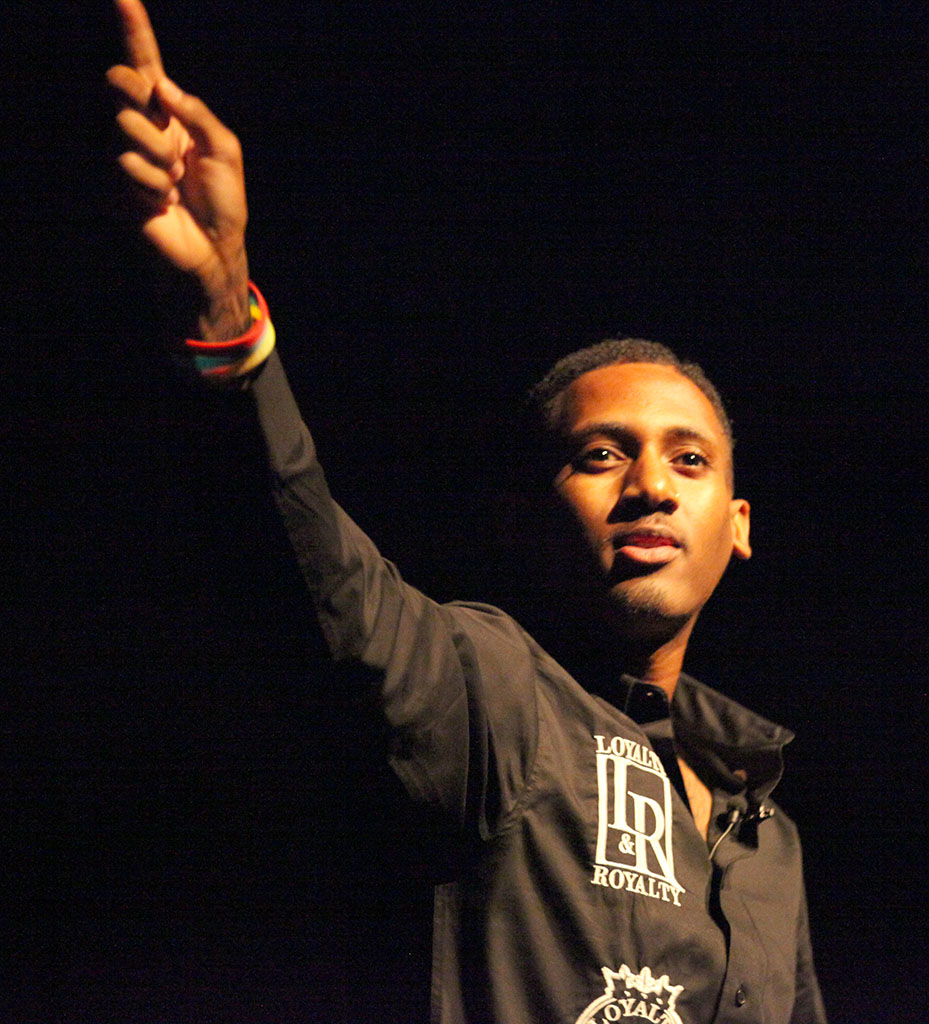 Terrence Clemens
Photo: Rachel Johnson/The Wichitan
Terrence Clemens was born on January 17, 1989. He is an LGBTQ advocate, future community leader, amateur boxer, and college basketball player whose coming out story was profiled in the 2015 documentary "Game Face."
Terrence Lamar Clemens was born in South Central Los Angeles, California, the middle child of six born to father Rudolph Clemens and mother Rochelle Denise Wiggins. With his father in prison and a mother who was in his life but not the primary caregiver, Clemens was raised by his great grandmother, Learlean Marie Parrott. Many loved ones, including his mother, did not approve of Clemens being gay. "A lot of my family members, they would rather you kill somebody than be gay," he told "Outsports." "They'd rather you be a drug dealer than be gay. They'd rather you were strung out on crack on somebody's corner than be gay."
After attending Angeles Mesa Elementary School and Audubon Middle School, Clemons traveled an hour each way to Artesia High School in Lakewood, California. Like his great grandmother, Clemens loved basketball, and he excelled in the game at Artesia. He would eventually transfer to Crenshaw High School and then to Jordan High School, where he graduated in 2007.
In 2010, Clemens and eight others were indicted on federal conspiracy and fraud charges in connection with stolen credit card information. Facing five years in prison, Clemens pleaded guilty and was sentenced to time served (nine months at the Leavenworth Penitentiary) in 2011. Although his brush with the law temporarily derailed his basketball aspirations, Clemens didn't give up. Shortly after his release from prison, Clemens tracked down one of his coaches, and that led to Northeastern Oklahoma A&M College (NEO) in Miami, Oklahoma.
It was Clemens' two years as a scholar athlete at NEO that became the subject of "Game Face," which also features trans MMA fighter Fallon Fox. The film chronicles his emotional coming out to coaches and teammates, including Uter Moukimou, who admitted he couldn't have a gay friend in his native Democratic Republic of Congo. Despite the college being located in the relatively conservative Midwest, the reaction to Clemens being gay was mostly positive. After the college's Golden Norse basketball team captured the NJCAA Region II championship in 2014, Clemens graduated from NEO with an associate's degree.
Thanks to the exposure in "Game Face," Clemens became a public speaker in 2015. "After speaking engagements, students who are nervous build up the courage to come up and speak with me and share their story and what they've learned from the presentation," Clemens told the Ubuntu Biography Project. Clemens has also gone from the hardwood to the ring, taking up amateur boxing.
Clemens lives in Los Angeles, where he enjoys paintball, dirtball, fishing, horseback riding, and spending time with family and friends.
"I want to focus on finding out who I am," Clemens told "Outsports." "Most of my life I've been living for other people, not wanting to disappoint people who couldn't care less about me. I want to focus on my life now and find out what's important to me."
We thank Terrence Clemens for living his truth out loud, his advocacy, and for supporting our community.