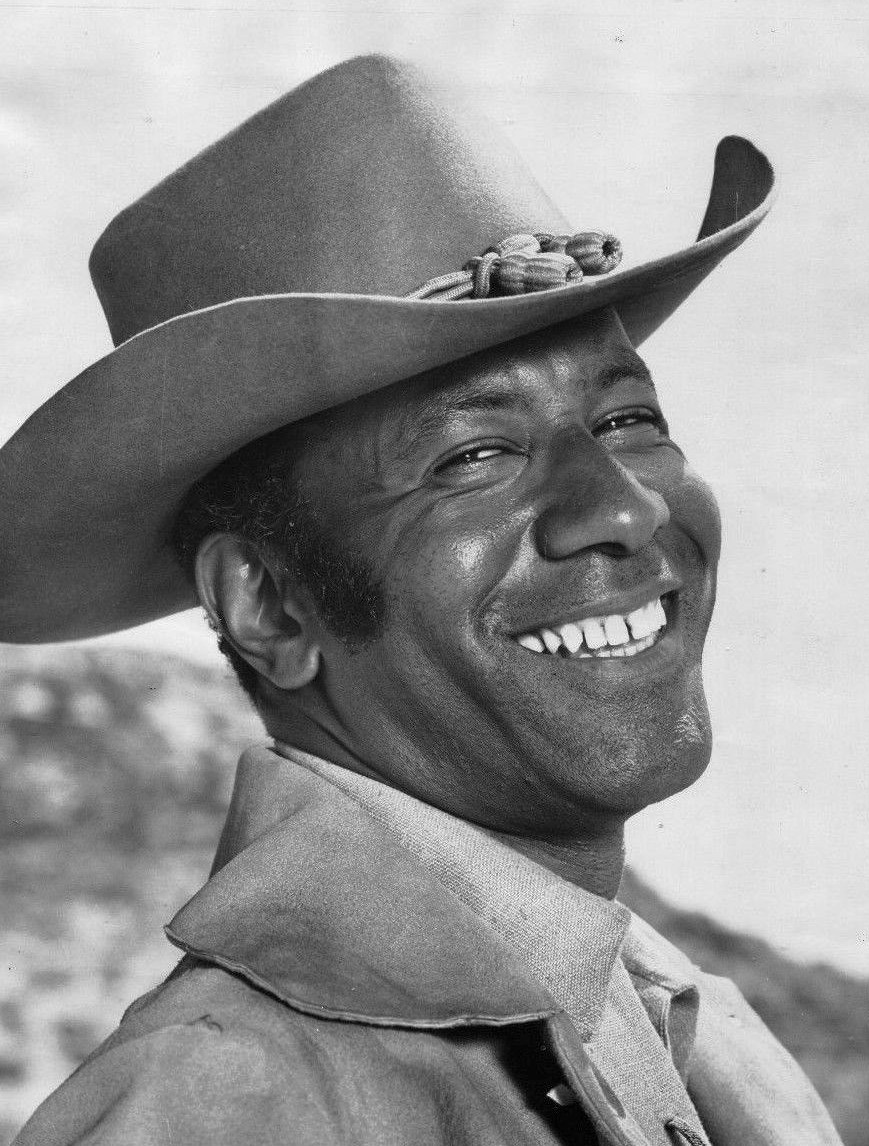 Raymond St. Jacques
Raymond St. Jacques was born on March 1, 1930 (to August 27, 1990). He was a popular American actor and leading man in movies. St. Jacques was the first Black actor to appear in a regular role on a western series, playing Simon Blake on the series "Rawhide."
Born James Arthur Johnson in Hartford, Connecticut, he was the son of Vivienne Johnson, who was a medical technician. Raymond St. Jacques and his younger sister, Barbara, were raised in Depression-era New Haven, Connecticut, after their parents' divorce. He attended Hillhouse High School in New Haven, and wanted to study at nearby Yale University. Unfortunately, St. Jacques had neither the money nor the grades for Yale. He started writing and performing in his own short plays in elementary school, and developed an interest in acting after appearing in a production of "Othello."
A stint with the Air Force in 1952 during the Korean War temporarily interrupted St. Jacques' professional pursuits, but he managed to arrange plays and entertain servicemen during his stay of duty. After he was discharged, St. Jacques refocused, auditioned, and was accepted into both the Actor's Studio and Herbert Berghof's Institute, and studied movement at the Ballet Russe while modeling, dishwashing, and working as a sales clerk at New York's Bloomingdale's to make ends meet. At around this time, he changed his stage moniker from the very common name of Raymond Johnson to Ray Saint Jacques (later Raymond St. Jacques) to avoid confusion with other actors.
St. Jacques was fluent in French and Italian, and frequently performed for the American Shakespearean Festival in Stratford, Connecticu. In addition to acting and assistant directing, St. Jacques was relied upon to train other actors in the art of swordplay as he had grown to become an accomplished fencing master.
Raymond St. Jacques made his Broadway debut in the 1955 musical "Seventh Heaven," and appeared in various Broadway and off-Broadway productions, including "The Blacks," "Night Life," "The Cool World," and "A Raisin in the Sun." He also continued to perform Shakespeare, including "Henry V," "Romeo and Juliet," and "Julius Caesar." St. Jacques started gracing films in mid-career, making his debut with "Black Like Me" in 1964. His breakthrough role came with the otherwise tepidly-received "The Comedians" (1967), where he stole the thunder from husband and wife team Elizabeth Taylor and Richard Burton.
This led to a series of Black-oriented "stud" roles in "Up Tight!" (1968), "Change of Mind" (1969), "Cool Breeze" (1972), and notably, "If He Hollers, Let Him Go!" (1968), in which he shared some torrid and controversial bed scenes with Barbara McNair. St. Jacques also made history as the first Black actor to appear in a regular role on a western series, playing Simon Blake on "Rawhide" (1959). St. Jacques moved briefly into producing and directing with the film "Book of Numbers" (1973), which relayed the stories of various African Americans during the late 1800s. He was a regular in a number of TV series, over 300 in his career. St. Jacques also was a noted civil rights activist, and lectured in America and abroad on his opposition to apartheid.
In the late 1960s, St. Jacques emerged as one of Black Hollywood's top leading men. He was best known for playing the roles of Coffin Ed in the 1970s blaxploitation classic "Cotton Comes to Harlem," "The Green Berets," and in his early roles in "The Pawnbroker," as the street preacher in "They Live," Baxter in "The Invaders" episode of "The Vise" (1968), and a two-year stint as Judge Clayton C. Thomas on the syndicated TV show "Superior Court" from 1988 to 1989. St. Jacques also played abolitionist Frederick Douglass in Edward Zwick's 1989 film, "Glory." For a time, he was the only Black actor to regularly appear on the night-time soap opera ("Falcon Crest"). In 1969, St. Jacques received the NAACP Image Award for Best Motion Picture Actor.
St. Jacques enjoyed his success as an actor. He ate at fancy restaurants, drove a classic 1954 Bentley, and bought a triple-wing, ten-room Beverly Hills mansion. In a 1977 interview with "EBONY," he recalled taking six friends to Paris one New Year's Eve, and picking up the check for dinner at the Plaza Hotel in New York City. "The whole thing is just one big fun game with me and I don't take much of it very seriously," he told "EBONY" in 1969. "But none of the things I do—the way I live, the clothes, the cars—none of these things are for show. If there's any flamboyance in them, then that flamboyance is me. It's the way I am, and I've always been this way, even when I had to worry about paying the bills."
St. Jacques was a discrete fixture in gay clubs and private parties in California and New York, often accompanied by fellow actors and close friends, Howard Rollins and Paul Winfield. In the late 1960s, he suddenly acquired a "nephew" who was later introduced as his son, and given St. Jacques' surname. Sterling St. Jacques was tall, elegant, and very handsome, and he quickly became a successful model, and the first Black, male model to walk the runways for Givenchy, Halston, and Yves Saint Laurent. Sterling became a popular fixture at New York's Studio 54, where he was frequently seen twirling Bianca Jagger, Pat Cleveland (who was briefly his fiancée), and Grace Jones around the floor. In 1974, Sterling had a role in the Italian urban comedy, "Sistemo l'America e torno." Sterling St. Jacques died in 1984 of AIDS-related complications.
On July 30, 1990, Raymond St. Jacques was hospitalized for treatment of a condition his publicist claimed was cancer of the lymph glands. He died less than a month later, on August 27, 1990, of complications due to AIDS.
We remember Raymond St. Jacques, and thank him for his many contributions to theatre, film, and the arts.