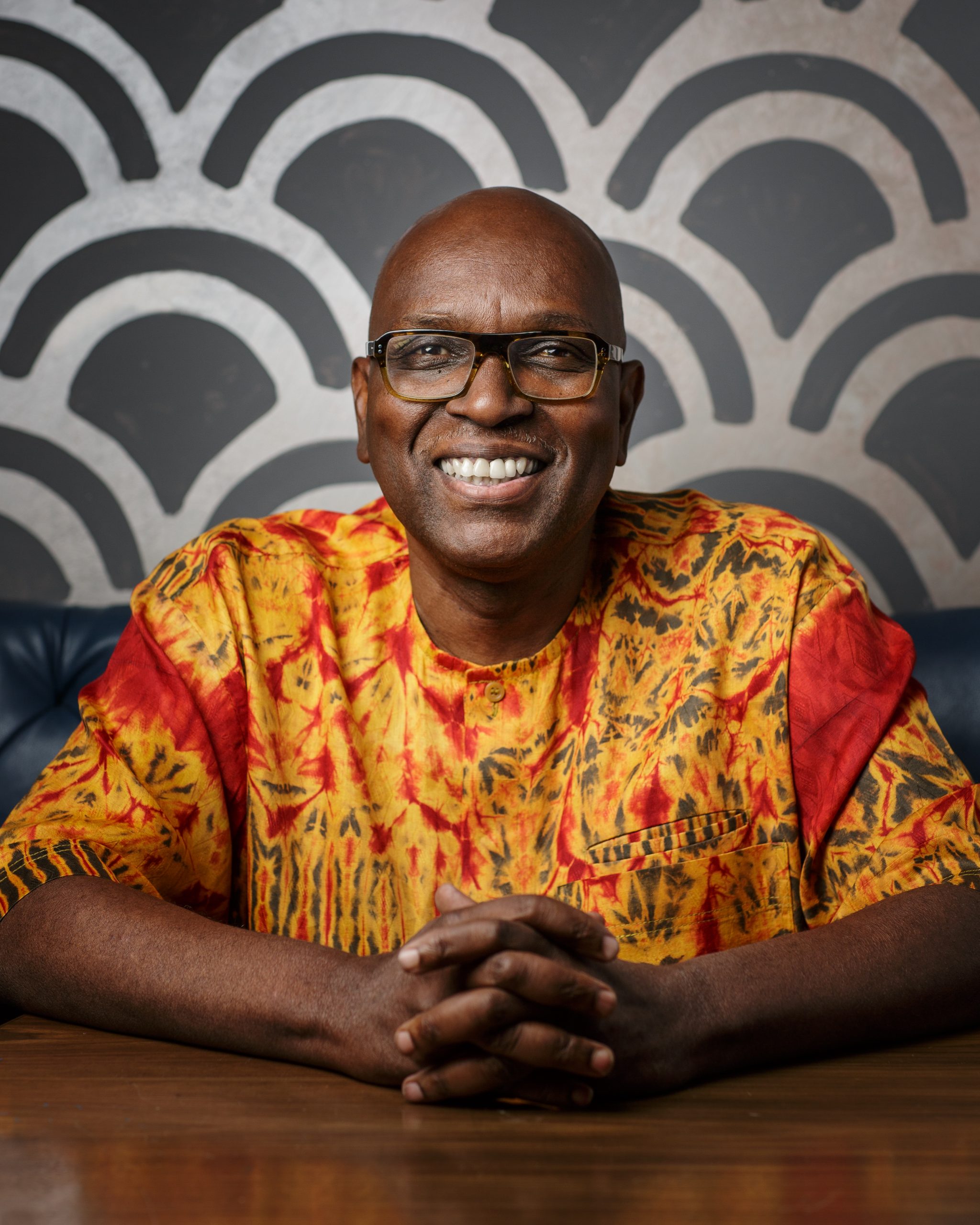 Ron Simmons
Ron Simmons, Ph.D. was born on March 2, 1950. He is an educator, administrator, and photographer as well as an activist. Before retiring in 2016, Simmons served for 24 years as the president and chief executive officer of Us Helping Us, People Into Living, Inc. (UHU), one of the largest Black gay AIDS organizations in the United States.
Isaiah Ronald Simmons was born in Brooklyn, New York, to Isaiah, a garment worker, and Duella, who was a factory worker. He grew up in the Van Dyke housing projects in Brownsville, Brooklyn, and attended PS 150. In the seventh grade, Simmons' mother "bussed" him to Montauk Junior High School in a white neighborhood. Simmons attended Franklin Delano Roosevelt High School, where he was selected by his class as Most Likely to Succeed, and graduated in 1968.
In some respects, Simmons was a poster child for President Lyndon Johnson's "Great Society." He benefited as a youth from Great Society programs such as the Neighborhood Youth Corp summer jobs program, where he learned photography at the age of 14. That initial training led to photographing for his high school and college newspapers and yearbooks, and influenced his decision to become a writer and photographer.
Simmons had his first "sexual" experiences with other boys during pre-adolescence, although he admits they weren't real sexual encounters because none of them knew about sex—they were more about kissing and playing house. To Simmons, it was something that boys did, and he felt no guilt or shame about it until his friends reached puberty and started chasing girls, and Simmons realized he didn't feel the same way. Over time, Simmons was teased as the "sissy" on the block to the point of becoming suicidal by age of 13. He believes that divine intervention stopped him from killing himself.
Following high school, Simmons went to the State University of New York (SUNY) at Albany, where he earned his Bachelor of Arts degree in Afro-American studies in 1972. Simmons was the first Black editor-in-chief of the SUNY at Albany yearbook, "Torch 1972." It was so controversial in its design and content (including a section on the Vietnam War and gay liberation), that it was denounced on the floor of the New York State Senate.
Simmons met other gay men at college, and came out in his sophomore year. He was actively involved in the Gay Student Alliance, and wrote poetry for features on gay students in the campus paper. He was "outed" to his parents when they returned home unexpectedly, and caught him and his lover, Leroy, in an awkward position. Oddly, waking up the next day without the stress of his parents finding out was one of the happiest mornings of Simmons' life.
After graduating, Simmons remained at Albany to pursue a master's degree. It was during that time that he wrote his highly controversial column for the campus newspaper, "Faggotales," the first weekly column in a campus newspaper written from the perspective of a Black gay male. Severely criticized by the Gay Student Alliance and the Black Student Alliance, it was denounced in a lead editorial of a local city newspaper, "The Troy Record," as "the most vile and disgusting thing written about homosexualism."
Simmons dropped out of graduate school, and got his first job as a writer and photographer for the board of education in Newark, New Jersey. He also wrote music reviews for local papers in a column entitled "All That Jazz." In 1977, he returned to Albany to complete a Master of Arts degree in African history and a Master of Science in educational communications.
Simmons' goal was to go to Africa to teach communications, but he was advised by his mentor, Dr. Frank Pogue, to first get his Ph.D. In 1980, Simmons moved to Washington, DC to pursue a doctorate in mass communications at Howard University, which he completed in 1987. For twelve years, he taught at the Howard University School of Communications, where he loved empowering young Black minds, and was featured in the campus newspaper as an openly gay professor. While pursuing his doctorate at Howard, Simmons volunteered as a photographer for Sidney Brinkley, the esteemed editor of "Black Light" magazine, the first Black gay magazine in the nation. Working with the magazine introduced Simmons to men who would become his friends, such as writers Joseph Beam and Essex Hemphill.
In 1992, Simmons volunteered to become the executive director of Us Helping Us, a self-help support group for Black gay men living with AIDS. Us Helping Us advocated that people could live with AIDS if they adopted a holistic approach to their health that involved the body, mind, and spirit. Under his leadership, Us Helping Us has become a free-standing mental health clinic providing HIV care services for men, women, transgender persons, and youth.
In 1998, Simmons developed an innovative program to outreach to heterosexual men who have sex with men called the Down Low Help Line; the program was featured in the April 3, 2001, edition of "The New York Times." That same year, UHU became the first organization in the nation to air radio commercials about HIV prevention targeting Black gay men. Written by Simmons, one of the commercials was featured on the National Public Radio daily news program, "All Things Considered."
Us Helping Us was the first Black gay AIDS organization in the United States to purchase and renovate a building for its headquarters and service facility. The organization received the National HIV/AIDS Diversity Award from Kaiser Permanente, and the Leadership Award from the National Gay and Lesbian Task Force.
In the beginning, what Simmons liked most about his work was helping Black gay men with a stigmatizing and often fatal disease gain a sense of self-respect and empowerment that aided in their survival. Today, he is most proud of his work building an institution dedicated to the mental well-being and empowerment of Black gay/SGL men.
Currently, Simmons is a member of the Global Network of Black People Working in HIV (GNBPH) and the Community Advisory Board of the Center for AIDS Research in Washington, DC. He was a member of the DC Board of Medicine for 11 years. Simmons has received the Harvey Milk Alumni Award from the State University of New York at Albany; the Lifetime Achievement Award from the Black Gay Research Group; and a Heroes in the Struggle Award from the Black AIDS Institute. He was inducted into the Black Gay Men Hall of Fame by the National AIDS Education and Services for Minorities, Inc., and selected by "POZ" magazine as one of the POZ 100 "most influential AIDS activists in the United States."
Simmons tested HIV-positive in 1990, and considers his approach to HIV/AIDS to be instrumental in understanding him and his advocacy. In the early start of the AIDS epidemic, a patient who did in-depth research could know as much about HIV and HIV medicines as their physicians. Simmons refused to take AZT, a drug that promised an additional two years of life, because he was interested in living an additional 20 or 30 years. His early friendships with Black cultural nationalists had exposed him to traditional ways of approaching health and healing. Simmons befriended holistic health practitioners who led him to Us Helping Us. The mission of the organization to help Black gay men living with AIDS maintain their health through traditional holistic approaches to healing resonated within him. Simmons believes that his adoption of a holistic approach allowed his immunity to sustain itself until effective HIV medications were developed. He started a three-drug regimen in 2003.
Having lived with HIV for 28 years and remembering a time when physicians were saying that people with AIDS would die in six months, Simmons considers each day a blessing. He remains passionate about progressive politics, and firmly opposed to a "gay-only" agenda, insisting that the Black LGBTQ community be concerned about more than gay issues. Simmons is hopeful about the future of the Black LGBTQ community, noting that 50 years ago it was illegal for two men to dance together—today, they can be legally married throughout the United States.
A scholar in African American gay/SGL history and culture, Simmons' published essays include: "Joe, Essex, Marlon, and Me," included in "Black Gay Genius: Answering Joseph Beam's Call"; "The Voice" in Keith Boykin's anthology "For Colored Boys Who Have Considered Suicide When the Rainbow is Still Not Enough"; "Baraka's Dilemma: To Be or Not to Be" in "Black Men On Race, Gender and Sexuality"; "Sexuality, Television and Death:  A Black Gay Dialogue on Malcolm X" with Marlon Riggs in "Malcolm X: In Our Own Image"; and "Some Thoughts on the Challenges Facing Black Gay Intellectuals" in "Brother To Brother: New Writings by Black Gay Men," which also was published in "Cornerstones: An Anthology of African American Literature" and "Introductory Reading in Afro-American Studies."
The Black SGL/LGBT/Queer community is essential to Simmons, and he sees it as valuable asset in the Black community—an unrecognized and disrespected valuable asset. His research of the cultural concept of gays and lesbians among the Dagara people of West Africa before the coming of the Europeans revealed that gays and lesbians were viewed as "gatekeepers," and instrumental in maintaining harmony among the heterosexual community. Most recently, based on the Dagara teachings, Simmons has developed Bodemé, a sexual health literary behavioral intervention targeting young Black gay men, ages 16 to 24, who are virgins or sexually inexperienced. He feels that gays and lesbians must prepare themselves for a vital role in the future of the Black community.
A writer and artist that had the greatest impact on Simmons' life were personal friends Essex Hemphill, the poet, and Marlon Riggs, the filmmaker. Simmons collaborated with Hemphill in developing images and backdrops for his poetry performances, and he was the District of Columbia field producer, still photographer, and cast member of Marlon Riggs award-winning documentary on the Black gay experience, "Tongues Untied."
Simmons is currently single, and thinks he may have missed out on the opportunity to have a long-term relationship. When he was younger, he prioritized education over relationships, and now that he's older and has lived through the depths of the AIDS epidemic, he says the men he would have settled down with have all passed. Simmons does have friendships but none of them are intimate. Instead, Simmons may go to a club three times a year to hear the latest house music, and also enjoys going to the theater.
We thank Ron Simmons for his decades of activism, his commitment to HIV/AIDS advocacy, and for his support of our community.