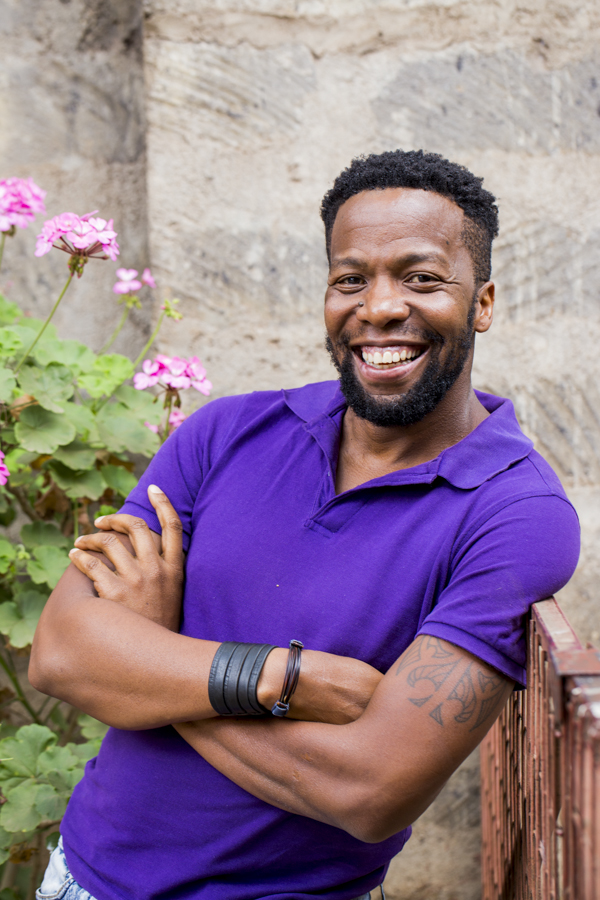 Kevin Mwachiro
Kevin Mwachiro was born on March 8, 1973. He is a writer, poet, journalist, communicator, podcaster, activist, cultural enthusiast, fitness nut, and lover of humanity and Africa. In 2015, after being diagnosed with the blood cancer multiple myeloma, Mwachiro added cancer fighter to that list.
Kevin Mwachiro was born in Nairobi, Kenya to Leslie and Betty, and has three siblings. He attended Consolota Primary School, and then secondary (high) school at Saint Mary's School. Mwachiro furthered his education at Kenya's Daystar University, where he obtained his Bachelor of Commerce degree, and followed that with a Master of Arts degree in radio production from Bournemouth University in the United Kingdom.
While in school, Mwachiro was engaged in sports, including rugby, basketball, and general athletics. He also was part of the school choir and involved in theatre, and he has maintained those interests in music, theatre, and sports throughout his life. Mwachiro says he was closeted during his teenage years, relegating what he felt to the recesses of his mind. He came to terms with his sexuality in his late twenties.
Kevin Mwachiro is a freelance journalist, writer, and media practitioner. Prior to embarking on his solo career, he was the senior communications officer with AWARD (African Women in Agricultural and Research Development), a Kenya-based Non-Governmental Organisation (NGO)—also known as a non-profit—that provides curriculum fellowships to African female agriculture scientists. Prior to that, Mwachiro worked for a Dutch NGO based in Nairobi, serving as its communications officer for 18 months. The agency, known as Hivos, is a diverse organization working for social justice and human rights throughout Africa and in many parts of the world.
According to Mwachiro, working in the development sector was a huge eye-opener for him. "It exposed to the many needs that are out there," he told the Ubuntu Biography Project. "We need to touch humanity in as many ways that we can, and we also need to shout out about the changes being made, and how people's lives are being made better."
Mwachiro launched a storytelling podcast, Nipe Story (Tell Me a Story), that gives a voice to short stories from Kenya and the African continent. "As a child, I loved listening to the spoken word. I would tune into a story-telling programme on radio, and I enjoyed the way it took me to new worlds. I hope Nipe Story will help people create beautiful pictures in their heads," he said.
Like many committed "news junkies," Mwachiro loves radio, and went to work for the British Broadcasting Corporation (BBC) World Service. He enjoys telling people stories, and radio gave him the opportunity to talk about "a continent that I love, and a people who are beautiful and resilient." He says of that time, "The BBC helped build me to become a good reporter and a thoughtful journalist, and I am grateful for that." Mwachiro also has worked in commercial and community radio, which gave him opportunities to learn new things and meet lots of unique people. He found working in a studio, behind a microphone, to be exciting and fun.
Mwachiro wrote his first play as part of the Goethe Institut's "Six and the City" production of six plays about Nairobi, staged at PAWA254. A multi-faceted artist, Mwachiro is a poet, and has contributed to the Pan-African LBGTI anthology, "Walking the Tightrope."
Kevin Mwachiro spent fifteen months working on his first book, "Invisible: Stories From Kenya's Queer Community," published by the Goethe Institut in Nairobi. It's a collection of stories, letters, and poems about the triumphs and challenges of living as LGBTQ in the East African Republic of Kenya. The volume adds considerably to our understanding of Kenya's queer community, and is part of the Kenyan narrative that has been missing or silenced for years.
Mwachiro is proud of his advocacy for the SGL/LGBTQ/Queer community. "We are a rainbow people and I know that wherever I am in the world, my story can be told, and the feelings and challenges that I felt during my journey will resonate with others," he told the Ubuntu Biography Project. "The battlefield was internal, and those internal battles are fought by each one of us irrespective of where we are. There are cross-over points, but that too adds colour to a basic story."
In the last few years, Mwachiro has worked to organize an LBGTI film festival in Nairobi "as a way of opening up our stories to ourselves and the wider community." He helps where he can in his community, but he hasn't always presented such a public profile. Mwachiro says of his charitable efforts, "I do more personal and discrete community work." He was part of the editorial team that produced the journal, "Boldly Queer."
In October 2015, Mwachiro faced the biggest challenge of his life when he was diagnosed with multiple myeloma. "Having cancer gave me new eyes to life. I've been a recipient of immense gratitude, love, and good wishes," he stated. Mwachiro underwent a successful bone marrow transplant in June 2016, and is in currently in remission.
Mwachiro looks to the late South African President Nelson Mandela for inspiration. "I never met him, but I still think of him and get emotional," said Mwachiro. "His death moved me in ways that I never imagined. His humanity and how he used forgiveness to build a nation is a sterling example to the world. His strength touched not just Africa, but the world."
Mwachiro also admires several Nobel Prize winners, including statesman Mahatma Gandhi, and fellow Kenyan activist Wangari Maathai, as great influences on his heart and mind. In addition, he is inspired by the examples of others who have overcome great obstacles to achieve success and contribute to the world. Mwachiro eagerly awaits "Time" magazine's Time 100 issue each year to read the stories of the honourees, and learn how they are impacting their respective worlds.
The very polite and private Kevin Mwachiro resides in Kenya, and feels especially blessed to live in his beautiful country, despite its many challenges. He is a passionate advocate for Africa, and loves the diversity of Africa's people. Mwachiro enjoys reading, writing, poetry, dancing, public radio, photography, traveling, running, and losing himself in art. He still enjoys sports, although he is more inclined to watch than play. Mwachiro loves food, great conversations with interesting people, and being out in nature ("Mother Nature helps ground me").
Mwachiro looks forward to continuing to tell the unique stories of others, and has embarked on building a career as a full-time writer. He hopes in the future to travel to other less developed nations to illuminate their humanity and unveil their untold stories. Mwachiro strives to find his place as a writer, poet, podcaster, and documentary maker. He expresses his hope to "continue dreaming, helping others learn about their dreams…and sharing people's stories. This is my way of making the world a more tolerant and kinder place."
We thank Kevin Mwachiro for using the power of his voice to make the world a better place, and for his support of our community around the world.