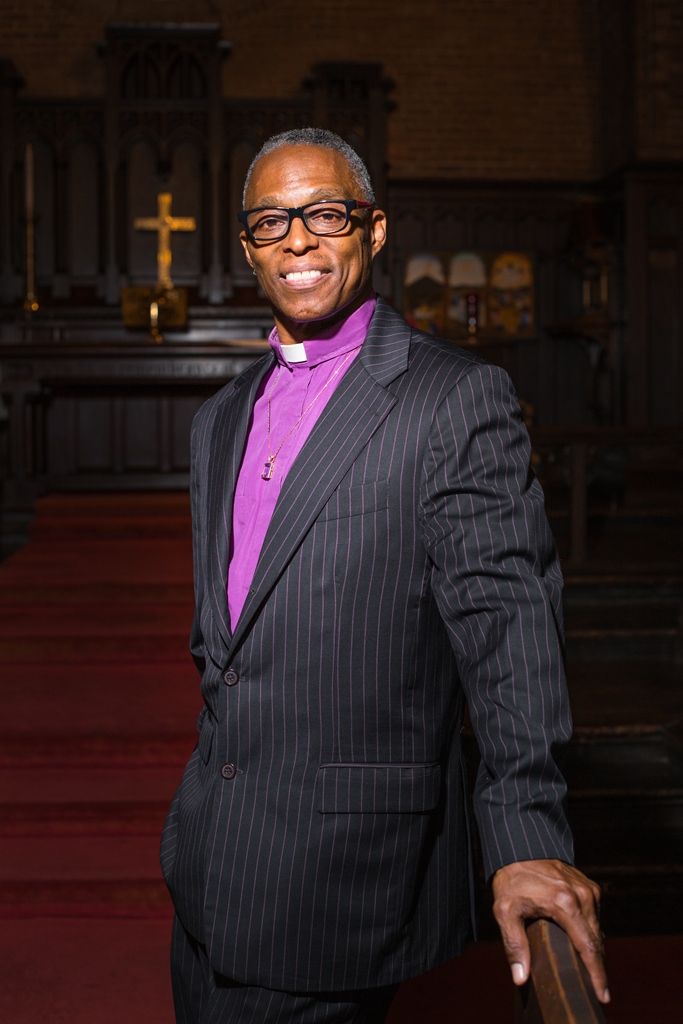 Bishop Zachary Jones
Bishop Zachary Jones was born on March 8, 1958. He is an acclaimed faith leader, HIV/AIDS activist, community builder, senior bishop, and father.
Zachary Glenn Jones was born the seventh of eight children in Los Angeles, California to Frank Jones, a city sanitation worker, and Maggie Jones, a licensed vocational nurse. He attended Budlong Elementary School, Inglewood High School, and Lutheran High School, where he graduated in 1976. Following high school, Jones enrolled at El Camino City College and Southern California Regional Occupation School. He went on to attend Palos Verdes Bible Training Center, and Believers Bible School (BBS). While in school, Jones ran track and field, competing in the 100-yard dash in record time.
Jones was hired in 1978 by Delta Airlines, where he served for thirteen years as a customer service representative, in marketing, and advertising. He obtained his ordination license from a variety of ministries, which included Mt. Moriah Baptist Church in Los Angeles, Faith Bible Training Center, in Palos Verdes, California, and Believers Bible School, also in Los Angeles. In 1993, he was ordained by Unity Fellowship Church. Jones was elevated to the bishopric in 1999 by Unity Fellowship Church Movement (UFCM), and elevated to senior bishop in 2005 by the same organization.
Bishop Jones knew of his sexuality at a very early age, prior to puberty. He struggled as a gay male in elementary school, and throughout his formative years. Jones came out to his parents prior to the sixth grade, and says they were very supportive and understanding. "My father had some apprehension and proceeded to equip me with skills to defend myself," he told the Ubuntu Biography Project. Frank Jones provided his son with developmental skills on how to be a gentleman, and how to carry himself regardless of his sexuality. Bishop Jones added, "There were times I hated myself for being different. There were times I thought long and hard of ending my life during those difficult years. If it had not been for the loving and caring environment that I grew up in, I probably would have taken my life."
Known as Bishop Zach by his friends and congregation, Zachary Jones discovered The Unity Fellowship Church Movement, founded and incorporated by The Archbishop Carl Bean in 1987, while living in Los Angeles. He immediately gravitated toward the historic ministry because of the unprecedented work they were doing in the field of HIV/AIDS. The work of Unity Fellowship caught on nationwide, and began to influence the African American LGBTQ communities in other cities. As the organization continued to impact the city of Los Angeles, a group of young African American activists including Charles Brack, Deonne Frenny, and April Lee contacted Archbishop Bean requesting a Unity Fellowship Church in New York City. Without hesitation, Bishop Jones answered the call of the New York community, and moved to New York in March of 1992, leaving family, work, and his familiar surroundings.
The church and Bishop Zach had overwhelming success; hundreds of people were flocking to this new-found faith on a weekly basis. Unity Fellowship opened its first service at the Lesbian and Gay Community Services Center on 13th Street in Manhattan on May 10, 1992. There were only ten people in attendance on that first day in spring. However, those numbers would soon rise to 310 in a matter of months.
After outgrowing the LGBT Center, the church found its first home at Saint Mary's Episcopal Church on Classon Avenue in Brooklyn, where it shared facilities from 1994 through 2003. "I will forever be grateful to Father Hamilton, who took a risk in allowing an openly same gender loving church to worship at this historical site," says Bishop Jones.
It was shortly after that there would be another organization founded by Bishop Zach called Unity Fellowship Breaking Ground. Breaking Ground was established to assist LGBTQ youth who wish to come out to their family, and be accepted and supported through counseling, HIV/AIDS services, and gender transitioning. The organization was among the first to address LGBTQ youth, meeting them where they were in their life's journey.
"I remember my youth and how difficult it was to communicate my heart to my family. In many cases I was living a lie and that was torture. I didn't want other young people to have to go through that alone," Bishop Jones said. Both of the organizations still stand today, and are doing very powerful work in the community. It is important to note that they were created during the height of the AIDS epidemic.  Bishop Jones adds, "I was literally officiating funerals each week, sometimes twice a week, during this time. It was a very dark time for our community."
After Father Hamilton retired from Saint Mary's Church, the new rector proved to be less welcoming to a church that was open and affirming to the LGBTQ community. The two churches settled in court, and Bishop Jones moved his congregation to a warehouse on Brooklyn's Atlantic Avenue, hoping to purchase the space as a permanent home. "It was important to me that the African American LGBT community owns their own space for the purpose of economic development. After the tension between Saint Mary's and Unity Fellowship persisted, I never wanted our church to be in that type of situation again," he recalled.
Bishop Zach is honored to have served his community for well over twenty years. "Many churches were developed from that simple group of ten people at the center to over 17 churches nationwide," he stated. "I feel the ministry is fulfilling my destiny here on earth. I have lived in full time ministry since 1994, and have been blessed to raise my son, who is now 24. I enjoy fulltime ministry, even though it is an enormous amount of work, it is also very rewarding. I love people and ministry is a people business."
Bishop Jones was also one of the founding members of the groundbreaking New York State Black Gay Men's Network. He served as the chairman of the board for Gay Men of African Descent (GMAD) for three years, and is a founding member of The LGBT Black Alliance of New York.
Bishop Jones has received GMAD's Nguzo Saba Spirit Award (1993), the Founders Award from UFCM (2002), the Humanity & Spiritual Guidance Award from the Unity Fellowship Church's Transgender Fellowship Group, the Social Justice Ministry Award (2012), and the Key Women of America Concourse Village Branch Christian Spirit Award for Spiritual Leadership (2011).
Bishop Jones' activism has consisted of fighting for more funding for LGBTQ organizations within the African American community, and he has stood strong in fighting for justice for heinous crimes that have been committed against members of the LGBTQ community.
In August of 2014, Bishop Jones moved his congregation to the historic New York City neighborhood of Harlem. One of its first efforts was finding justice in the murder and dismemberment of Rashawn Brazell. Bishop Jones and Unity Fellowship kept the cold case out in the open, and worked closely with the New York Police Department to help find Brazell's killer. In 2017, Kwauhuru Govan was arrested and charged with the crime.
"When something like this happens in our community too often people tend to forget or move on as though it never happen," Bishop Jones told the Ubuntu Biography Project. "However, the family gets left to fend for themselves. It is important that we keep the conversation going, because it is a life we are talking about and an entire family that's impacted. We could be saving other young men's lives by keeping this crime out in the open. Too often our young people think they are invincible."
In 2006, Bishop Jones was honored to preach at the first Gay Pride celebration held in Jerusalem, Israel, and he was later asked to serve on New York State Governor Andrew Cuomo's task force to offer recommendations for the ending of AIDS by 2020. "As a result of working with Governor Cuomo's task force, I walked away from those meetings feeling like this was a community effort. I felt so very humbled to be asked to participate. Then I decided to incorporate some of the core objectives within our mission as a social justice ministry. My congregation agreed and we adapted the focus of prevention as one of our major missions for the coming years."
Bishop Jones has patterned his ministry after some of the most inspiring and influential teachers in any ministry. Among his favorite influences are Bishop Desmond Tutu, Reverend Dr. Martin Luther King, Jr., and Rev. Juanita Smith. He spends his spare time playing jazz piano, cooking, and exercising with his beloved dog, Bizzbutton. Bishop Jones is currently single, and is always open to the idea of a relationship when the right person comes along. He has been blessed with being in love at least twice in his life, and holds out hope that it may happen again in the future.
To learn more about Unity Fellowship Church Movement in New York City, please visit its Facebook page at www.facebook.com/ufcnyc.
We thank Bishop Zachary Jones for his spiritual leadership, his passionate advocacy, and his support of our community.