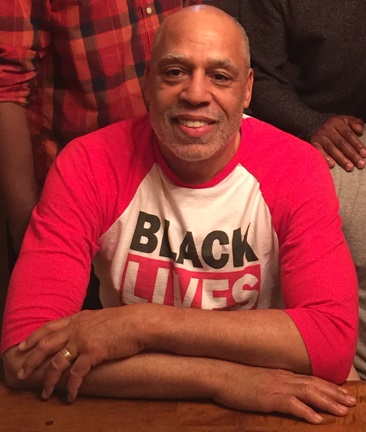 Doug Robinson
Doug Robinson was born on March 26, 1951. He is a longtime advocate for human rights, adoption and family rights, education and healthcare.
Douglas Robinson is the son of Dan and Grace Robinson. The youngest of four children, Robinson grew up in the suburbs of Philadelphia, Pennsylvania. His family was the first to integrate the local YMCA, and Dougie—as he is known to family and close friends—was expected to be a model student. Active in the marching band, jazz band, Future Teachers of America, and various community service organizations, Robinson graduated from Penncrest High School in 1969. During his high school years, Robinson was a local celebrity as a featured dancer on the "Hy Lit Show." Robinson and his close high school friend represented the Philadelphia region on Dick Clark's "American Bandstand."
Robinson attended Cheyney State University, one of two Historically Black Colleges and Universities (HBCU) in Pennsylvania, where he earned his Bachelor of Science degree in Education in 1973. Although he realized that he was gay at a very young age, coming out did not happen until Robinson's junior year in college. Many of his closest friends disowned him, but he managed to remain strong and graduate with honors. Robinson went on to attend Ohio State University's Graduate School of Computer Science.
After grad school, Robinson landed his first job with a Fortunate 500 corporation located in Ohio, and later moved to New York City in the mid-1970s. He currently serves as a senior risk analyst for Citigroup, where he has remained for more than thirty years.
Robinson has been at the forefront of the fight for marriage equality and adoption rights for many years. He and his life partner of more than 30 years, Michael Elsasser, joined with four other lesbian and gay couples in suing the City of New York for the right to marry. One year later, they won their case, but the Bloomberg Administration filed an appeal, and won. The case was eventually merged with other statewide litigants and heard by the New York State Court of Appeals, where the plaintiffs again lost. On July 24, 2011, just days after marriage equality became legal in New York State through legislative action, Robinson and Elsasser were married by Judge Doris Ling-Cohen, who wrote the original decision to approve same-sex marriage in 2005.
Robinson and Elsasser are the very proud parents of two sons, whom they adopted as infants. At that time, it was still quite controversial for gay men to adopt. Their sons, who served as best men and witnesses at their parents' wedding ceremony, are now 30 and 33. Justin is an artist and manages a high-end photography gallery in Miami. Zack is a certified phlebotomist, and manages a restaurant in upstate New York. The family is proud to call Harlem home, and they are very active in their community, just two blocks from Columbia University. Robinson and his family are members of Manhattan's Riverside Church. In 1994, Robinson and Elsasser had their first commitment ceremony in the nave of the church with 250 family and friends looking on.
Robinson became the first openly gay African American elected official in New York City in 1996 when he was elected to serve on the New York City Community School Board. In June of 2004, his term ended after completing eight years.
Recently, Robinson has focused his attention on neighborhood activities such as revitalizing their neighborhood park, and addressing government services in the community. His many years as an activist have served him well as he organizes community input, and strives to address the many layers of government bureaucracy.
Robinson has a very long list of accomplishments with non-profit organizations, including Out People of Color Political Action Club, Center Kids, Community School Board-District #2, Friends of Morningside Park, and many other community groups. He is a founding member of the West Harlem Homeowners Association; a founding member and former treasurer of the Manhattan Parks and Green Spaces Coalition; co-founder of Gay and Lesbian Employees of Citigroup (CitiPride); and a member of the Lesbian and Gay People of Color Steering Committee of New York, the Education Coalition on Lesbian and Gay Youth, Men of All Colors Together, and Gay Men of African Descent. He has served on the board of directors of Gay Men's Health Crisis.
Robinson has been featured as a keynote speaker at many conferences and events, including the conference of the Gay & Lesbian Network Association in 1997, the Audre Lorde Project in 1996, and the 1993 Hetrick-Martin Institute's Harvey Milk School graduation commencement. He has frequently spoken at events in support of the New York City Board of Education's Children of the Rainbow. Robinson also has conducted numerous workshops and speeches on gay parenting, adoption, and educational issues, including the Working Mother Magazine Conference, the National Gay and Lesbian Task Force Creating Change conference, the New York City People of Color conference, the Gay and Lesbian City College Association conference, the Adode African-American Gay Men's retreat, Columbia University's Lesbian and Gay Association, Yale University's Lesbian and Gay Association, the New York City Foster Care Association, and other events at Medger Evers College, Hunter College, York College and New York University.
Robinson is the recipient of the 2006 Citigroup Inspiring Pride Award; the 2004 Ida and Jesse Frankel Community Service Award; the 2000 New York City Parks & Recreation Volunteer Award; the 1998 New York City Comptrollers Outstanding Leadership Award; the 1997 Love Makes A Family Award for Public Service by Gay and Lesbian Parents Coalition International; the 1997 Public Service Award by Lesbian and Gay Law Association of Greater New York; the 1996 Howard J. Schaetzle Award for Grassroots Activism from Gay and Lesbian Independent Democrats; the 1995 Outstanding Leadership Award from the New York City Public Advocate's office; and the 1994 National Lesbian and Gay Health Foundation's Harvey Milk Award, among many others.
We thank Doug Robinson for his decades of committed advocacy, and for his support of our community.