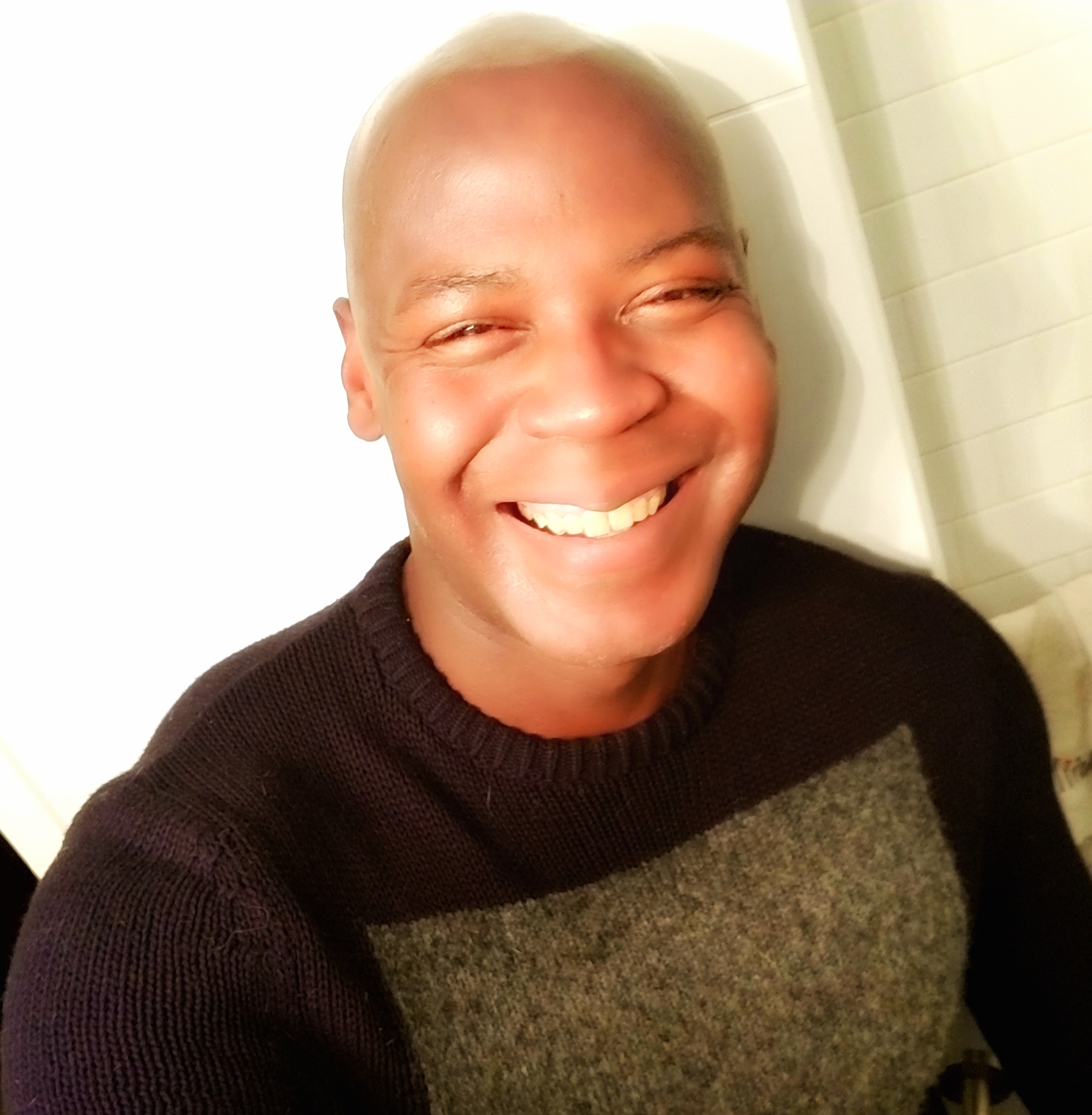 Aundaray Guess
Aundaray Guess was born on March 28, 1967. He is a respected writer and playwright, a committed HIV/AIDS activist, and a community builder. Guess is co-editor of the Stephen A. Maglott Ubuntu Biography Project, relaunched in 2017.
Aundaray Lamond Guess was born in Oklahoma City, Oklahoma, to Martha McGhee, who was a factory worker in the rural area of the city. His family moved to Minnesota, and he attended St. Paul Central High School, where he graduated in 1985. As a young man, Guess discovered his love of writing, and became one of the first playwrights to create a theatrical piece that toured all of the correctional institutions in Minnesota. He was recognized by St. Paul's "Pioneer Press" as one of the young playwrights to watch in 1982.
Following high school, Guess discovered that he was HIV-positive. The diagnosis shocked him, and the stigma caused Guess to become homeless and live in his car. With few options and facing extreme stigma, he attempted suicide. Fortunately, he was unsuccessful, and decided to fight the disease.
Eventually, Guess stage-managed and helped to transform the Pillsbury House in Minneapolis, Minnesota, into a professional theatre. He created his one-man show "naked," and became one of the few individuals to receive a Jerome Foundation grant in recognition of his work. As an innovative play, "naked" is about what it means to be Black, to be a man, and to be gay. Premiering at Intermediate Arts in Minneapolis, it was performed to a sold-out audience, and has toured throughout the Midwestern United States. It's viewable at www.youtube.com/watch?v=CcWzGG7OA_Q&t=1345s.
Further exploring his creative side, Guess performed at Penumbra Theatre in St. Paul in plays such as "Purlie" and "A Soldier's Story." Although the Twin Cities was not a big market for Hollywood movies, he found success as an actor in the few movies produced in Minnesota, such as "Sugar and Spice," "Jingle All The Way," and "Drop Dead Gorgeous." Guess went on to make commercials for Best Buy and General Mills.
Writing and performing in "naked" led to Guess being more accepting of his sexuality and HIV status. Inspired to help others gain that acceptance, he created Flayva Cabaret, a theater showcase that spotlighted LGBTQ people of color. Flayva Cabaret ran for a successful three years in Minneapolis, and had a recent revival in Harlem. It has been victorious in helping to provide a platform for launching local and national talent, such as transgender poet and current councilwoman Andrea Jenkins, and reality show personality Bebe Zahara Benet, the first season winner of "RuPaul's Drag Race."
Guess and other African American LGBTQ Minneapolis community members formed Soul Essence, a Black pride organization which focused on health and wellness for the gay people of color communities. He was the co-president of the organization before deciding to move to New York City.
After moving to New York in 2003, Guess worked at Pride for Youth on Long Island, where he served LGBTQ young people. In this position, he created two Gay/Straight Alliances at local schools. After first being deterred from higher education because of his HIV-positive status, Guess enrolled at New York University, and obtained his bachelor's degree in media studies. In his first year of college, Guess was honored as class valedictorian, and recognized as the official flag bearer for the graduating class of 2012. He followed that by earning his master's in public relations and corporate communications, again at NYU.
Guess continued his work in helping others, and creating arts programs for LGBTQ youth. He worked as a model for national print ads, and as an actor on major television shows such as "Blue Bloods" and "Person of Interest." He garnered a featured role in the Oprah Winfrey Network show, "Unfaithful." Guess was most recently seen in national Chobani Yogurt and Bud Light commercials.
Still committed to helping others live and learn about HIV, Guess has been a contributor to poz.com as a blogger, and most recently as a permanent writer for "POZ" magazine; in 2017, his blog was the most read. As a blogger, Guess has focused on HIV stigma, and living as an African American with the disease. His insight has helped him to become a contributor to "Huffington Post," where he continues to write about HIV and related issues.
Guess's mission is to help the SGL/LGBTQ community embrace the uniqueness of our culture, and to discard the negative statistics always presented by the global media. Using his experience of a difficult early life with HIV, Guess hopes to show that people can still fly no matter their status.  When it comes to HIV, he strives to reduce the sting of stigma, and let people know that their HIV status does not define them. Guess also wants to raise the visibility of gay Black men and women, and show off the wonderful spectrum that comprises who we are.
Guess previously worked at Gay Men of African Descent (GMAD) as a director of its HIV Stigma program, where he presented to community agencies and other organizations about ways to reduce HIV stigma. He has used the initiative to address HIV stigma within gay Black churches throughout New York City.  Guess also is the creative mind behind GMAD's social marketing campaigns, which confront HIV stigma, and have been seen on subways and buses around New York City.
Currently, Guess is the director of programs at Brooklyn's GRIOT Circle, an agency which provides program and services for LGBTI seniors of color. In this role, he advocates for greater visibility of the elder community, and designs supportive services for this dynamic and growing segment of the community. Guess is the co-creator of Still Standing, a program in which seniors of color living with HIV create greater awareness of the disease by having important discussions throughout the community.
Guess lives in Harlem with his partner of nineteen years, and owns two lovable and mischievous beagles. As an advocate, Guess is known to start conversations and propose solutions about the gentrification of Harlem and other neighborhoods, and the displacement of longtime residents. He is working on the launch of his new YouTube channel, which will focus on being Black and living with HIV. It is set to debut in April 2018.
We thank Aundaray Guess for his contributions to the arts and HIV/AIDS advocacy, and for his support of our community.