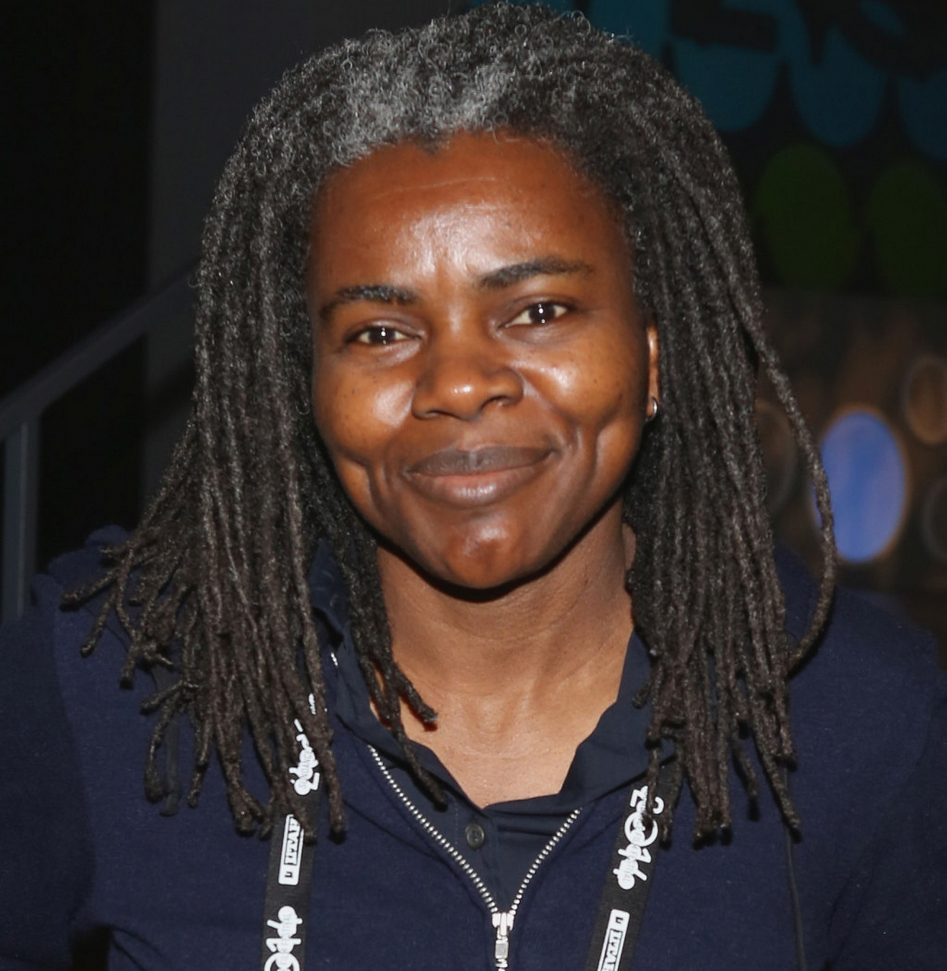 Tracy Chapman
Tracy Chapman was born on March 30, 1964. She is an accomplished singer, songwriter, activist, and philanthropist. Chapman is a multi-platinum and four-time Grammy Award-winning musician, composer, and artist best known for her singles "Fast Car," "Talkin' 'bout a Revolution," "Baby Can I Hold You," "Crossroads," and "Give Me One Reason."
Tracy Chapman was born in Cleveland, Ohio, and moved at a young age with her family to Connecticut. She was raised by her mother, who recognized Chapman's love of music and, despite not having much money, bought her a ukulele when she was just three. Chapman began playing guitar and writing songs at the age of eight.
Chapman was raised Baptist, but went to an Episcopal high school. She was accepted into the program A Better Chance, which helps minority students attend private schools. Chapman graduated from Wooster School in Connecticut, and then attended Tufts University in Boston, where she earned her Bachelor of Arts degree in anthropology and African studies.
During college, Chapman would travel to Cambridge, Massachusetts, and play her compositions in Harvard Square. She also was frequently seen playing guitar in Club Passim, the Nameless Coffeehouse, and other small venues around Harvard University, and recorded songs at the local WMFO radio station. Another Tufts student heard Chapman playing, and brought her to the attention of his father, Charles Koppelman, who ran SBK Publishing, which signed Chapman in 1986. After Chapman graduated from Tufts in 1987, he helped her to sign a contract with Elektra Records.
At Elektra, Chapman released "Tracy Chapman" in 1988, which quickly rose to number one in both the United States and the United Kingdom. The album was critically acclaimed, and she began touring and building a fan base. Chapman's "Fast Car" began its rise on the US charts soon after she performed it at the televised Nelson Mandela 70th Birthday Tribute concert in June of 1988. It quickly became a number six pop hit on the Billboard Hot 100, and holds the distinction of being the highest ranking song both written and performed by a female performer.
"Talkin' 'bout a Revolution," the follow-up, charted at number 75, and was followed by "Baby Can I Hold You," which peaked at number 48. The album sold well, going multi-platinum, and Chapman received several honors, including three Grammy Awards for "Tracy Chapman" in 1989: for Best New Artist, Best Female Pop Vocal Performance, and Best Contemporary Folk Album. Later in 1988, Chapman was a featured performer along with Peter Gabriel, Bruce Springsteen, Sting, and Youssou N'Dour, for a six-week Human Rights Now! world tour for Amnesty International.
Chapman's follow-up album, "Crossroads" (1989), was less commercially successful, but still achieved platinum status. By 1992's "Matters of the Heart," Chapman was playing to a small and devoted audience. However, some fans were put off by her straying from folk and blues to a more upbeat, alternative-rock sound. Her fourth album, "New Beginning" (1995), sold more than three million copies in the U.S. The album included the hit single "Give Me One Reason," which won the 1997 Grammy for Best Rock Song, and became Chapman's most successful single to date, peaking at number three on the Billboard Hot 100.
Following a four-year hiatus, Chapman's fifth album, "Telling Stories," was released in 2000, and was followed quickly by "Let It Rain" in 2002, and "Where You Live" in 2005. She began touring more, and was in growing demand in the US, Canada, Germany, Italy, France, Sweden, Finland, Norway, the UK, Russia, and more. On June 5, 2006, Chapman performed at the 5th Gala of Jazz at Lincoln Center, New York, and in a session at the 2007 TED (Technology Entertainment Design) conference in Monterey, California.
Chapman was commissioned by the American Conservatory Theater to compose music for its production of Athol Fugard's "Blood Knot," a play about apartheid in South Africa, staged in early 2008. Atlantic Records released Chapman's eighth studio album, "Our Bright Future," that same year.
Tracy Chapman is widely regarded as a politically and socially active musician. In a 2009 interview with America's National Public Radio (NPR) network, Chapman is quoted as saying: "I'm approached by lots of organizations and lots of people who want me to support their various charitable efforts in some way. And I look at those requests and I basically try to do what I can. And I have certain interests of my own, generally an interest in human rights." This interest can be seen lyrically in her music. Songs such as "Talkin' 'bout a Revolution" highlight the importance of speaking up against injustice.
Chapman's activism extends further than her lyrics. She has performed at numerous socially aware events, and continues to do so. During a 2003 event to benefit Circle of Life, she performed a memorable duet with Bonnie Raitt of the John Prine song "Angel from Montgomery." More recently, Chapman performed (and rode) in the AIDSLifeCycle event. In 2014, she was named a member of the Documentary Jury at the Sundance Film Festival.
Chapman has also been involved with Cleveland's education system. A music video she produced highlights significant achievements in African American history, and has become an important teaching tool in Cleveland public schools. Chapman also agreed to sponsor a Crossroads in Black History essay contest, which awards scholarships to high school students in Cleveland and other cities.
In 2004, Chapman was awarded an honorary doctorate in fine arts by her alma mater, Tufts University, recognizing her commitment to social activism.
Although Chapman has never been married, and has kept her private life very quiet, in the mid-1990s it was reported that she was dating author Alice Walker. Chapman continues to maintain a strong separation between her personal and professional lives.
We thank Tracy Chapman for her extraordinary music, her outstanding advocacy against oppression and for social justice, and for her many contributions to our community.