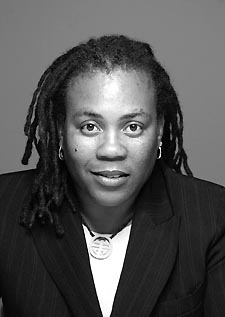 Wanda Renita Alston
Wanda Renita Alston was born on April 7, 1959 (to March 16, 2005).  She was a passionate feminist and LGBTQ advocate who became the first Washington, DC cabinet-level director of the Office of Lesbian, Gay, Bisexual and Transgender Affairs.
Wanda Renita Alston was born in Newport News, Virginia, the tenth of eleven children of Arabelle and the late William D. Alston. After graduating from high school in Newport News, she left home and joined the United States Air Force, where she earned her bachelor's degree in mass communications at Norfolk State University. Alston would later obtain her master's degree in business administration from Southeastern University. She overcame an addiction to cocaine, and dedicated herself to becoming a feminist, and a leader in the LGBTQ community.
Alston's political career began in 1992, when a friend introduced her to the National Organization for Women (NOW). She began working as a volunteer for NOW, but quickly joined its staff, serving as then-President Patricia Ireland's executive assistant, and as a special projects director. Alston's first major project involved helping to organize the 1992 March for Women's Lives. At NOW, she also served as the staff liaison to Rev. Jesse Jackson's National Rainbow PUSH Coalition. Over four years, Alston organized five national marches, and helped lead a NOW delegation to the World Conference on Women in Beijing.
Alston left NOW in 1996 to explore other career options, including a stint at the Human Rights Campaign, and held several positions in the DC government before becoming special assistant to the mayor for Lesbian, Gay, Bisexual and Transgender Affairs in November 2001. Then-Washington, DC Mayor Anthony A. Williams appointed her to this special position in 2001. In September 2004, Williams turned her post into a cabinet-level position, saying he wanted to raise the profile of the office. Alston began focusing on preparations for the mayor's first lesbian, gay, bisexual and transgender summit.
Alston was an active force in the local Democratic Party, and on DC statehood and feminist issues. She played a key role in bringing together a diverse group of people into a gay political culture, often people who had been traditionally underrepresented.
Alston was active in the recovery movement in Washington, and attended conventions in other cities as well. As a friend and mentor, she helped dozens of people get clean and sober and stay that way.
Alston received numerous community service awards for her efforts, including the 1994 Welmore Cook Award from Black Pride, Inc.; the 1995 National Welfare Rights Union Community Award; the 1995 D.C. Coalition of Black Lesbians, Gay Men and Bisexuals Community Service Award; and the 2004 Trust Servant Award from the Transgender Health Empowerment Organization. In 1997, she established her own political consulting firm, Alston Consulting Services, Inc.
On March 16, 2005, just weeks before her 46th birthday, Alston was fatally stabbed in her home by a neighbor who knocked on her door in search of money to buy crack cocaine. Police charged William Parrot with the crime. He pled guilty to second-degree murder, and was sentenced to 24 years in prison, the maximum term under sentencing guidelines.
Alston, who was a member of Unity Fellowship Church of Washington, DC, was eulogized by Mayor Williams as a "shepherd of the disenfranchised—someone who could reach out to people struggling with racism, drug addiction or discrimination because of their sexual orientation and make them feel a part of a greater political movement." Mayor Williams went on to say, "Wanda Alston's contributions to the people of this city were beyond measure. She was a passionate, energetic woman who often spoke for those who were not able to speak for themselves and who cared for those who could not care for themselves. She was someone to admire; she was someone to learn from; and she was someone we loved. This is a huge loss for me personally, but beyond that, this is a huge loss for our city. My heart is broken."
DC Delegate Eleanor Holmes Norton described Alston's ability to inspire those who were struggling this way: "We will never know how many lost souls Wanda saved by her boldness that inspired, especially, young, black gay people who, to our shame, all too often have been driven to the borders of society— unwelcome and put down at home, in school, and even in our churches." Her partner Stacey Long was said by friends to be devastated by her irreplaceable loss.
Wanda Alston House, a transitional residence for homeless LGBTQ youth in Northeast Washington, DC was named in her honor.
We remember Wanda Renita Alston in appreciation for her exemplary commitment to public service, for her admirable ability to overcome challenges, and for her many contributions to our community.