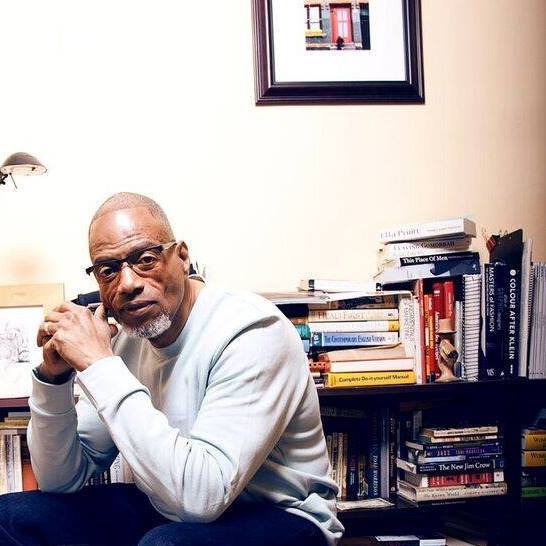 Doug Cooper Spencer
Doug Cooper Spencer was born on April 6, 1954. He is a highly respected novelist, short fiction writer, essayist, lecturer, beloved friend, and human rights activist living in New York City.
Doug Cooper Spencer was born in Lincoln Heights, Ohio, a predominantly African American town north of Cincinnati. He is the fifth child of eight children born to Ellis Cooper, who was a laborer, and Estella Cooper, a homemaker. Spencer attended Lincoln Heights Elementary and High School, before graduating from Princeton High School in 1972. Following high school, Spencer enrolled at Thomas More College in Kentucky, where he majored in English literature and minored in theater arts, but left after two years because he wanted to travel the world and write.
Spencer then took on various jobs, including one as a staff member for the television production company that produced "The Phil Donahue Show," which would become the prototype of all talk shows to follow. Not satisfied with the fact that he wasn't traveling the world, Spencer joined the Navy, and began to write. It was during his military service that Spencer met many LGBTQ personal from various U.S. military branches, and began to speak openly about equality; as a result, he was kicked out of the military.
Spencer came out in 1972, and he talks and writes of growing up Black and gay in the 1950s and 1960s, and in particular, of growing up in the unique environment of an all-Black city. Lincoln Heights, Ohio was an incorporated city where nearly everyone was Black, and the city government, businesses, and school system were run by African Americans. He credits the pride instilled in him from seeing people of color succeeding against the odds as the impetus to pursue his life as an authentic gay man. A few other notables who lived in Lincoln Heights at the time Spencer was growing up there included poet Nikki Giovanni, and The Isley Brothers. Memories of that period of his life are found in Spencer's novels, short stories, and memoir entries at his website, www.dougcooperspencer.com.
Growing up gay was mostly easy for Spencer. Though his family had an idea that he was homosexual, he says most people really didn't have a real world understanding of what that meant, including Spencer himself. It was something that was "understood to exist" but not discussed or clearly comprehended by society during that era. But love would triumph over differences in Spencer's close-knit family, and his coming out was even accepted by those he knew in the community.
Like many members of Black families, Spencer was raised in the church, but appreciates that his parents were wise enough to know how far to go in accepting church indoctrination. In the town of Lincoln Heights, he can remember "developed, authentic, older same-sex loving men and women," and they were largely accepted as part of the community. Spencer recalls that he and others like him were simply living their lives as responsible community members in an all-Black town. But the larger, mostly white community was more troubling, more discriminatory, and "energized by white and Judeo-Christian ethics—not the self-inflicted Black homophobia that the media tries to present" that set him on the journey to becoming a self-loving gay man and to prove the world wrong.
Doug Cooper Spencer lectured at The University of Cincinnati in the areas of race, queer culture and development, and creative writing. He also served on The University of Cincinnati's LGBTQA faculty and staff advisory board. Spencer's four-plus decades as an advocate for queer rights and racial equality has enriched his life, and given him a treasure of history and wisdom that he often uses in his lectures and writing. In 2013, Spencer was honored to serve as the keynote speaker at the University of Cincinnati LGBTQ graduation ceremony.
From the early to mid-1990s, Spencer served as the director of liaison for The Cincinnati Chapter of Brother II Brother, an advocacy group for the prevention of HIV, and for the promotion of human dignity for African American SGLT people in the Greater Cincinnati area.
Working with both the Center for Africana Studies at The University of Cincinnati and the university's LGBTQA center, Spencer helped to develop and initiate the first Celebration of Black LGBTQ History during Black History Month, an event that has continued with much success.
Spencer is the author of four novels: "This Place of Men," "People Like Us," "Ella Pruitt," and "Leaving Gomorrah" (which make up the "This Place of Men Trilogy"), as well as a book written as an epistle, "A Letter to a Friend: Thoughts on Living As A Gay Man." He also has written numerous essays, short stories, and autobiographical memoirs which he calls "memory pieces." Spencer is at work on two books: a collection of short stories titled "Stories at the Gate," as well as a novel.
Spencer's writings have appeared in the anthology "Mighty Real: An Anthology of Same Gender Loving Writing." In addition, he wrote the forward to "Carry the Word," which is a reference book of Black queer writers. Much of Spencer's writings can be found at his website, where he also hosts a blog, "The View from Here," and a growing list of Black queer historical profiles in the Profiles: Black LGBTQA People in History section of his site. In 2006, Spencer was nominated by "CLIK Magazine" as one of its Elite 25 Black Gay Writers, and in 2016, his novel "Ella Pruitt" was named one of the best works of fiction of the year by The Phillis Wheatley Book Awards.
Spencer has served as in-house lecturer at the Cincinnati branch of The National Urban League's Leadership Training Forum from 1989 to 1996, and has been guest lecturer at the Cincinnati Police Academy. He also aided in the production of, and appears in, the award-winning 1996 documentary, "All God's Children," a film that looks at the role of Black gays and the Black church. Along with his husband, Greg, Spencer co-produced The Eyes Open Festival, and was president of The Eyes Open Festival Organization, a non-profit that used the arts in the Black queer community to educate and inspire all communities to wellness.
For twenty years, Spencer has enjoyed the love and support of Gregory Cooper Spencer (www.gregcooperspencer.com), a hair stylist, barber, and photographer he met in 1998. In 2011, journalist Darian Aaron interviewed Gregory and Doug for his book, "When Love Takes Over: A Celebration of SGL Couples of Color." In 2014, the couple purchased a home in New York City, where they now live. He says he and Greg are continuing to focus on their careers and their passions while exploring the best New York has to offer.
Spencer is the proud father of Courtney Nicole Cooper, who graduated from The University of Cincinnati with a degree in comparative literature, and who works in administration and as a freelance editor.
When he's not working, Spencer, who describes himself as a true introvert, enjoys taking long walks alone in the city, reading, listening to National Public Radio, and watching movies with his husband. He and husband also enjoy going to museums and art galleries, traveling, watching football and field and track events together, or simply relaxing quietly at home and having a good laugh.
When asked about a lasting legacy that he hopes to leave behind, Doug told the Ubuntu Biography Project: "a better world."
We thank Doug Cooper Spencer for his numerous contributions to the written word, for his support of our community, and for striving to leave behind a better world.