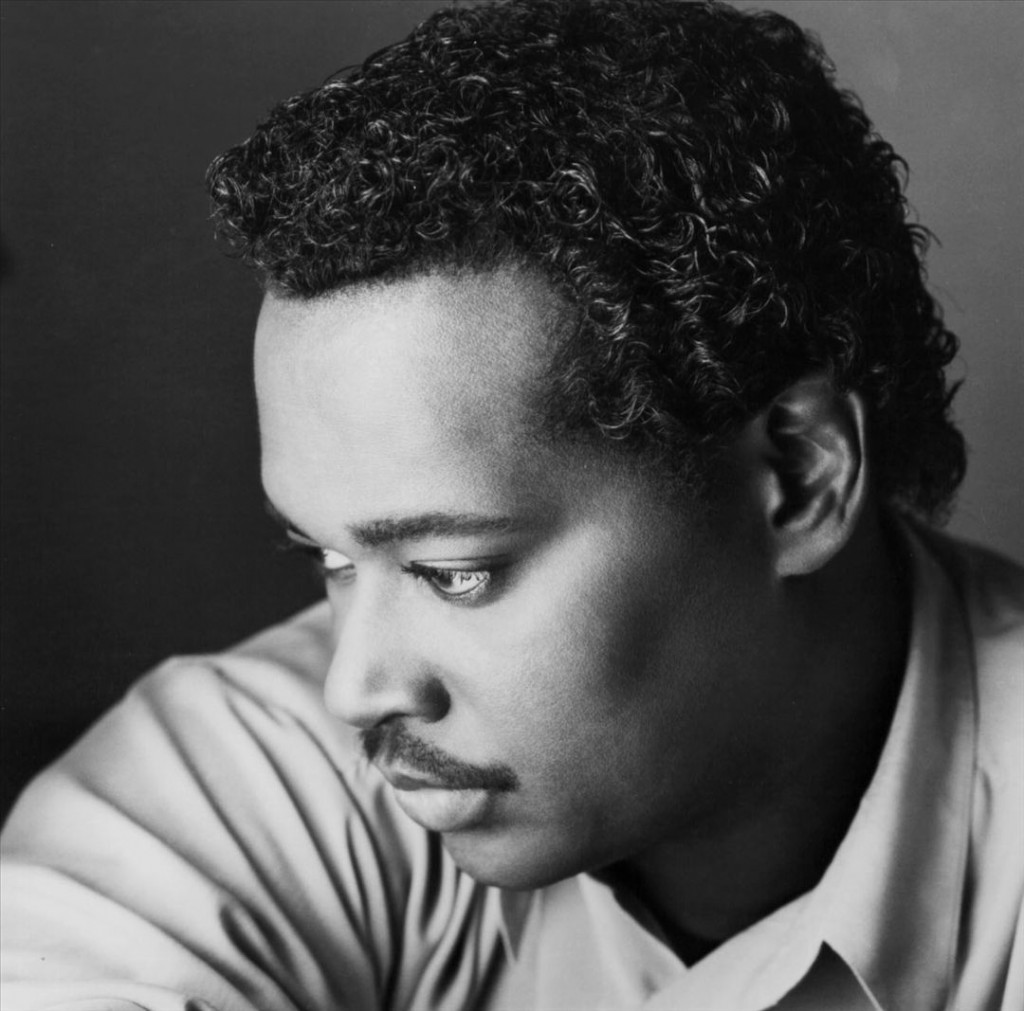 Luther Vandross
Luther Vandross was born on April 20, 1951 (to July 1, 2005). He was an immensely popular singer-songwriter and record producer. During his career, Vandross sold more than thirty million albums and won eight Grammy Awards.
Luther Ronzoni Vandross, Jr. was born at Bellevue Hospital in the New York City borough of Manhattan.  He was the fourth child and second son of Mary Ida Vandross and Luther Vandross, Sr. The younger Vandross was raised on Manhattan's Lower East Side in the Alfred E. Smith Houses, a public housing development which is part of the New York City Housing Authority. He began playing the piano at age three. When Vandross was eight years old, his father died suddenly of diabetes; the family moved to the Bronx when he was 13. His sister, Patricia Vandross, sang with the vocal group The Crests, who had a hit in the fifties with "16 Candles."
Vandross attended William Howard Taft High School, and participated in a summer program for gifted high school students at Fordham University called Upward Bound. While there, he formed a group, Shades of Jade, with other participants, and they made four appearances at Harlem's Apollo Theater in its Amateur Night competition.
Vandross also was a member of a theater workshop, "Listen My Brother Revue," which released the singles "Only Love Can Make a Better World" and "Listen My Brother." They appeared in the second and fifth episodes of "Sesame Street" in November of 1969. Vandross attended Western Michigan University for a year before dropping out after a white choir director told him he couldn't sing.  Nevertheless, Vandross shook it off, and continued to pursue his dream of a career in music.
In 1972, Luther Vandross founded the first-ever Patti LaBelle fan club, and was featured as a backup singer for Roberta Flack. He also composed "Brand New Day" and "Everybody Rejoice" for "The Wiz," and appeared as a choir member in the movie. Friends of Vandross still thought of him as shy, but ambitious. That ambition, coupled with the growing acclaim he was receiving for his gifted voice, began to help Vandross move beyond his shyness and feelings of inadequacy, and gave him enough confidence to keep advancing forward professionally.
One of the hottest acts in the early 1970s was David Bowie's androgynous, sci-fi inspired performances. Carlos Alomar invited Vandross to the recording sessions for Bowie's "Young Americans" album, and Bowie hired Vandross on the spot. Bowie took Vandross's "Funky Music (Is A Part Of Me)" and reworked it as his own "Fascination." Vandross also toured with Bowie as backup vocalist. On Bowie's recommendation, Bette Midler, who once described Vandross as "just the sweetest man I've ever worked with," hired Vandross to sing on her new record, and he made an immediate impression on producer Arif Mardin. Vandross recorded with Ben E. King, Chaka Khan, Carly Simon, Roberta Flack, and the Average White Band, all in 1975.
Vandross formed the group Luther, and they released a self-titled album on Atlantic's Cotillion label. That was followed with a second album, "This Close To You," before the group was dropped by Cotillion. Vandross bought back the rights to those albums, preventing their later re-release.
Vandross was crushed, but continued to sing backup vocals, including for the demo for Chic's "Dance, Dance, Dance (Yowsah, Yowsah, Yowsah)." He later lent his talents to Sister Sledge's "We Are Family" and "Lost In Music." Vandross joined with Quincy Jones's "Sounds… And Stuff Like That!!" with Patti Austin in 1978, and went on to lead the chorus on "No More Tears (Enough Is Enough)" by Donna Summer and Barbra Streisand, and singing backup for Cher, Evelyn "Champagne" King, and several studio groups, including Change. Their 1980 hits, "The Glow of Love" and "Searching," both featured Vandross as lead singer. In an interview with "Vibe" in 2001, Vandross said, "This [The Glow of Love] is the most beautiful song I've ever sung in my life." Later, while on tour with Roberta Flack, she implored Vandross to follow his joy. He produced several new songs, and shopped them around to major labels.
During that hectic year, Epic Records signed Vandross, and released the self-produced "Never Too Much." In addition to the hit title track, it contained a version of "A House Is Not a Home." Now the toast of the town, Vandross was profiled in "New York Magazine," and performed his first solo set at New York's super-sophisticated Savoy Theater, opening for Chaka Khan. "Never Too Much" reached number one on the R&B charts.
Vandross released his second album, "Forever, For Always, For Love," which was a million-seller. He performed two sold-out shows at New York's Radio City Music Hall, and followed that in 1983 by producing Aretha Franklin's "Jump To It" album, and the title track to Dionne Warwick's "How Many Times Can We Say Goodbye." Vandross also performed a duet with Cheryl Lynn on "If This World Were Mine." He released his third album, "Busy Body," which went platinum, followed by "The Night I Fell In Love," his fourth album, which sold more than two million copies. Vandross contributed vocals to Stevie Wonder's chart-topping hit "Part Time Lover," and joined Patti LaBelle on her first NBC television special, "The Patti LaBelle Show."
In 1985, Vandross first spotted the talent of Jimmy Salvemini, fifteen years old at the time, on "Star Search." He contacted Salvemini, who was managed by his brother Larry, and negotiated a contract with Elektra records for $250,000 with Vandross producing the album and serving as mentor. After the album was completed, Vandross, Jimmy, and Larry decided to celebrate. On January 12, 1986, they were riding in Vandross's convertible Mercedes when it crossed the yellow line of the two-lane street, and smashed into two vehicles. Larry Salvemini died during surgery, and Vandross and Jimmy Salvemini survived. At first, the Salvemini family was supportive of Vandross, but in 1986, he faced vehicular manslaughter charges as a result of Larry's death. Vandross pled no contest to reckless driving, and the Salvemini family filed a wrongful death suit against Vandross. The case was quietly settled out of court with a reported payment to the Salvemini family of $700,000. The album "Roll With It" was released later that year.
The 1989 compilation "The Best of Luther Vandross…The Best of Love" included the ballad "Here and Now," his first single to chart in the Billboard pop chart top ten, peaking at number six. He won his first Grammy award for Best Male R&B Vocal Performance in 1991. In 1990, Vandross wrote and sang background for Whitney Houston on "Who Do You Love?," which appeared on her album "I'm Your Baby Tonight," and a year later, he released "Power of Love," which spawned two top ten pop hits. Vandross earned his second Best Male R&B Vocal Grammy in 1992 with the track "Power of Love/Love Power," winning for Best R&B Song in the same year. "The Best Things in Life Are Free," a duet with Janet Jackson, also became a hit. In 1994, teaming with Mariah Carey on a cover version of "Endless Love," Vandross scored another top ten hit. He also appeared on Frank Sinatra's posthumous "Duets" album. At the Grammy Awards in 1997, Vandross won his third Best Male R&B Vocal for the track "Your Secret Love."
A second greatest hits album, released in 1997, compiled most of Vandross's 1990s hits, and was his final album released through Epic Records. After releasing "I Know" on Virgin Records, he signed with J Records. His first album on Clive Davis's new label, entitled "Luther Vandross," was released in 2001, and it produced the hits "Take You Out" and "I'd Rather." Vandross scored at least one top ten R&B hit every year from 1981-1994. In 1997, he sang the American national anthem during Super Bowl XXXI at the Louisiana Superdome in New Orleans.
In September 2001, Vandross performed a rendition of Michael Jackson's hit "Man in the Mirror" on Jackson's 30th Anniversary special, and performed in "The BK Got Soul" Tour starring Vandross with Angie Stone and Gerald Levert.  In 2003, Vandross released the album "Dance with My Father," and the title track earned Vandross and his co-writer, Richard Marx, the 2004 Grammy Award for Song of the Year. The album was the first by Vandross to reach number one on the Billboard album chart. The second single released from the LP, "Think About You," was the number one urban adult contemporary song for 2004 according to "Radio & Records."
Vandross suffered from diabetes and hypertension, both of which may have been brought on by family genetics as well as his nutritional habits. His weight fluctuated over the course of his life as he struggled to control his eating habits. Vandross had just finished the final vocals for the album "Dance With My Father" when on April 16, 2003, he suffered a severe stroke at his home in New York City. The stroke left him in a coma for nearly two months, during which time he also had to fight both meningitis and pneumonia (which required a tracheotomy). The stroke left Vandross with noticeable difficulty speaking and singing, as well as confinement to a wheelchair.
Vandross appeared briefly on videotape at the 2004 Grammy Awards to accept his Song of the Year award for "Dance With My Father." In addition to thanking his fans for their support throughout his ordeal and recovery, he said, "When I say goodbye it's never for long, because I believe in the power of love" (he sang the last six words). Following an appearance on "The Oprah Winfrey Show," Vandross was never seen in public again. He died on July 1, 2005 at John F. Kennedy Medical Center in Edison, New Jersey, at the age of 54; the apparent cause of death was a heart attack. His funeral service was held at Harlem's famed Riverside Church a week later. Vandross is interred at George Washington Memorial Park in Paramus, New Jersey.
Rumors that Vandross was gay had always dodged him throughout his career, despite his carefully groomed image as a romantic ladies man. Less than a year after he unexpectedly died, some of his gay friends spoke to "Out" magazine about the late star's secret homosexuality, and fears the impact of coming out would have on his largely female fans. One friend, comic Bruce Vilanch said, "He was way 'in' (the closet). He said to me, ''No one knows I'm in the life.'" Acclaimed gay journalist Michael Musto—another Vandross associate—insisted the singer was desperate to find a boyfriend in the years before he passed away. "A famously open gay singer/songwriter (told me) Luther was dying to have a boyfriend. It was an inside show business open secret," Musto revealed. In December 2017, his friend Patti LaBelle confirmed that Vandross was in fact gay, but struggled to come out of the closet.
Vandross never married, had no children, and his three older siblings died before him. He was survived by his mother, Mary Ida, who passed away in 2008.
In November 2014, a compilation of Luther Vandross hits, and a previously unreleased track, "Love It, Love It" were released on the new album "The Greatest Hits." His hit "One Shining Moment" became the theme for the televised Men's NCAA Basketball Championship.
We remember Luther Vandross in deep appreciation for his many contributions to the soundtrack of our lives, and to the world.