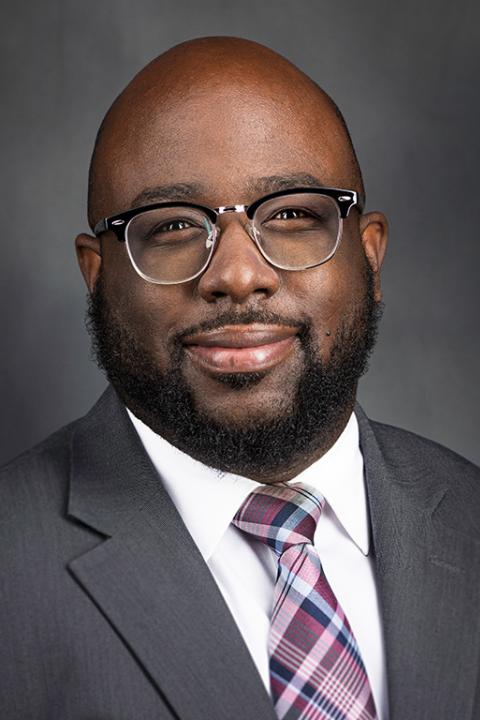 Dr. N. J. Akbar
Dr. N. J. Akbar, Associate Vice President for Kent State's Division of Equality and Inclusion, serves as the second to the VP/CDO for university-wide diversity efforts. Dr. Akbar also serves on the university's DEEDS Leadership Team, DEEDS Workgroup, Retention Taskforce, Male Empowerment Network 10 Year Anniversary Planning Committee and LGBTQ Student Center Advisory Board.  
Previously, Dr. Akbar served as Assistant Dean for Academic Diversity Success in University College. In that role, he oversaw TRIO Student Support Services, TRIO McNair Scholars Program and University Academic Diversity Outreach and provided strategic support for the academic diversity outreach network in all colleges at Kent State University. Additionally, he has served on Removing Barriers Committee, Student Life Committee, Academic Diversity Outreach Action Team, Dr. Martin Luther King, Jr. Celebration Committee and as campus advisor to the Epsilon Delta Chapter of Alpha Phi Alpha Fraternity, Inc., Black United Students, Kappa Delta Pi International Honor Society in Education, Pride! Kent and Focus on the Future.
Under Dr. Akbar's leadership, he has written awards and received many grants (TRIO McNair Scholars Program, Student Support Services and many others) focused on completion and diverse student success. During his time at KSU, he has helped establish the academic diversity outreach network, Provost's Leadership Academy, EHHS' Office of Diversity Outreach and Development, LGBTQ Student Center as the Interim Director, Male Empowerment Network as a founding member and former lead mentor, Linked Courses and Early Alert. 
Personal Background 
In June 2007, Akbar graduated from Eastern Michigan University (EMU) with a degree in History and English for Secondary Education (7th – 12th grades). At EMU, Akbar was a very active student in many student organizations and leadership roles; most notably, he started a mentoring program for Black male students at the university to increase retention and graduation rates. All but one of those young men have since obtained their bachelor's degree. 
While in the classroom, Akbar recognized the tremendously difficult job that teachers endure every day and decided that he wanted to contribute to the success of students outside of the confines of the classroom. Therefore, he decided to go to graduate school to continue his education. 
After working at EMU, University of Michigan and receiving his master's degree in Educational Leadership, Akbar relocated to the Akron area after accepting employment at Kent State University (KSU) in 2009. In the past ten years, he has served in many roles at KSU; he currently serves as Assistant Dean of University College responsible for the academic success of racially diverse, first generation and low-income students. 
Since being in Akron, Akbar has received several awards for his work at Kent State and within the community that include: 30 for the Future Award in 2015, 2016 Harold K. Stubbs Humanitarian Award in Education and the 2017 Ohio Black Women's Leadership Caucus' Significant African American Males award just to name a few.
Akron has become home for Akbar and in July of 2016, N. J. purchased his first home off Thurmont in the Northwest neighborhood of Akron. He has been an active member of the Eta Tau Lambda Chapter of Alpha Phi Alpha Fraternity, Inc. since arriving in the city. He currently serves as Director of Membership and previously as the founding Program Director of Alpha Core of Excellence Mentoring Program, Historian and Director of Education & Scholarship for the fraternity. 
In 2019, Dr. Akbar earned his Ph.D. in Cultural Foundations of Education with a particular focus on Sociology of Education and Educational Policy from Kent State University.  His dissertation entitled, "Black Male Collegians Cultivating Success: Critical Race Aspiration Ethos," was a critical qualitative inquiry on the success principles of Black males with a particular focus on exploring the role families and parents contributed to that success.