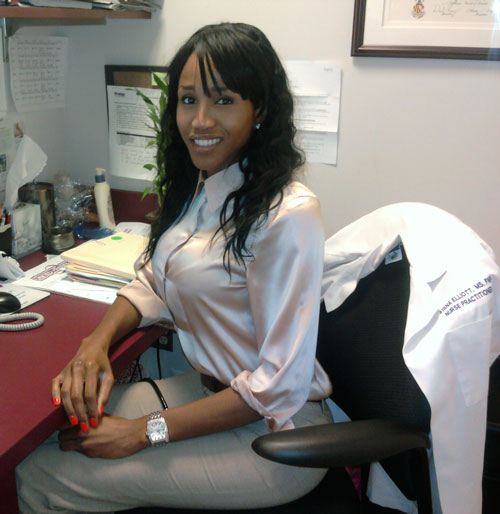 Dr. Ayana Elliott
Dr. Ayana Elliott was born on February 20. She is a board certified family nurse practitioner with clinical expertise in family medicine, medical oncology, HIV primary care, and transgender health. Dr. Elliott is a health care provider advancing the health and human rights of gender and sexual minorities, individuals, and communities—often standing in the gap when the voiceless have no voice and the rejected have no place.
Dr. Ayana Elliott was born in Washington, DC into a family with a lineage of civil servants and entrepreneurs. Her mother is a social worker, and her father is an addictions counselor after retiring from nearly thirty years at the U.S. Postal Service. Dr. Elliott's maternal grandmother was a grade school teacher, and her paternal grandmother also worked for the Postal Service. Both of Dr. Elliott's grandfathers were business owners.
Dr. Elliott is the oldest sibling of five children, two of whom she lost to homicide in their early 20s. "I often fall in deep thought about what life would be like for me and my family had they not left the earth so soon," Dr. Elliott told the Ubuntu Biography Project. "I would hope that I would have been as nurturing and inspiring as I am to others related by blood and not related by blood."
In high school, Dr. Elliott sang in the school choir, and played the trumpet in marching band. Growing up in the 1980s, she found very few visibly affirming images, people, places, or ideals for LGBTQ people.
"You didn't even find affirmation in the church, which was supposed to be the place the 'sick' and 'infirm' knew they could seek refuge, council, and love," recalled Dr. Elliott. "Navigating life as an adolescent can be tough, especially without role models to guide or illuminate the path before you. Today this is very different. There are prominent people, images, and acknowledgement of the LGBTQ experience even in religion and spirituality discourse."
Dr. Ayana Elliott graduated from the University of the District of Columbia with an associate's degree and a Bachelor of Science. The school is the alma mater of her maternal grandmother (Miner Teachers College), parents, uncles, an aunt, and her youngest son (Dr. Elliott is the mother of several adopted children, all of whom are now young adults). She went on to graduate from the University of Maryland Baltimore with a Master of Science degree from the Family Nurse Practitioner program in 2008. She earned her doctorate in nursing practice with honors from Chatham University in Pittsburgh, Pennsylvania. Dr. Elliott is a member of the Sigma Theta Tau International Honor Society.
Dr. Elliott began a career in health care as a medical assistant in a doctor's office following her training at the Potomac Job Corps in Washington, DC. She has led health services research and continuing medical education trainings (accredited by the Infectious Diseases Society of America, HIV Medicine Association, and the Association of Nurses in AIDS Care) in order to build capacity for practicing cultural competency in diverse healthcare environments, as well as to foster a deeper understanding of challenges to healthcare access and utilization for transgender patients among healthcare providers, health care institutions, and community-based organizations.
Dr. Elliott also has made substantive contributions to provider trainings and publications which synthesize research on HIV prevention interventions for highly impacted populations, including transgender women of color and men who have sex with men (MSM). She has documented multilevel barriers to accessing biomedical and behavioral HIV prevention options (including pre-exposure prophylaxis, post-exposure prophylaxis, and treatment as prevention), and has outlined key gaps in HIV prevention research with each population. Dr. Elliott's work can be found here, and viewed here and here.
Throughout her career, Dr. Elliott has paid particular attention to the Black LGBTQ community. "I value Black SGL/LGBTQ communities because there is nothing on earth that replaces the connection between people who look like you and have some shared-experiences. Community is how we have endured the dynamic and systematic oppression of LGBTQ people," Dr. Elliott stated. "In a world that attempts to convince some there is something wrong with them, individuals who are out can remind us, in those moments, that none of us are alone. No one should ever feel their destiny is limited by your gender identity or sexual preference."
In 2008, Dr. Elliott developed The Woman in Me, a community-based health initiative for addressing the health and social issues for women of color who identify as transgender. The Woman in Me tailors health messages that are more likely to be personally relevant to this unique at-risk population.
In addition to receiving a number of awards in recognition of her work and scholarly contributions to the fields of health care and LGBTQ/SGL communities, Dr. Elliott has served as a panelist at the White House summit for LGBT health, where she offered recommendations on how the federal government and community partners should respond to violence, and remove systemic barriers and discrimination in health care.
Dr. Elliott has served as an advisory board member at the Children's Hospital Los Angeles, Division of Adolescent Medicine-Capacity Building Assistance Center; chaired the Black Transgender Working Group at the National Black Justice Coalition (NBJC); and is a member of the NIH Cross Network Transgender Working Group. Dr. Elliott has mentored Black LBGTQ or other young adults for the last two decades. "In community, these are surrogate family units constructed in a time when many may just be ostracized by their nuclear biologic families or just don't understand their life experiences. We call them 'our children.' I am the mother of dozens of children," said Dr. Elliott.
Dr. Elliott lives in Los Angeles, and is the director of clinical operations at a comprehensive cancer center in Southern California. She owns and operates The Elliott Group LLC consulting firm as the principal and lead health consultant navigating clients through organizational service transformation that is increasingly efficient, culturally competent, and accessible through innovative strategies. Dr. Elliott employs and collaborates with LGBTQ/SGL individuals as a business model.
"I am passionate about helping to heal or restore people mentally, physically, and spiritually. It is a gift from God to be able to do this work," Dr. Elliott told the Ubuntu Biography Project. "I enjoy providing life-changing service and care to people every day. Healing others is a real gift not to be taken lightly, and not everyone is called to be a caregiver. Those who are called, and are obedient, are unquestionably blessed with the ability to impact the lives of others day in and day out. I am ever so grateful that I was called to serve in this capacity."
We thank Dr. Ayana Elliott for her pioneering work in health—particularly as it relates to transgender people and communities of color—and for her support of our community.