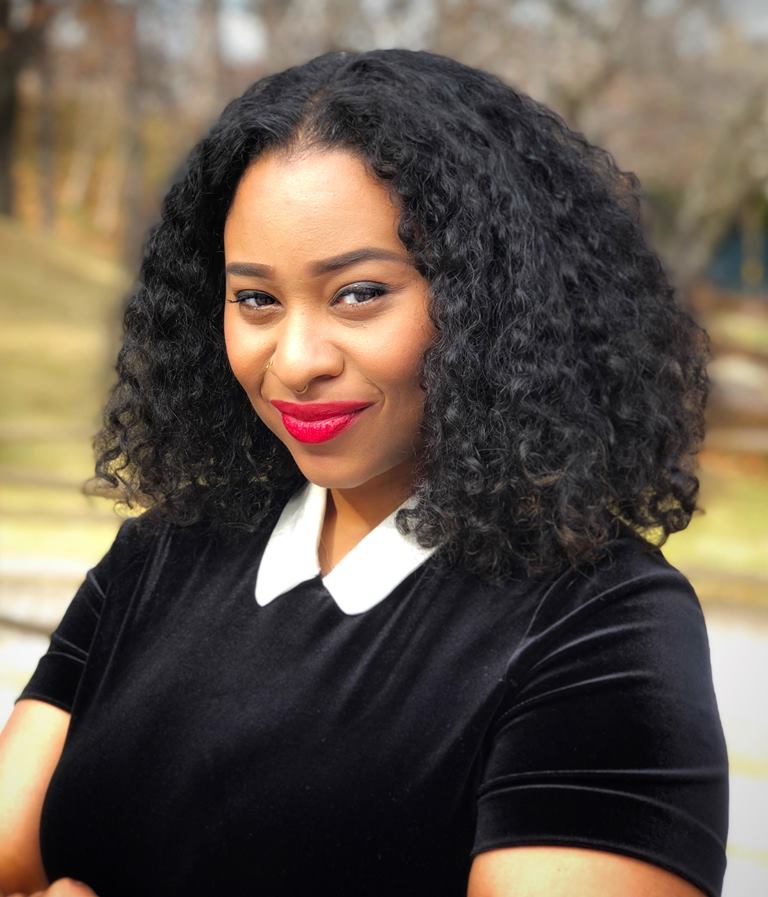 Trinice McNally
Trinice McNally was born on March 16, 1989. She is a Black queer feminist, immigrant, organizer, student affairs professional, and educator.
Trinice McNally was born in London, England to Jamaican parents who suffered from mental illness and drug abuse. She was brought as a child to Miami, Florida, where she was raised by her grandfather, Lloyd McNally, a factory supervisor, and grandmother, the late Valetta McNally, who was a homemaker and worked in the nursing field. Although she doesn't have any biological siblings, Trinice McNally was raised with first cousins Gina, Stephen, J'Son, and Symphanie, whom she considers her brothers and sisters.
After graduating from Miami Carol City Senior High School in 2007, McNally attended Bethune-Cookman University (B-CU) in Daytona Beach, Florida, and received her bachelor's degree in psychology, and a master's in transformative leadership. McNally was very active in The Marching Wildcats of B-CU, Gamma Sigma Sigma National Service Sorority Inc., Sigma Alpha Pi National Society of Leadership & Success, and Delta Sigma Theta Sorority, Inc.
McNally knew at an early age that she was not like her peers in terms of sexuality, but felt obligated to conform to heterosexual ideals and practice because of her Jamaican culture. While at Bethune-Cookman, she decided to live in her truth—promising herself that "she would never live in hiding" again. McNally created the first Gay-Straight Alliance at the university, and launched her work in activism and student organizing.
McNally has committed her life to the advancement of LGBTQ people of color, and is dedicated to creating inclusion and fostering awareness at Historically Black Colleges and Universities (HBCUs). She initiated a two-year research study through the Masters of Science Transformative Leadership program at B-CU in 2012, where she collected research on the study of best practices and resources needed to create inclusive learning environments for LGBTQ students at HBCUs. As a result of the study, McNally was afforded the first-ever position as the coordinator of diversity initiatives, specifically responsible for developing LGBTQ-inclusive programs that empower LGBTQ students at B-CU. McNally became the first  openly queer woman employed at a Florida HBCU with the explicit mission of achieving LGBTQ equality through higher education.
In September of 2015, McNally assumed the role of coordinator of the LGBTA Resource Center at North Carolina Central University (NCCU). Her vision was to make NCCU the number one choice for LGBTQ students nationally. The university was the second of three HBCUs in the nation to have an LGBTA resource center, and the first in the state of North Carolina. In addition, NCCU is first HBCU to host a Lavender Graduation, and hosted Queer Prom during its LGBTQ Pride Week under McNally's leadership. During her tenure at NCCU, McNally developed an LGBTA student leadership program (LGBTA Ambassadors), and created an effective LGBTQ-inclusive curriculum collaborating with Student Affairs, Student Health Services, and School of Public Health (PrEP Ambassadors).
McNally most recently served as the program manager of the HBCU LGBTQ-Equality Initiative of the National Black Justice Coalition, where she worked to lead the cultural shift that HBCUs require to create inclusion and foster awareness on their campuses in five states. During her tenure, McNally trained more than 600 students and 300 administrators.
McNally is most passionate about fostering intersectional learning environments for students at HBCUs, and considers the strategy a pivotal component towards Black liberation. She believes that HBCUs—among the oldest standing institutions for Black people—should be sanctuaries for the most marginalized populations. McNally currently serves as the director of multicultural affairs at the University of the District of Columbia (UDC), one of the nation's oldest HBCUs.
"As an HBCU graduate, I enjoy and am honored to work at an HBCU that provides equitable and affordable education to so many people from diverse backgrounds," McNally told the Ubuntu Biography Project. "The best part of my work is watching students transform: from their advocacy, academic success to their leadership development. I have served at many HBCUs in varying roles, and I believe that it is my calling to lead the work in fostering inclusive campuses, shifting narratives,  developing sound leaders, and providing the resources, services, and culture that students need to thrive—versus survive."
McNally organizes with the DC chapter of BYP100, an organization of young Black activists and organizers dedicated to creating justice and freedom for all Black people. "We do this through building a network focused on transformative leadership development, direct action organizing, advocacy, and political education using a Black queer feminist lens," McNally said. Other community work includes Habitat for Humanity, fundraising for cancer initiatives in Black communities, the Rainbow Alliance Board of Volusia County (Florida), and the LGBTQ Advisory Council of Howard University in Washington, DC.
Honors for McNally's academic accomplishments (bestowed by Bethune-Cookman University) include the Excellence in Service to Students Award; the 2014 Silent Impact of the Year Award: Gay-Straight Alliance; the Commitment to Social Justice Leadership Award; the Distinguished Graduate Research Award, School of Liberal Arts; and the Top 40 Under 40 B-CU Alumni Award. The Florida LGBTQ Diversity Council awarded her with the LGBTQ Youth Leadership Award, and she was named in the National Black Justice Coalition's 100 Black LGBTQ/SGL Emerging Leaders to Watch campaign.
McNally enjoys cooking, museums, reading, socializing with friends, and any work involving young people—particularly those of color or who identify as LGBTQ.
"The Black SGL/LGBTQ community is important to me, because as long as Black people have existed, Black LGBTQ people have existed," McNally told the Ubuntu Biography Project. "It is vital that we are proud of ourselves because it is our responsibility to not only pay homage to our ancestors, but also to avenge their suffering, trials, murder, and anguish endured by standing in our truths. We must stand in our truths for future generations."
We thank Trinice McNally for her HBCU and LGBTQ advocacy, her commitment to young people, and for her support of our community.