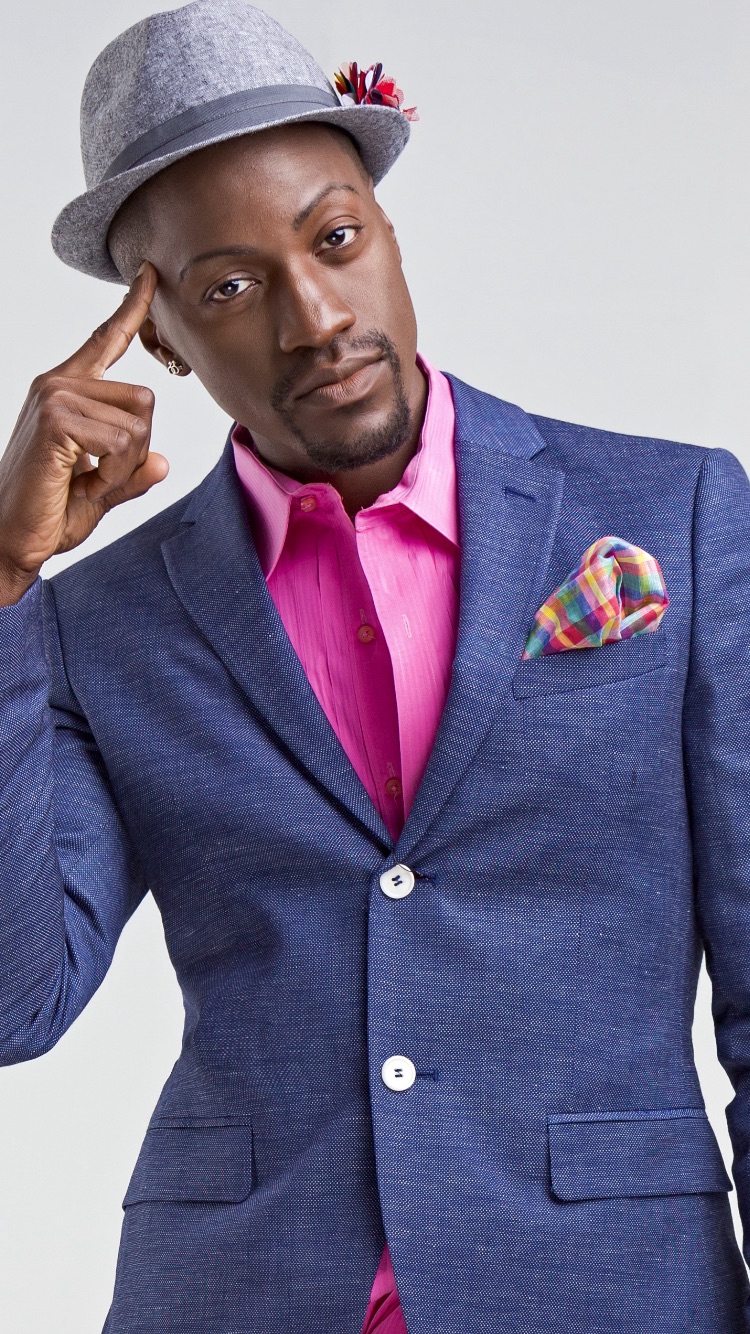 Sampson McCormick
Sampson McCormick was born on March 13, 1986. He is a popular award-winning stand-up comedian, writer, activist, and filmmaker.
Sampson McCormick was born the youngest son of Florence McCormick in Evergreen, North Carolina, and moved as a child to Washington, DC in 1989. McCormick says he very much loves his older brother, Corey, and helped the pastor shift his theology and views on religion, sexuality, and masculinity. But not all of McCormick's family has been as receptive or supportive.
"Growing up, I had a very abusive stepfather who verbally and physically beat me for being gay," McCormick told the Ubuntu Biography Project. "I was also spiritually humiliated, and kicked out of church for being gay. I really didn't understand what my sexuality meant or was able to come to terms with the challenges until I was outed by a girl that I had kind of been dating. Then, I stopped running from it, and was able to own it and tackle the challenges that came from being a Black, gay man. Humor and writing helped soooooo much!"
At the age of 15, McCormick found solace in his comedy. Too young to get into venues, bouncers would make him pay them to sneak in the back door ("when I started having good sets, they started letting me in the front and sneaking me drinks—don't tell nobody").
As a student, McCormick was honored with the prestigious Charlene Drew Jarvis Science award, and graduated with a 3.89 grade point average. After attending the New School for Enterprise and Development in Washington, DC, he graduated from Bowie State University in Maryland, where he studied broadcast communications, theater, drama/cultural media, journalism, and public relations.
Even before attending college, McCormick was already performing comedy, connecting with audiences through his amusing take on our maddening world, but also engaging people through his insightful narratives. McCormick's comedy has tackled many serious issues, including his difficult childhood and abusive stepfather, homelessness, homophobia in churches, fighting off bullies, politics, race issues, and domestic violence. McCormick has used his humor to overcome these challenges, and to speak out about the perils of growing up Black and gay in America.
"Our community is so important to me, I love us, all that we have contributed to society and our strength," said McCormick. "I really wish we realized that, and could come together the way that previous generations did—that's missing. We should be proud of who we are because of that, and how far we've come, and because we have better sex than everybody else, and because being Black and gay are both two of the most beautiful identities on the planet."
Despite that allegiance, McCormick refuses to be defined by his identity as a Black and gay man, and performs in mainstream venues that have included the White House, Broadway in New York, Arena Stage, Daughters of the American Revolution's Constitution Hall, The John F. Kennedy Center for the Performing Arts, the 2012 International AIDS Conference at the Washington Convention Center, and at many college campuses, including Harvard University, Emerson College, Swarthmore College, Penn State University, and Central Michigan University. McCormick has also entertained audiences at the famed Comedy Store, as well as many LGBTQ pride festivals and events. In 2013, McCormick headlined at the historic Howard Theatre in Washington, DC.
Sampson McCormick has worked alongside notable acts such as Patti LaBelle, Angela Bassett, Bruce Vilanch, Paul Mooney, Thea Vidale, Luenell, Whoopi Goldberg, Robin Williams, and Adele Givens. He makes a point of mentoring new young artists, and gives them a chance to appear with him as opening acts while he's on tour.
McCormick's hit comedy shows, "Don't Make Me Take Off My Earrings," "No Tea, No Shade," and "That Bitch Better Be Funny!" have riveted audiences, and brought him great acclaim for his refreshing, bold, intelligent, and honest humor. He also hosts a channel on YouTube that's ventured into more serious territory—like getting an HIV test—but community issues are still delivered with his trademark humor shining through.
Sampson McCormick also is constantly reaching out to LGBTQ youth, in mentorship and support, and engages the community with humor, and lectures on the intersections of race and sexuality. He strongly supports programs that cater to LGBTQ homeless youth, the transgender community, and those affected by HIV/AIDS and poverty. McCormick works tirelessly to help lobby more effective anti-hate crime laws, and testifies at hearings in support of anti-bullying laws, and better education opportunities and initiatives to confront poverty in underserved communities.
In 2016, Sampson co-starred in "I Live Here," a Shane Watson-directed film that received a Student Academy Award nomination in the category of Narrative (Domestic Film Schools). He also produced "A Tough Act to Follow," a documentary on the issues around diversity in comedy and entertainment. As one of the first Black out LGBTQ stand-up comics in the country, McCormick is considered a pioneering comedian who challenged the status quo of a lack of diversity in comedy.
McCormick has been featured in several print publications, including "The Washington Examiner," "MetroWeekly," the "Washington Blade," "SWERV," "Frontiers," "Truth Magazine," the "Washington Post," "Out" "Bay Area Reporter," and "East Bay Express." He's appeared on MTV, BET, VH1 and the OWN network. McCormick is also the author of three books, "Taboo Village: A Perspective On Being Gay In Black America," "Ebonic Faggotry," and "Carefree Black Boy."
McCormick makes his home in Los Angeles, California, and enjoys reading, documentaries, theater, road trips, dinner with friends, French Bulldogs, laughter, sage, meditation, prayer, incense and rhythmic music, especially African drum and Afro-Cuban music. "It also goes without saying, I love men," joked McCormick. "When I have time, I get a drink and just watch them—they're sexy…except when they ain't about shit, which, for me, is rarely the case because I know how to choose. And let's face it—I'm a catch!"
You can learn more about McCormick and check out his performance schedule at www.sampsoncomedy.com/. You can also follow him on Twitter (@OfficialSampson) and Instagram (@MisterSampson).
"In the stage that I'm in now, I love the healing work that humor does," Sampson told the Ubuntu Biography Project. "Once, I used it to affirm, I still do, but for now, just lots of healing—and encouragement. Growing up, we laughed through poverty, homelessness, violence, homophobia, racism, so many obstacles and it helped us to cope. I believe that if you laugh at something, you can survive it."
We thank Sampson McCormick for changing the world through laughter, and for his unwavering support of our community.