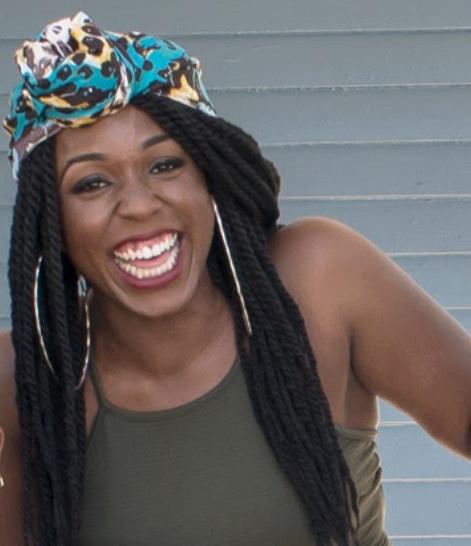 Toni-Michelle Williams
Toni-Michelle Williams was born on April 6, 1991. She is a community organizer for Black trans communities in Atlanta, a trap healer who prioritizes underserved Black communities with healing knowledge and practices, a performance artist, impersonator, and self-described "believer in the beautiful and almighty God (love) inside of all of us."
Toni-Michelle Williams was born in Atlanta, Georgia, to Corey Tyler Williams and TiJuana Michelle Ponder, a school guidance counselor in DeKalb County Public Schools. She has three siblings from her late father: Randall, Ravè, and Ti'Ana. Growing up as LGBTQ, Williams experienced her fair share of struggles with family and personal acceptance.
"I experienced lots of death (her father was murdered in 2001), sexual and physical abuse, and lots of uncertainty," Williams told the Ubuntu Biography Project. "I didn't believe that I was worthy of love, and I didn't know if I wanted to live. The people in my family that affirmed that I was worthy of everything were taken from me by death. There was a huge part of me that wanted to join them, because things felt so hard."
Williams says she learned valuable lessons from her experiences, namely giving those around her one very critical allowance: time. "I have fallen out with family members and best friends because I did not give people enough time to transition with me. I also did not trust them to transition with me, right? My family, like most Black families, show LGBTQ youth that they cannot be trusted with our hearts, with our process, with our dignity. And now on this healing journey, I am learning that all I have is time. It should be respected and given to us all freely. Everyone needs a little time. Your family deserves time to grieve, to reflect on how they have been, how they will show up, and what needs to shift inside of them for you," according to Williams.
Williams graduated from DeKalb School of the Arts, and enrolled at Norfolk State University in Virginia (a Historically Black College and University). At Norfolk State, she served as president of Leading the Education of Gay and Straight Individuals (LEGASI), was a resident assistant of Residential Life and Housing, and performed as a tenor with the Norfolk State Concert Choir.
It was at Norfolk State that Williams' passion for organization and leadership began to blossom. "The department of Residential Life and Housing literally poured into my development, providing me with opportunities to organize campus-wide events, travel, and, most importantly, provided me the platform to advocate for the LGBT students on campus," Williams recalled. To help make ends meet, she worked at a local Applebee's, and as a day care teaching assistant as part of a two-year work study program.
In 2013, Williams was hired as a community educator for ACCESS AIDS Care in Norfolk. She conducted HIV testing, and co-facilitated her first trans support group, TGurls Empowerment. After working there for two years, Williams moved back to Atlanta, where she is the internship and leadership development coordinator for the Solutions Not Punishment Collaborative and Racial Justice Action Center (SNaP Co.). SNaP Co. is a Black trans-led organization dedicated to empowering and developing the leadership of Black trans people in Atlanta to wage campaigns that divest from the prison industrial complex, and invest in the communities in which they live.
In her role, Williams has developed two leadership development programs that have facilitated the personal and collective transformation of Black trans/queer and currently or formerly incarcerated and/or sex working women and people. Since 2015, the Atlanta Trans Leadership Internship program, a paid, four-month, organizing and transformative leadership program for Black trans people in Atlanta, has graduated 11 participants. The third cohort will start in the summer of 2018, and will engage in a series of workshops on topics such as campaign planning and organizing skills, program management, curriculum development, and facilitation skills.
In 2016, the cohort released "The Most Dangerous Thing Out Here is the Police," a report that was created and conducted by the previous cohort of the ATL Internship. The report uplifts the voices of Black trans folks in Atlanta and their experiences of profiling and harassment by the Atlanta Police Department. The 2018 ATL interns will study the impacts of criminalizing sex work, HIV, and gender on trans communities. In 2017, the organization launched the SNaP for Freedom School, a six-week community organizing intensive for queer, trans, formerly incarcerated women, and sex workers. In response to the murders of three transwomen in Louisiana, the Freedom School led a march of more than 300 people through Atlanta's Peachtree Street. The #March4theGurlz brought awareness to the violence that transpeople and transwomen face at the hands of the Black community, and the systems that oppress us all.
Additionally, Williams has co-led efforts to successfully pass legislation 17-O-1152, which reclassified marijuana as a non-arrestable offense in Atlanta. She also spearheaded efforts to campaign for resolution 15-R-3920 and 17, authorizing and creating a design team for an Atlanta/Fulton County pre-arrest diversion initiative. In February 2018, Williams participated in a coalition that ended required cash bail for non-violent offenses in Atlanta. She is also a member of Women on the Rise, an organization for formerly incarcerated women committed to closing down the city jail.
Williams lives in Atlanta with her five-year-old Blue Nose Pit Bull named Braxton; she spends the majority of her time walking and playing fetch with him. Williams also loves music, and can spend hours listening to Whitney Houston, Beyoncé, Jazmine Sullivan, Teddy Pendergrass, Luther Vandross, Patti LaBelle, Fantasia, and so many more. She enjoys hikes through Georgia's nature preserves, and spending time with the people that she loves, including her grandmother, aunts, and "my babies (TiKhari, Darian, Jason, Julius, Joshua, Diamond, Maya, Jase, and KoKo), my besties (Robert, Chandra, Salena, Dean, Herb, Jermaine, Latoya P., Andre, Barbara, Bryanna, Meisha, Elicia,  Rudys, and Lo Li), and my mommy!" Professionally, Williams continues to create spaces that cultivate joy and resilience for Black trans folks, and the Black LGBTQ community in general.
"We are…the most magical beings on this planet—hands down," Williams told the Ubuntu Biography Project. "Our greatest gift is in the way that we Black LGBTQ people discover and navigate love, acceptance, trust, and confidence. Our gifts are in all of the things that we create and transform, simply by existing and being present on this earth. Across the world, our lives are threatened every day, and our dignity is under constant attack. Our resilience stands of this world with the gift that we carry with us every day. Remember that you are powerful, you are worthy, and that you are enough."
We thank Toni-Michelle Williams for her inspiring advocacy, community organizing, and her support of our community.