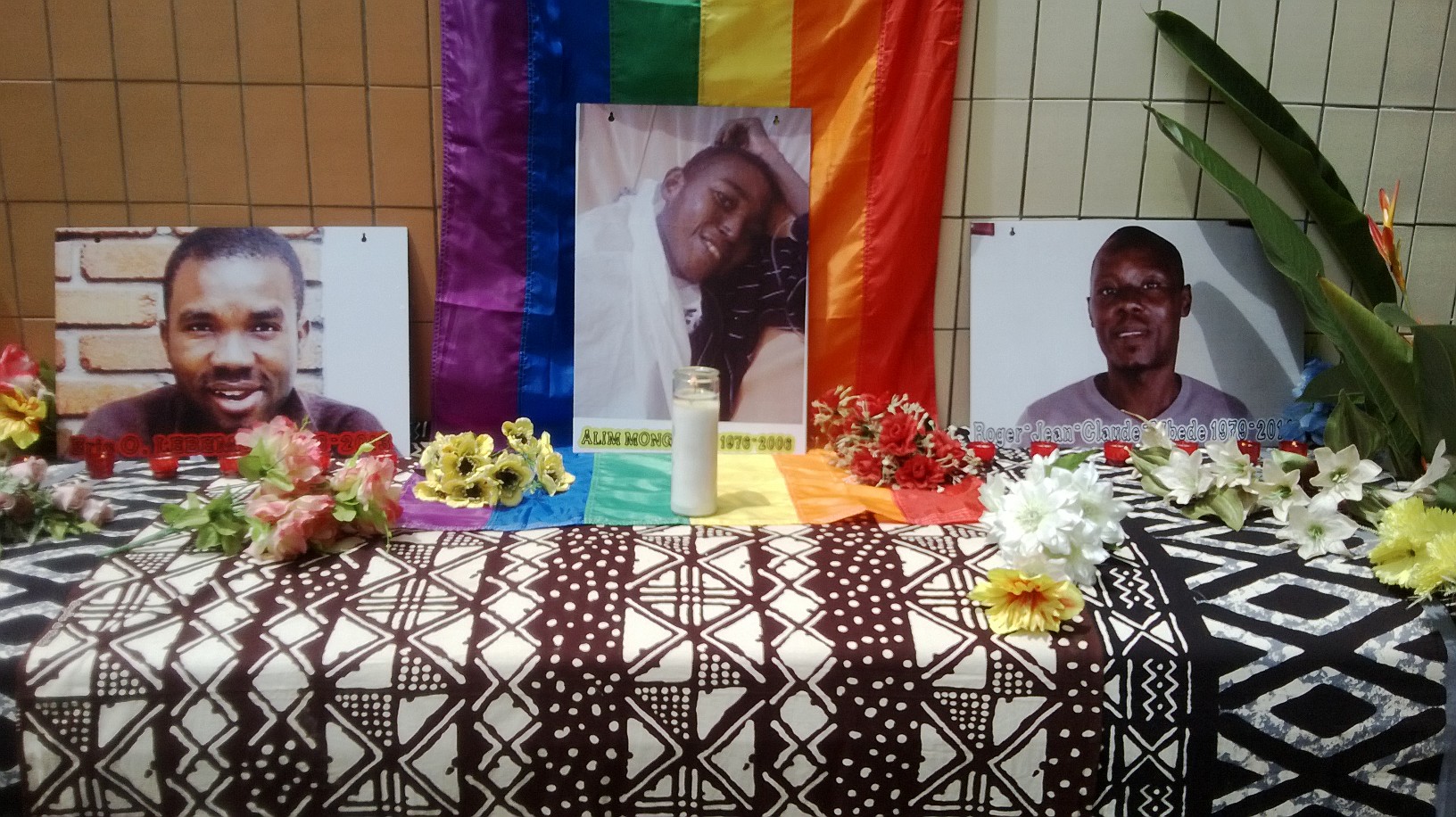 Alim Mongoche
Commemoration in Douala, Cameroon on May 15, 2014, of three LGBT people who died because of homophobia: Eric Lembembe, Alim Mongoche, and Roger Mbede. 
Alim Mongoche—one of the "Yaoundé 11" who were imprisoned in Cameroon on sodomy charges in 2005—died of AIDS complications at age 30 on June 23, 2006, ten days after he was released from Kondengui Central Prison. Alim was an inspiring human rights and LGBT activist and a popular clothing designer and tailor.
According to an Amnesty International report dated July 7, 2006, "the detainees were arrested at a nightclub in Yaoundé by gendarmes on 22 May 2005, along with two other boys who were subsequently freed. They were initially detained at Nlongka detention centre in Yaoundé, and transferred in June 2005 to Kondengui Central Prison. They were tried on charges of practising homosexuality, which is a criminal offence under Section 347a of the Cameroonian Penal Code."
"The Two of the detainees—François Ayissi and Marc Lambert Zanga—were acquitted and released on 13 June 2006. The remaining seven, including Alim Mongoche and a 17-year-old youth, were found guilty of practising homosexuality and sentenced to 10 months' imprisonment. However, they were all released soon after the trial because they had already spent more than 10 months in prison."
Amnesty International goes on to report: "The detainees had been held in harsh conditions at Kondengui Prison, which is said to be overcrowded and unsanitary, and the prison diet is reportedly inadequate. Amnesty International had previously called on the authorities to ensure that the detainees were allowed access to medical attention. However, despite the poor health of Alim Mongoche and the appeals from international and local organizations, the authorities refused to permit his early release."
According to an irinnews.org report on October 5, 2006, fellow inmate Marc Lambert Zanga took care of Alim until his death at the Central Hospital in Cameroon's capital. He confirmed that some of them had been assaulted and raped in their cells, including Alim, who was sexually assaulted at least twice and discovered his HIV-positive status only after he fell ill and was tested in prison. "Two months before we were released, I took him to the infirmary," he recalled at the time. "But the medical conditions were appalling: the few medicines available had mostly expired and if you don't have money, nothing happens—they don't look after you. You just wait."
Eleven years after Alim's death, punishment for homosexual activities in Cameroon have not eased. Same-sex activity remains illegal, with penalties that include prison time and even vigilante deaths.
We remember Alim Mongoche for his bravery and sacrifices in defiance of injustice and in spite of the human rights violations committed against him and others in Cameroon.